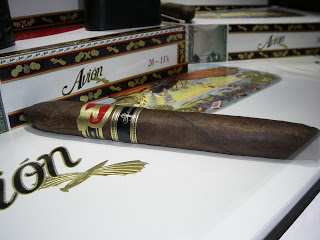 Avion 13 Reserva
At the 2013 IPCPR Trade Show in Las Vegas, Nevada, Tatuaje Cigars showcased the latest installment of its perfecto-shaped Avion line, the Avion 13 Reserva.
The Avion series is a series of annual limited edition vitolas that originally used the Tatuaje Fausto blend. The Avion 11 was released in 2011 with a box-pressed perfecto. This was followed up in 2011 by a smaller box-pressed perfecto for the Avion 12.

During production of the Avion 13, Tatuaje owner Pete Johnson made a decision to change the usual Habano Ecuador wrapper to a Connecticut Broadleaf. At the time there was already some production that was done on the Habano Ecuador version. Johnson made a decision to package up the Tatuaje Avion 13 Habanos as a limited release called Tatuaje Avion 13 FF. The new Broadleaf wrapper release would become the Avion 13 Reserva.
The Avion 13 Reserva uses the Avion band that has been used on the Avion 11 and Avion 12. A secondary band saying "Reserva" has been added.
At a glance, here is a summary of the Tatuaje Avion 13 Reserva:

Blend Profile

Wrapper: Connecticut Broadleaf
Binder: Nicaraguan
Filler: Nicaraguan

Vitolas Available

The Avion 13 marks the longest version of the Avion to date. It does not have the tapering along the whole body and is more of a classic perfecto. The Avion 13 Reserva and FF both come in the same sizes. For historical purposes we list all of the vitolas, but note the Reserva is the only Avion with a Broadleaf wrapper.

Avion 13 – Perfecto: 6 7/8 x 52 (Reserva: Connecticut Broadleaf, FF: Habano Ecuador)
Avion 12 – Perfecto Grande: 5 5/8 X 52
Avion 11 – Perfecto Grande: 6 3/4 x 52