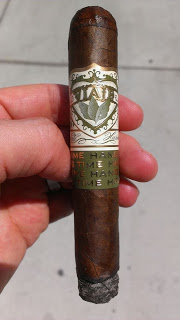 Viaje Late Harvest Hang Time
Photo from Viaje's
Facebook page
At the 2013 IPCPR Trade Show this month in Las Vegas, Viaje Cigars will launch its new Viaje Late Harvest Hang Time blend. This is an offshoot of the Viaje Late Harvest blend. Information on this release appeared on the company's Facebook page.
The Viaje Late Harvest line made its debut at the 2011 IPCPR Trade Show (also in Las Vegas). The Late Harvest has a analogy to the line industry. In the wine industry, "Late Harvest" refers to harvesting grapes. In tobacco, the concept involves picking the last primings from the tobacco plant. These leaves are exposed to additional sun following the picking of the first primings. The end result is a thicker leaf that has additional oils and more flavor to it. This is what Viaje has done with the Late Harvest.
With the Hang Time, Viaje takes the concept it used on the original Late Harvest and goes further: Once again there are ties to the wine industry. Viaje explained the Hang Time concept on their Facebook page: "In wine parlance, hang time refers to the length of time between flowering and harvest – in other words, how long the grapes hang on the vine. Hang Time is an extension of the Late Harvest line. It differs from Late Harvest in one important way. The wrapper selected for Hang Time is from a higher priming, which allows for more time on the stalk resulting in a more intense smoking experience."
The Viaje Late Harvest Hang Time will add a secondary band to the band used for the original Viaje Late Harvest.
This is the third batch of cigars to be released under the Late Harvest umbrella. In 2011, the original Late Harvest was released just after the 2011 IPCPR Trade Show. A second batch of Late Harvest was shipped last Spring. The first batch of the Late Harvest scored a 90 on Cigar Coop.
"At a glance", here are some more details on the Viaje Late Harvest Hang Time:
Blend Profile
The Viaje Late Harvest was a Nicaraguan puro. As mentioned, the wrapper for the Hang Time is from a higher priming.
Wrapper: Nicaraguan
Binder: Nicaraguan
Filler: Nicaraguan
Vitolas Available
The robusto and corona gorda format seen on the first two batches of the Viaje Late Harvest will be back for the Viaje Late Harvest Hang Time

LH550: 5 x 50
LH648: 6 x 48