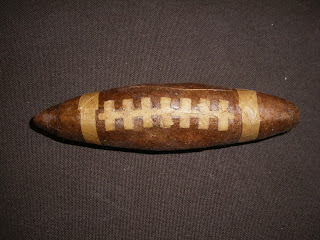 The Football – Cigar (Touchdown Blend)
At the 2013 IPCPR Trade Show, we got to look at the products from a company called "The Football Cigar". As the name indicates, they produce cigars in vitolas shaped like a football. Many people are familiar with a ultra-limited cigar made by Arturo Fuente called the OpusX Football. Unlike the Fuente Cigar, the products made by The Football Cigar are actually intended to be smoked. We got to take a look at this product in a little more detail.
The Football Cigar is run by a gentleman named Gunnar Heilmann. The company has been around for several years. The company was sharing booth space with Capadura Cigars (whom we covered in a recent feature story). Capadura is producing the cigars in the Dominican Republic for Heilmann's company. The cigars are produced in small batches. Late last year, in a Facebook post by the company, they mentioned that 3000 cigars were produced for the upcoming year.
The company makes two blends in the football shape. The first is a milder offering called the "First Down". The second is a fuller offering called "Touchdown". The cigars are available in coffin boxes and currently has seven team color options for each blend. The company has recently added online ordering.
At a glance, let's take a closer look at the Football Cigar:
Blend Profile
We were told that the First Down blend is based off the Capadura 808 cigar, while the Touchdown has ties to the Capadura 898 cigar.
First Down
Wrapper: USA Connecticut (Brazilian for lacing)
Binder: Dominican
Filler: Dominican
Touchdown
Wrapper: Brazilian (USA Connecticut for lacing)
Binder: Dominican
Filler: Dominican & Nicaraguan
Vitola Available
Both the First Down and the Touchdown are available in one size – a 4 1/2 x 72 football-shaped perfecto.