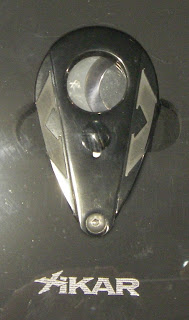 XIKAR Xi3 B2 Cutter
XIKAR's big announcement came a little over a week before the trade show when the company announced it was selling its HC and Defiance cigar brands to Cigar International. Part of the rationale for this move was to allow the company to focus on its bread and butter – cigar accessories. At the 2013 IPCPR, cigar accessories were definitely front and center by XIKAR.
XIKAR Xi3 B2 Cutter
This was a showcase feature from the popular double guillotine-styled Xi3 cutter line. The company describes this cutter as having a "stealth" look.
The Xi3 B2 features a stainless steel bod with an ion plating finish. The blades are 440 stainless steel with an HRC of 57 (which measures hardness). In addition the cutter features auto opening with a spring loaded locking mechanism. It will cut a cigar up to a 60 ring gauge.
XIKAR Xi3 Exotic Wood Cutter Line Extensions
The Xi3 Exotic Wood Series has several double guillotine styled Xi3 cutters with wooden handles. Two new wood options have been added to the line.
Spalted Tamarind: This is a light colored wood with a distinguished black grain pattern. The wood native to Southeast Asia. According to company literature, "Much of this wood comes from logs either found on the forest floor or cut and allowed to spalt in the damp, warm conditions of the jungle."
Macassar Ebony: This is a reddish/dark brown wood that has a streaking pattern on the grain. This is a hardwood native to India, Indonesia, and the Philippines.
Room 101 Accessories
Xikar has extended Matt Booth's Room 101 lifestyle brand to include additional cutters and lighters. The Xi1 double guillotine cutter and the EX lighter will now be available in a Daruma and Skulls design.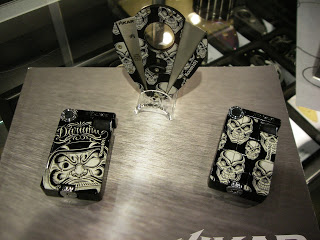 XIKAR Room 101 Daruma and Skull additions
The company already has offerings for the Room 10 Jya (XTX Tabletop Lighter, Xi1 Cutter), Bling (XTX Tabletop Lighter, EXII Lighter, Xi1 Cutter), and Sakura (EXII Lighter, Xi1 Cutter)
ELX Lighter
Described as a redesign of the company's most popular lighter, Xikar launched the ELX Lighter. There are both quality and ergonomic improvements to this lighter. The ELX is available in four colors: black, G2, pearl, and silver.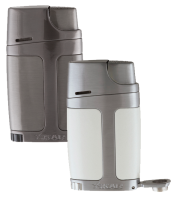 XIKAR ELX Lighter
(Photo from XIKAR newsletter July 2013)
VX V Cutters
XIKAR's VX V series is used to make wedge-shaped V cuts into cigars. The company introduced two new finishes in the series: Mesh and Carbon fiber.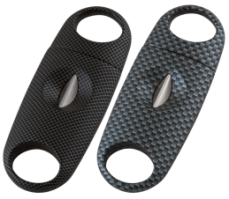 XIKAR VX V Cutter
(Photo from XIKAR newsletter July 2013)
The VX V cutter can handle a cigar up to a 64 ring gauge.