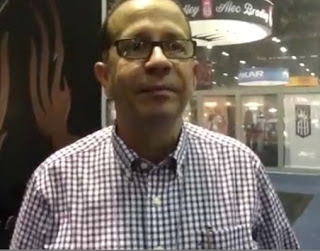 Jose Blanco – Cigar Coop Photo
The Jose Blanco at Joya de Nicaragua has come to an end. Just one day after a series of executive announcements which curiously did not mention his name, Jose Blanco has confirmed on his Facebook page that he is leaving Joya de Nicaragua.
It was on August 31st, 2011 when a press release was made available announcing Blanco's appointment as a Senior Vice President of blend and brand development. That appointment was dated August 29th, 2011. Today's announcement announced that Blanco's two year contract with the company had been completed.
Under Blanco's watch, he is best known for the creation of the CyB line (originally termed Cuenca y Blanco) – our #9 Cigar for 2012. Perhaps less known are the improvements he made operationally to the Joya de Nicaragua factory under his watch.
When he went to Joya de Nicaragua Blanco relocated to Nicaragua from the Dominican Republic. On his Facebook page, he confirmed he is back on the Dominican Republic. While his next move has not been discussed, it is clear he is not riding into the sunset. "After two years of blending and participating in the Nicaraguan cigar-business at Joya de Nicaragua I now feel even more experienced in this great tobacco which I now cherish even more than before. And as I am now back in my beautiful Dominican roots I definitely plan on staying active ."
In a press release issued by Joya de Nicaragua, Dr. Alejandro Martinez Cuenca, Chairman and CEO of JOYA DE NICARAGUA expressed "We are very grateful for Jose's company over the past two years. It's been another big learning experience for all of us at JOYA, as much as we hope it was for him, and we thank him for his contributions and for helping spread the love for Nicaraguan cigars, especially during his tireless trips in the USA. We wish him and his family the best in their future endeavors".
Blanco also said in the press release, "Working for JOYA fulfilled my curiosity and love for Nicaraguan tobacco and it's been a great and very interesting couple of years for me to work hands-on in a true and traditional local factory. I express my appreciation to JOYA DE NICARAGUA for these two years of collaboration and I wish them all the best. I would also like to thank Jonathan Drew and Marvin Samel and the entire Drew Estate team for all their great work and support during my stay and my US-trips" .
Updated 8/29/13: Received formal press release from Joya de Nicaragua and updated accordingly.