Assessment Updates will be posted on this web-site to: 1) Assess "pre-review" cigars that were not given a rating or score (typically pre-release cigars); 2) Provide numeric ratings to cigars previously assessed prior to the implementation of the numeric scoring system; 3) Provide a re-assessment and re-score of previously assessed/score cigars. Today, we re-assess the L'Atelier in the LAT52 size.  This was a cigar we assessed back in January, 2013.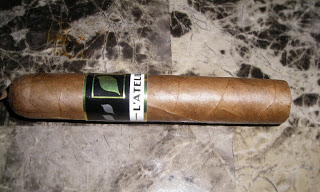 L'Atelier (LAT52)
The L'Atelier cigar line is the flagship and core line cigar of L'Atelier Imports.  Tatuaje Cigars founder Pete Johnson started this separate company bringing in his brother K.C. Johnson and long-time friends Dan Welsh of New Havana Cigars and Sean "Casper" Johnson. The L'Atelier represented the company's debut premium line – and was launched at the 2012 IPCPR Trade Show.  Since its release, I've found this a cigar that has continue to get better over time.  Now eight months after our last assessment, we take another look at this particular cigar.
The big story of this cigar is the wrapper.  Its an Ecuadorian grown wrapper called Sancti Spiritus. It was a tobacco leaf grown by the Oliva family with a seed from the Garcia family.  It is a hybrid of Criollo and Pelo de Oro and was designed as a replacement seed for Pelo de Oro.  The wrapper itself has a strong resistance to mold.  The binder and filler tobaccos are all -Nicaraguan. The L'Atelier was launched in three sizes.  The sizes of the frontmarks are similar to the Cuban Cohiba Behike BHK trio: LAT52 (4 3/4 x 52),  LAT54 (5 5/8 x 54), LAT56: 6 1/2 x 56.  There is also a 5 5/8 x 46 corona gorda called L'Atelier Selection Speciale, but that uses a higher priming wrapper. Like our original assessment, we smoked the LAT52 for this update.
The flavor profile remained very similar, but with the flavors more mature and a little smoother. This featured flavors of nut, natural tobacco, pepper, and some citrus.   I also found that the end of the cigar was much smoother.  The nub finished cooler and firmer.  The flavors are still in the medium to full-bodied range – and they are countered with medium strength.
The construction remains outstanding on this cigar – producing an excellent burn and draw.
Click here for our original assessment of the L'Atelier LAT 52.

Original Assessment: Nice to Have
Re-Assessment: Nice to Have
Original Score: 92
Re-Assessed Score: 93