Assessment Updates will be posted on this web-site to: 1) Assess "pre-review" cigars that were not given a rating or score (typically pre-release cigars); 2) Provide numeric ratings to cigars previously assessed prior to the implementation of the numeric scoring system; 3) Provide a re-assessment and re-score of previously assessed/score cigars. Today, we provide a numerical score to the A. Flores Gran Reserva Half Corona. We smoked the robusto size of this blend back in September, 2013.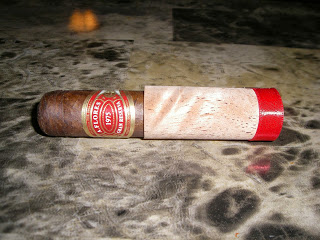 A. Flores Gran Reserva Half Corona
At the 2013 IPCPR Trade Show, the A. Flores Gran Reserva was one of two new lines being showcased by PDR Cigars. The A. Flores derives its name from its master blender, Abe Flores. The cigar is being offered in three sizes, a Gran Toro (6 x 54), a Robusto (5 x 52), and a Half Corona (3 1/2 x 46). We took a look at the Robusto a few weeks ago and today we take a look at the Half Corona.
The blend has a good share of Dominican Corojo in it. The A. Flores Gran Reserva has a Dominican Corojo 2006 wrapper, an undisclosed binder, and a mix of Dominican Corojo and Nicaraguan Habano in the filler. The packaging for the Half Corona differs in that it is available in tins of five as opposed to boxes of 24. While the other two sizes will be limited production, the Half Corona will be a regular production offering.

I discussed this cigar on a recent episode of the Stogie Geeks podcast. This is how I described it in the Stogie Feed for that show:
The Half Corona pretty much delivers a compressed version of the smoking experience of the Robusto. The Half starts out with pepper and cedar sweet spice. I also detected a nice secondary cinnamon flavor in the first half. In the second half, the flavor profile changed to a more earthy flavor. The sweet spice and pepper were replaced by more of an exotic spice. The flavors were medium to full-bodied and the cigar had medium to full strength. Construction was excellent as the cigar delivered an great burn and draw.
Like the Robusto, I felt the first half delivered a better smoking experience than the second half. It's a good smoke. In general, I kind of think the whole "quick smoke" concept in the cigar industry is a bit ironic. This is something not unique to the Gran Reserva line. One thing we do as cigar enthusiasts is we like to sit back, relax, and enjoy the smoke. However, if someone does want a short smoke, this one is still good – and worth checking out.
Click here for a our detailed assessment of the A. Flores Gran Reserva Robusto.
Assessment: 3.0 – The Fiver
Score: 90