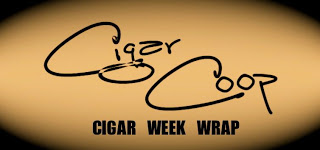 The Cigar Week Wrap is a one stop place to catch up on the activity here at Cigar Coop. It is a combination of our news reports, cigar reviews, and assessment updates we do throughout the week. We will throw in a few bonus items from time to time as well. Our intent is to publish once a week on Saturday mornings. Note: We have decided to label our posts as "Volume 2" to be consistent with the monthly "Editor's Corner".

News and Previews
7-20-4: Company president Kurt Kendall posted a photo on Facebook/Instagram of a Corona Gorda line extension of the 7-20-4 Hustler. No other specifics were revealed other than "#7-20-4 #Hustler Series Corona Gorda I received yesterday from our factory. We want to use them for something fun". The other difference is that this vitola is packaged in its own box as opposed to the joint packaging of the robusto, toro, and gordo. The Corona Gorda would become the fifth size of the line.
A.J. Fernandez Cigars: The company posted a picture of an Oval 7 x 70 "coming soon". While no specifics on the blends were reported, the Oval has been pretty consistent on keeping the frontmarks the same on the blends.
Boutique Blends Cigars: Fabian Barrantes, Vice President announced his resignation from the company this past Thursday. Barrantes was most known for his involvement with the Swag Cigars line. In a short statement on his Facebook page, Barrantes said: "I hope we can all stay in touch and you guys could follow my new life in the cigar industry! thank you & keep supporting this great brand." Meanwhile company president Rafael Nodal said he brought a new Swag Puro Dominicano blend to Foxtoberfest in Gilbert, AZ.
Cigar Federation: Announced the formation of an online store in partnership with Delaware Cigars.
E.P. Carrillo: Details of the E.P. Carrillo Edicion Limitada 2013 have now surfaced.
Joya de Nicaragua: In commemoration of the company's 45th anniversary, Joya de Nicaragua is releasing a the limited edition Joya de Nicaragua Cuatro Cinco.
La Flor Dominicana: We previewed the upcoming Litto Gomez Diez Small Batch No. 5, La Flor Dominicana Ligero L-Granu, and the event only exclusive cigar to Fox Cigar Bar's Foxtoberfest.
My Father Cigars: We listed the five retailers who have been allocated the limited production Flor de las Antillas MAM -13. This is a rounded version of the Flor de las Antillas.
Oliva Cigar Company: Announced details of the Oliva Serie V Maduro Especial 2013.
Viaje: Andre Farkas said on Facebook that there will not be a Viaje Holiday Blend Candy Cane release for 2013, but hinted "2013 has something else in store. Stay tuned…….." We also previewed the Viaje WLP Stuffed Turkey 2013 line. This will features both the White and Dark Meat blends, but with a slight vitola change. Farkas also has plans to release a new cigar called "Full Moon" and to release a new batch of Skull and Bones M?stery for Halloween.
Zino: The Zino Platinum Collector's Edition "The Make of L.A." is nearing shipment to retailers.
Legislative News
Assessments
Stogie Geeks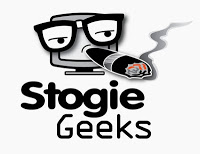 This week was an off week for the Stogie Geeks Show. We will be broadcasting our special Wings for Warrors Charity special on Friday October 25th at Noon Eastern time.
On this date October 19th…