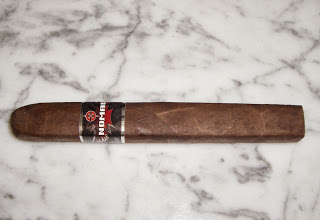 Nomad S-307 (Cigar Coop Photo)
Nomad Cigar Company has officially launched the Nomad S-307, the company's first full production cigar made in Nicaragua. The announcement was made via a press release by the company.
In terms of the name, the "S" represents the Sumatra wrapper of the cigar. The 307 represents the approximate square mileage in Nicaragua.
In a press release announcing the S-307 launch, Rewey said: "I am really excited to get this one in the hands of cigar aficionados. I received a ton of great insight and encouragement from some industry icons in Nicaragua. I am just taking it all in, learning, listening, and enjoying the journey. I try and surround myself with really smart and experienced colleagues. I am always learning new things. New techniques, new aging methods, new blends. I am thrilled Nomad cigars are so well received, it has been awesome journey so far and I look forward to the future."
Nomad Cigars are distributed by House of Emilio.