"2013 seems to be a very good year for maduros and the L'Atelier Maduro is one that shines. This is a cigar I would definitely recommend to any maduro cigar enthusiast."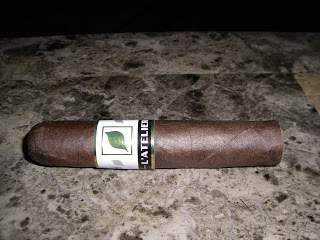 #23 – L'Atelier Maduro
Coming in at #23 on the 2013 Cigar of the Year countdown is the L'Atelier Maduro.  This marked the first maduro release under L'Atelier Imports' flagship L'Atelier line.

The L'Atelier Maduro gives L'Atelier Imports their first appearance on one of our Cigar of the Year countdowns.  It marks the second Connecticut Broadleaf wrapper entry on the countdown, and the fourth maduro entry overall.  This also becomes the second cigar on the countdown to come out of the My Father Cigars factory.

L'Atelier Imports was launched in 2012. It was a separate company that was spearheaded by Tatuaje's Pete Johnson, along with his brother K.C., and friends Dan Welch and Casper Johnson.  The name L'Atelier is French for "The Workshop".  There are several brands that were launched in the company, but the L'Atelier line is their most premium offering.  As mentioned the L'Atelier Maduro added a maduro offering.  While it features a Connecticut Broadleaf wrapper, it also features a leaf called Sancti Spiritus as one of its binders.   It was a tobacco leaf grown by the Oliva family with a seed from the Garcia family.  It is a hybrid of Criollo and Pelo de Oro and was designed as a replacement seed for Pelo de Oro.
The L'Atelier Maduro delivers what I term a classic maduro profile.  It features flavors cocoa/chocolate, red pepper, baker's spice, leather, and nut.  The flavors are full-bodied and the strength is in the medium to full range.
Click here for our assessment of the  L'Atelier Maduro.
Blend Profile
Wrapper: Connecticut Broadleaf
Binder: Sancti Spiritus, Nicaraguan
Filler: Nicaraguan

Vitolas Available

MAD 44: 4 1/2 x 44
MAD 54: 4 1/2 x 54
MAD 56: 5 1/2 x 56
Recommended Vitola: MAD 54
Score: 93 (8/14/13)
Assessment Rating: 4.0 – Box Worthy

For more information on our vision and criteria for the 2013 Cigar of the Year countdown, see our December 2013 Editor's Corner.