"Our assessment was positive of the pre-release Recluse Draconian and it gave a good look at what was to come. After sampling this blend in the Sidewinder frontmark, there is no question in this author's mind – this cigar has been taken to another level."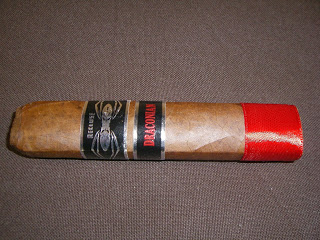 #24 – Recluse Draconian by Iconic Leaf Cigars
Coming in at #24 on the 2013 Cigar of the Year countdown is the Recluse Draconian by Iconic Leaf Cigar Company.  This marked the company's second line to be released since its inception.

The Recluse Draconian gives Iconic Leaf Cigar Company is first appearance on one of our Cigar of the Year countdowns.  It's Ecuadorian Maduro wrapper marks the third wrapper on the countdown from that country.

Prior to the IPCPR Trade Show, we named Iconic Leaf Cigar Company as one of our 2013 Five Boutiques to Watch.  We did this because the company is combining old school techniques with innovation.  The are using tradition entubado rolling.  They are also using a two year fermentation period for their tobacco consisting of 8 fermentation cycles (once every 90 days flipping over the pilons). They have also created some unique vitolas such as the kayak shaped Kanu on their core line and the unique Sidewinder vitolas we explain below.
When the Recluse Draconian was released, it was released in three box-press vitolas prior to IPCPR.  The other three vitolas were the Sidewinder Vitolas.  The Sidewinders were not unveiled until the trade show opened.  The concept behind the Sidewinders combines the best of a rounded cigar and a box-press cigar. Iconic Leaf has referred to this as a "side press" cigar.  It is rounded on the top and bottom, but box-pressed along the sides.  It also has a tapered tip at by the cap.
The flavors of the Recluse Draconian are outstanding.  It feats notes of coffee, chocolate, pepper, and baker's spice.  I also found the Sidewinders line brought a nice creamy undertone to the smoking experience.  The strength and body are in the medium/medium to full range.   Iconic Leaf Cigar Company prides itself on using the entubado method for achieving a flawless draw – and this cigar lives up to expectations here.
Click here for our assessment of the Recluse Draconian (we have a review of Sidewinders #1).
Blend Profile
Wrapper: Ecuadorian Maduro
Binder: MBC (Proprietary)
Filler: Dominican, Piloto Cubano, Brazilian Hybrid, Iconic Leaf Ligero
Vitolas Available
Sidewinder #1: 5 x 57
Sidewinder #2: 6 x 57
Sidewinder #3: 7 x 57
Robusto: 5 x 52
Toro: 6 1/4 x 50
Tarantula² : 6 x 60
Recommended Vitola: Sidewinder #1
Score: 93 (11/10/13)
Assessment Rating: 4.0 – Box Worthy
For more information on our vision and criteria for the 2013 Cigar of the Year countdown, see our December 2013 Editor's Corner.