Assessment Updates will be posted on this web-site to: 1) Assess "pre-review" cigars that were not given a rating or score (typically pre-release cigars); 2) Provide numeric ratings to cigars previously assessed prior to the implementation of the numeric scoring system; 3) A re-assessment and re-score of a previously assessed/score cigars.  Today, we provide a numerical score to the Recluse Kanu #1 by Iconic Leaf Cigar Company. We smoked the robusto size of this blend back in October, 2012.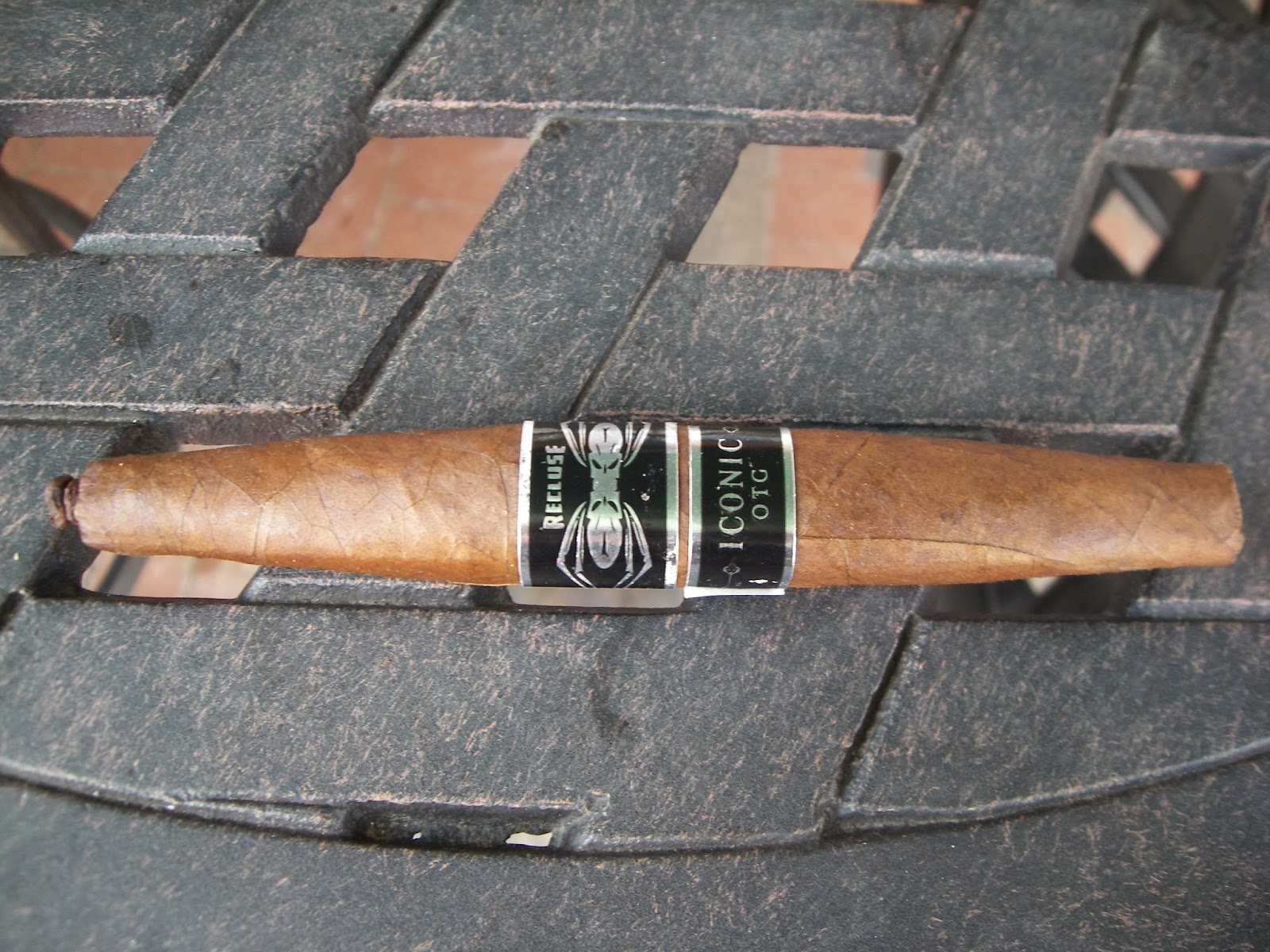 The Recluse Kanu #1 by Iconic Leaf Cigar Company is one of the most unique vitolas in the industry today.   It's unique box-press perfecto is shaped like a kayak.  In fact Iconic Leaf Cigars has moved forward with the trademark process on this particular cigar design. This shape is one of three frontmarks in Iconic Leaf's first cigar line – Recluse to use this design.  Today we look closer at the Kanu #1.  This particular cigar has also been aging for 13 months in the Cigar Coop humidor.  While it's design might be contemporary, I found this to deliver a solid cigar experience.

The blend for the Recluse line is a multi-national one.  It consists of a Brazilian Maduro wrapper, a binder from Cameroon, and fillers from the Dominican Republic.  Iconic Leaf Cigar Company took a bold step launching the Recluse line in ten frontmarks – of which three have the Kanu shape.  As mentioned, the Kanu has a box-press size – with the exception of the Recluse Tarantula (6 x 60), the Recluse line is all box-pressed.
The flavors are very classic with this cigar.  The Kanu had a profile of notes of earth, oak, and pepper. I found a little less in the way of sweetness of the Kanu when compared to the box-press robusto.  I'll infer this is a combination of aging with a different vitola design.  The flavors to the Kanu are medium to full-bodied.  I also found the strength level to be medium to full-bodied.
Sometimes artesian styled vitolas can really disappoint when it comes to the attributes of burn and draw.  There were no such problems with the Kanu #1 as both performed excellently.  In particular Iconic Leaf Cigars has a philosophy to roll entubado style, and it's this philosophy that they contributes to the cigar's solid construction.
Consistently, I still find myself going back to the Recluse Toro or Robusto as my Recluse frontmark of choice.  However the Kanu holds its own and is definitely worth exploring.  It's still worthy of a box split in my book.
Assessment: 3.5 – Box Split
Score: 91


Source:  The cigars for this assessment was provided by Iconic Leaf Cigar Company.  The samples received were in order to provide feedback.  Cigar Coop is appreciative for the samples, but in no way does this influence this write-up.