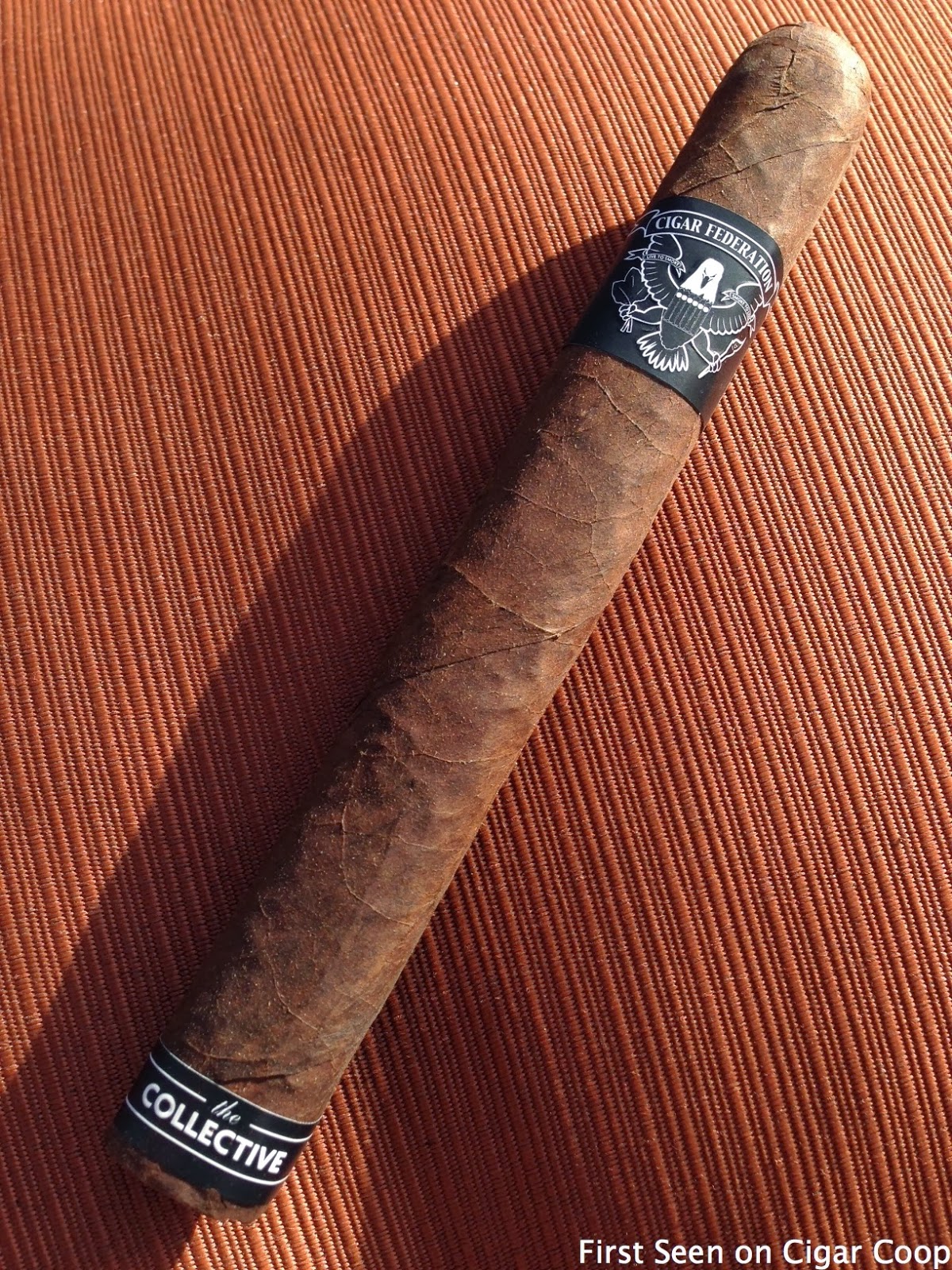 As we exclusively broke news on a couple of weeks ago, Cigar Federation is releasing their first cigar called "The Collective". The cigar was blended by Ezra Zion Cigar Company at the Casa Fernandez factory in Miami. The project marks what could be considered to be Ezra Zion's first retail-exclusive cigar. Information on this release was published in a press release from Ezra Zion and Cigar Federation.
According to Kyle Hoover, co-owner of Ezra Zion Cigar Company, "New media has changed the cigar industry dramatically in the last few years. We feel it has started a second cigar-boom, especially in the boutique arena. We wanted to make a cigar that would pay tribute to that and The Collective project was born."

The company is integrating technology into the packaging of the product. "Smoking this cigar is a completely interactive experience. By scanning the QR code on the band when you light up will allow you to smoke the cigar with us via video. You'll hear all about how the cigar came to be, the blend, the process. It's like we all came over to your house, raided beer from your fridge and lit up the cigar with you." said Chris Kelly.
The distinguishing feature of this cigar is a unique wrapper called San Andres Cafe Claro – a wrapper that has not been used before.
"We pulled out all the stops when we blended this cigar. The Collective features a wrapper leaf that has never been used. We kind of invented it. We call it a San Andres Cafe Claro. Obviously, there are a lot of cigars that use San Andres, but our processing of the leaf is what makes it unique. The filler contains a substantial amount of the ultra-rare medio tiempo leaf. It's very expensive filler leaf, but it had the flavor we wanted and took the cigar into the stratosphere." said Hoover.
"When the Ezra guys sent us some samples of this blend to try out, it blew us away. When they told us they wanted to do it to highlight the new media contribution to the cigar industry, we were honored! As a reviewer, TV host, and all around cigar geek, it's nice to have someone take the time to recognize your efforts, and with a great cigar no less." said Rob Rasmussen, Cigar Federation co-General Manager.
"As a General Manger of Cigar Federation I can tell you that we will continue striving to innovate and not be bound by conventional ways of doing things. All of the things that make the cigar lifestyle awesome, we will continue to include in Cigar Federation. We refuse to be stereotyped. We refuse to be censored. You don't put baby in a corner!" added Logan Lawler, who also serves as Cigar Federation co-General Manager.
The Collective will be sold exclusively through the Cigar Federation Online Cigar Store with pre-orders to Cigar Federation members beginning on 2/10. The plan is for a virtual herf launch on 2/18 with the cigar going on-sale to the general public.
The cigar was described in a press release as a full bodied, medium strength cigar with flavors including: chai tea, sweet woodsy notes, dark leather, hints of anise, and an ultra-clean finish
At a glance, here is a look at The Collective:
Blend Profile
Wrapper: San Andres Cafe Claro (Mexican)
Double Binder: Nicaraguan (Criollo and Corojo)
Filler: Nicaraguan featuring Medio Tiempo
Vitolas Available
The Collective comes in a single size – a 6 1/4 x 52 prensado box-press. It will be packaged in boxes of 20 with a total of 250 boxes produced. The cigar has a price point of $10.99 per cigar and is being sold in packs of five or boxes of 20.
Disclaimer: While we broadcast our Stogie Geeks podcast live on Cigar Federation, Cigar Coop/Stogie Geeks has no affiliation with the Cigar Federation Store nor any affiliation with the "The Collective" cigar.