Assessment Updates will be posted on this web-site to: 1) Assess "pre-review" cigars that were not given a rating or score (typically pre-release cigars); 2) Provide numeric ratings to cigars previously assessed prior to the implementation of the numeric scoring system; 3) Provide a re-assessment and re-score of a previously assessed/score cigars. Today, we provide an assessment rating and score to the Affinity by Sindicato Cigar Group in the Robusto size. This was a cigar we did a pre-release assessment for in the Belicoso format back in August, 2013.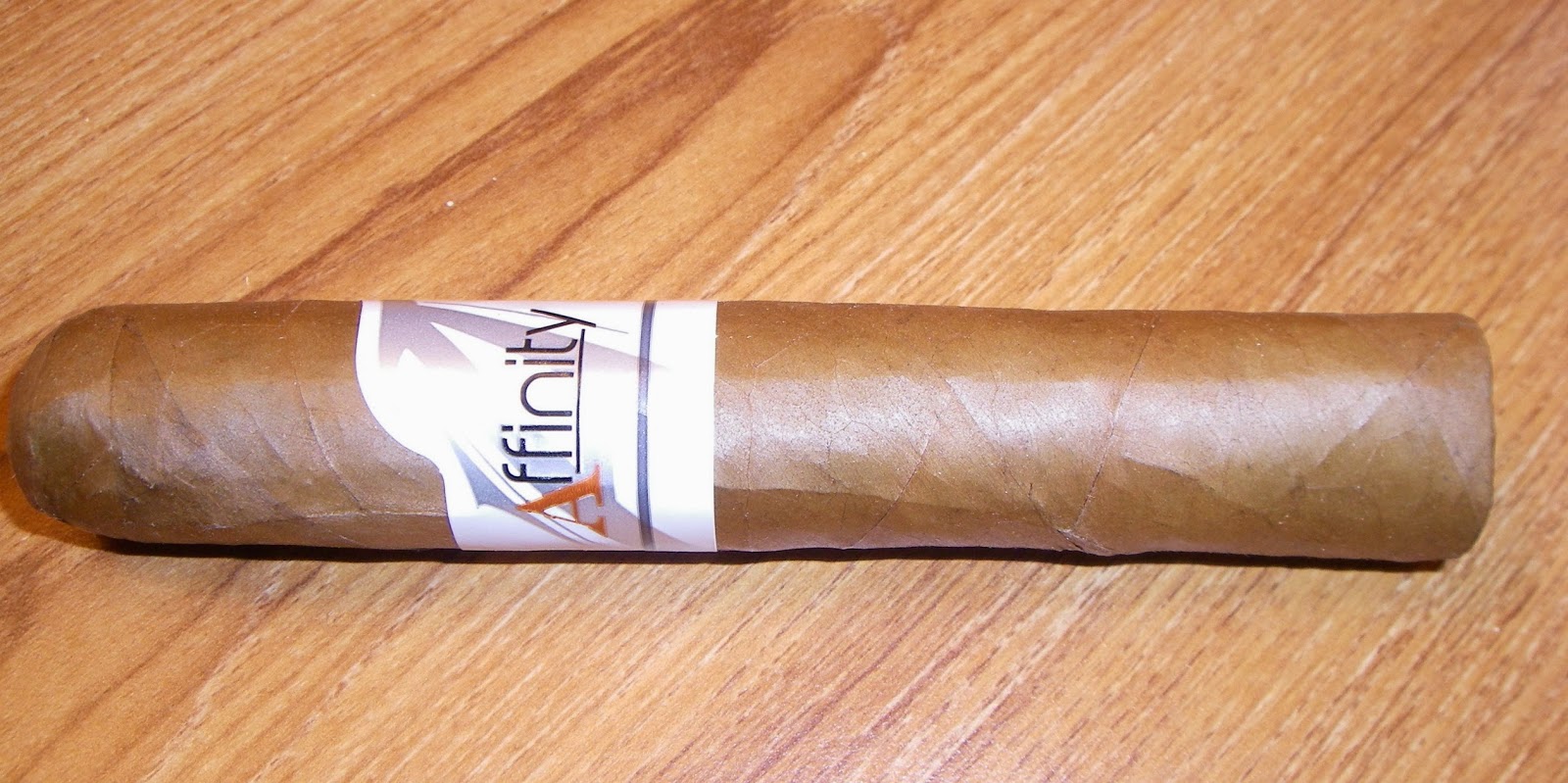 Affinity Robusto by Sindicato Cigar Group
The Affinity was the first premium long filler release, and second release overall by Sindicato Cigar Group. The company was officially launched in March, 2013 by a group of 45 strong cigar retailers who are joined together to enter the manufacturing side of the business. Industry veteran Jim Colucci serves as their President and CEO. The Affinity is positioned as a milder offering in terms of both strength and body.

Affinity features an Ecuadorian Connecticut seed wrapper with Nicaraguan binder and a combination of Dominican and Nicaraguan filler. It has been launched in six sizes: Corona (5 1/2 x 46), Robusto (5 x 52), Toro (6 x 54), Gran Toro (6 x 60), Belicoso (6 1/8 x 52), and Churchill (7 x 56). All of the sizes are rounded except for the Corona which is square pressed. While we originally smoked the Belicoso in our pre-release review, today we look at the Robusto. This cigar is a production cigar that was purchased by Cigar Coop this past month.
The Affinity Robusto delivers flavors of wood, mild cream, cedar, citrus, and pepper. The first half had considerable more in the way of cream and citrus, while the second half was more woody. The flavors are mild to medium-bodied. The cigar itself is a mild strength cigar. I found the construction to be excellent.
Overall an excellent option for those cigar enthusiasts looking for something on the milder side and at a very good price too.
Click here for our original pre-release assessment of the Affinity in the Belicoso frontmark.
Summary

Burn: Excellent
Draw: Excellent
Complexity: Medium
Strength: Mild
Body: Mild to Medium
Finish: Good
Assessment: 3.0 – The Fiver
Score: 89

References

Price: $6.50
Source: Purchased
Stogie Geeks Podcast: n/a
Stogie Feed: n/a