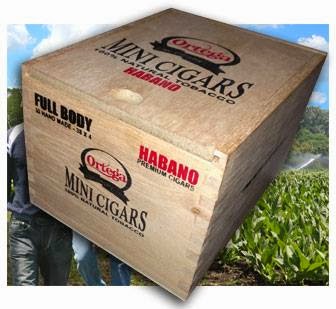 Photo Credit: Eddie Ortega Facebook page
Ortega Premium Cigars has announced that its Ortega Mini line will offer a 30 count box offering. Company president Eddie Ortega made the announcement on his Facebook page and has already listed the offering on the company web-site.
The Ortega Mini Habano and Ortega Mini Maduro will be offered in a wooden slide top box that will house 30 cigars.ccThe Ortega Mini line was introduced in 2012 and is a 4 x 38 short smoke offering. It was Ortega Cigars' first collaboration with the PDR Cigars factory in the Dominican Republic. Ortega listed the SRP at $81.75
The Ortega Minis were introduced in four pack crushproof boxes last year.