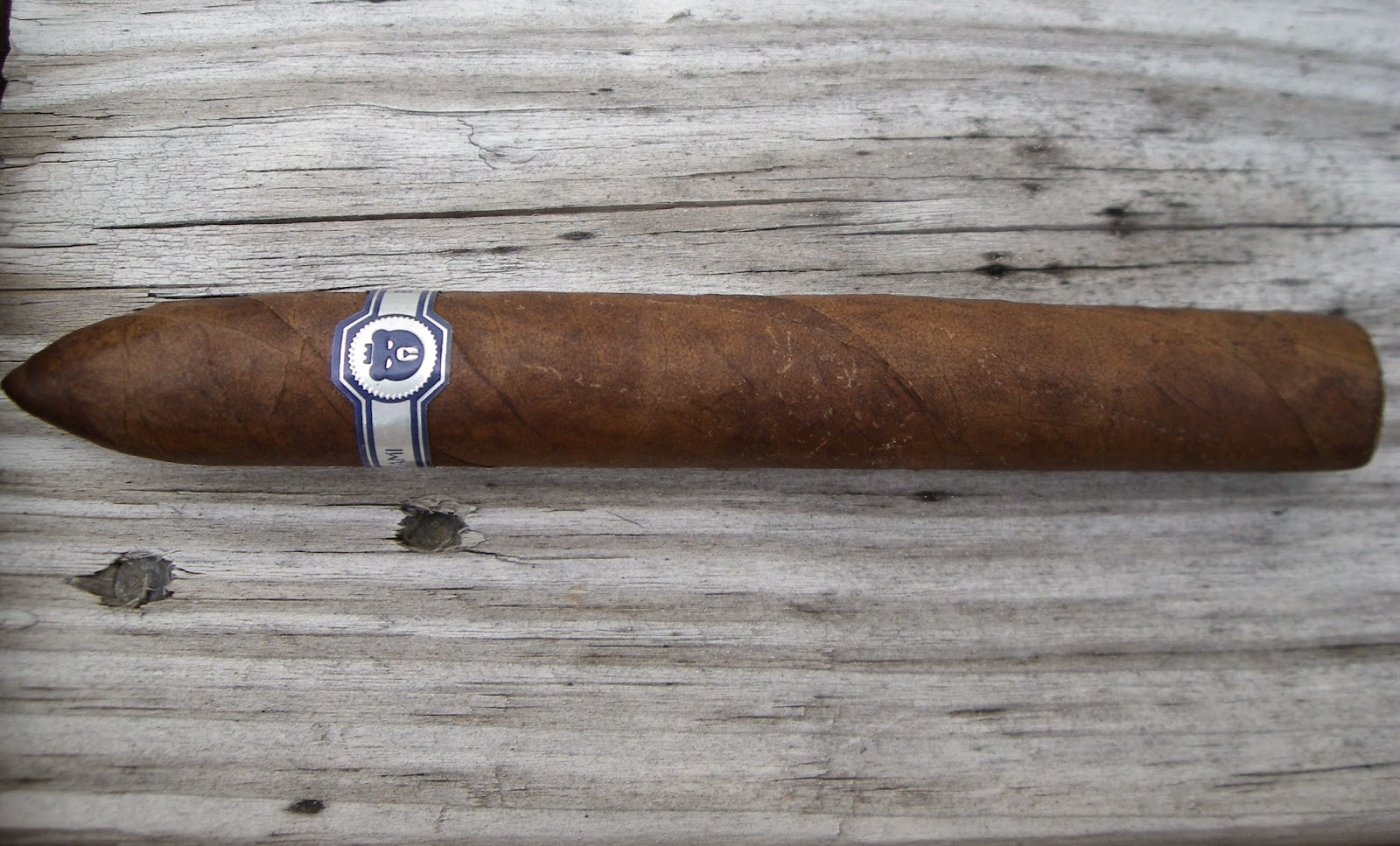 El Oso by Warped Cigars – Belicoso
El Oso marks an upcoming release by a Warped Cigars. The company is run by Kyle Gellis. Warped Cigars is a company that has focused around cigars, cigar accessories, and cigar lifestyle. To make the El Oso cigar, Gellis turned to the Sandy Cobas' El Titan de Bronze factory located in Little Havana, Florida. Given that Gellis is based in Florida, the close proximately, it easily allowed him to have an integral role in this cigar. While visiting El Titan de Bronze, I had an opportunity to have a brief conversation with Gellis via phone (from the factory) and heard a lot of passion from him with this upcoming project. In terms of the end product, I found that passion translated to the final product. El Oso is a very good cigar coming out of a very good factory. This is a cigar definitely worth checking out.

El Oso translates to "The Bear". The cigar is rolled by level 9 Cuban rollers at El Titan de Bronze and employ traditional Cuban rolling techniques, such as Entubado style. This is where each leaf is individually rolled, then bunched.
At a glance, let's take a close look at the El Oso. As we do for all pre-releases, we default to our pre-review format to share our thoughts and experiences. We will revisit this cigar once it is released and provide an assessment rating and score.
Blend Profile

El Oso features a three country blend with an Ecuadorian Habano Oscuro wrapper.

Wrapper: Ecuadorian Habano Oscuro
Binder: Ecuadorian
Filler: Nicaraguan and Dominican
Vitolas Available

El Oso is being launched in two frontmarks. The Belicoso comes in 10 count boxes, while the 4 x 44 comes in 20 count boxes.

Belicoso: 6 x 48
4 x 44
Appearance
For this cigar experience, I smoked the Belicoso vitola. The Ecuadorian Habano Oscuro wrapper of El Oso has a medium brown color with a colorado red tint. There is some oil on the surface of the wrapper. There are some visible wrapper seams and some visible veins.
The band has a silver background with blue trim and blue font. At the center of the band is a blue bear face surrounded by a hexagon shape with blue trim. To the left of the hexagon is the text "MIAMI" in blue font. To the right of the hexagon is the text "EL OSO" in blue font.
Preparation for the Cigar Experience
Given this was a belicoso, I went with a straight cut to remove some of the tip. It was then on to the pre-light draw. The cold draw yielded a mix of natural tobacco, cocoa, and a subtle spice. Overall I was quite pleased with the pre-light draw experience of this cigar. At this point I was ready to light up the El Oso Belicoso and see what the smoking phase would have in store.
Flavor Profile
The start to the El Oso Belicoso picked right off where the pre-light draw left off. I detected notes of natural tobacco, cocoa, and a subtle pepper note in the background. As El Oso moved through the first third, the natural tobacco developed some sweetness. The sweetness almost had a dried fruit quality to it. There also was a slight creamy quality on the finish. While the pepper remained in the background, I did find it to be a sharper spice on the retro-hale.
The second third saw the natural tobacco transition to almost an oaky quality. There was a slight increase to the spice. As the spice increased, it tasted more like a baker's spice than a pepper note. The pepper could still be detected on the retro-hale Meanwhile the dried fruit remained in the background.
By the last third, the baker's spice was in control with the oak notes slightly behind. The dried fruit notes had dissipated by this point. This was El Oso's flavor profile right until the end. There was no harshness at the end of the cigar. The resulting nub was firm to the touch and cool in temperature.
Burn and Draw
The construction to El Oso was outstanding – and this was reflected very nicely in the burn and draw. I've been a known critic of belicoso / torpedo vitolas in terms of burn and draw, but it seems like 2014 has been producing some very good ones – and I'd put El Oso as one of them. The burn line remained sharp from start to finish – requiring minimal touch-ups along the way. The resulting ash was on the firm side – and had a white color to it. The burn rate and burn temperature were ideal.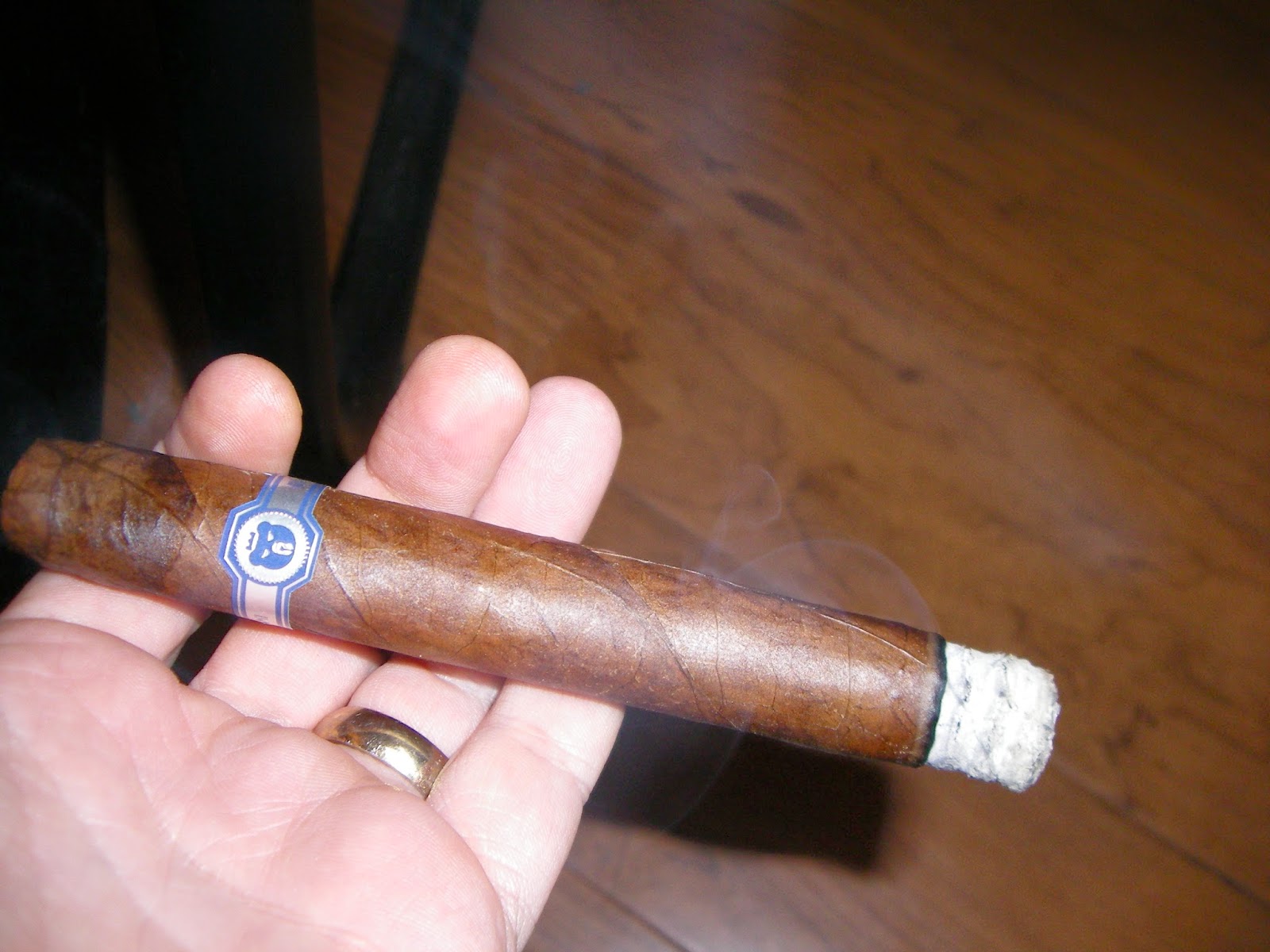 Burn of El Oso by Warped Cigars
The draw to El Oso was also outstanding. It was not too tight and not too loose. At the same time the draw produced an ample amount of smoke production. After clipping the tip and smoking, this belicoso never got soft or spongy.
Strength and Body
When El Oso was announced, Gellis mentioned he wanted to have a true medium-bodied cigar. For the most part I agree with it. I did find in the last third, the body did increase and notched into medium to full-bodied territory. This is not a negative as I think this progression worked nice for this blend. As for the strength it also followed a similar pattern – medium for the first two thirds, and medium to full for the last third. As for strength versus body, both attributes balanced each other nicely from start to finish.
Final Thoughts
The El Oso was a real gem – and a nice find. I enjoyed this cigar from start to finish. This had such a classic cigar flavor profile. I mentioned some renewed faith I have in belicosos – and I think this particular blend shined nicely in the belicoso frontmark. This cigar just fired on all cylinders. This is also a cigar that one can have any time of the day – morning, afternoon, or evening. I'd recommend this cigar to a novice or experienced cigar enthusiast. As for myself, I can see myself smoking this cigar on a regular basis. I can see this being a box split or box worthy cigar once it's released.
Summary
Burn: Excellent
Draw: Excellent
Complexity: Medium
Strength: Medium (1st 2/3), Medium to Full (Last third)
Body: Medium (1st 2/3), Medium to Full (Last third)
Finish: Excellent
References
News: Warped Cigars Announces EL OSO "The Bear"
Price: $12.50
Source: Sample Provided by Manufacturer (*)
Stogie Geeks Podcast: n/a
Stogie Feed: n/a
* The cigar for this assessment was given to Cigar Coop by Warped Cigars. Cigar Coop is appreciative for the sample, but this does not influence the review.