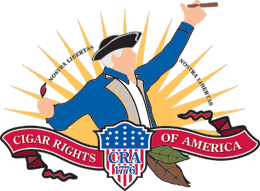 As many know, the proposed regulations outlined by the U.S. Food and Drug Administration (FDA) have been put forth for public comment. Cigar Rights of America (CRA) has issued guidance in crafting your public comment. We encourage all cigar enthusiasts to follow these guidelines, and if you are not a CRA member, please join.


The guidelines listed are as follows:
The content below is sample content that can be used for you to construct your message to the FDA. We encourage you to use this content as a guide and to make edits so the email is something personalized and coming from you.

Please select:
• Only ONE of the introductions, or use them as the foundation for your own;
• One or more of the Message Themes that are important to you; and
• Only ONE of the closings to complete your response.
Click here to go to regulations.gov and provide your comments.
Introduction:
As a premium cigar consumer, I urge the Food and Drug Administration (FDA) to exempt premium cigars from the proposed deeming regulations issued on April 24, 2014.
The new proposed regulations will infringe on my rights as a cigar consumer. The freedom to enjoy a variety of premium cigars; The freedom to patron small businesses across America who will now find their livelihood at risk; The freedom to assemble with fellow cigar enthusiasts because of intrusive government intervention into an adult pursuit.
These devastating new restrictions on premium cigars and the businesses that manufacture and sell premium cigars, must recognize that premium cigars, are not what Congress intended with the Family Smoking Prevention and Tobacco Control Act. I urge the FDA to consider the following:
Message Themes:
As a consumer, special editions and seasonal blends are a unique experience. If premium cigar manufacturers are subjected to pre-market reviews it will result in the elimination of new products, and consumers will have fewer options to choose from when looking to purchase limited edition premium cigars.
Consumers from all demographics and walks of life enjoy premium cigars. Using price would place an unfair discriminatory economic burden on those adults who enjoy premium cigars by setting some arbitrary benchmark for what is "premium."
Premium cigars are an adult product, enjoyed in a celebratory manner, with industry surveys substantiating that the average cigar consumer enjoys two to five cigars per week.
Premium cigars are not marketed to, nor appealing, to minors.
Premium cigar retailers are already engaged in strict age verification when it comes to purchasing premium cigars and all other forms of tobacco.
Premium cigar retailers are predominantly small family businesses that create hundreds of community-based jobs. The proposed regulations would jeopardize these jobs, and threaten the contribution of these jobs in neighborhoods across America.
Consumer taste preferences are unique and different. A ban on sampling would prohibit consumers from being able to try new products before they make such a significant purchase.
Premium cigars are an artisan product made by skilled craftsman carrying a rich historical and cultural significance. The proposed regulations would threaten this rich tradition.
Premium cigars deserve an exemption from federal regulation.
Closing:
I enjoy going to my local cigar shop and shops like it across the country. You meet with friends, and you make new friends. Cigars bring together people from all walks of life, in a manner like no other social activity. It's like the hardware store or barber shop in days past.
We like to be together, and premium cigars are an important part of the moments of solitude that we all need in life.
The federal government should not be interfering with that type of camaraderie, fellowship, and personal pursuit.