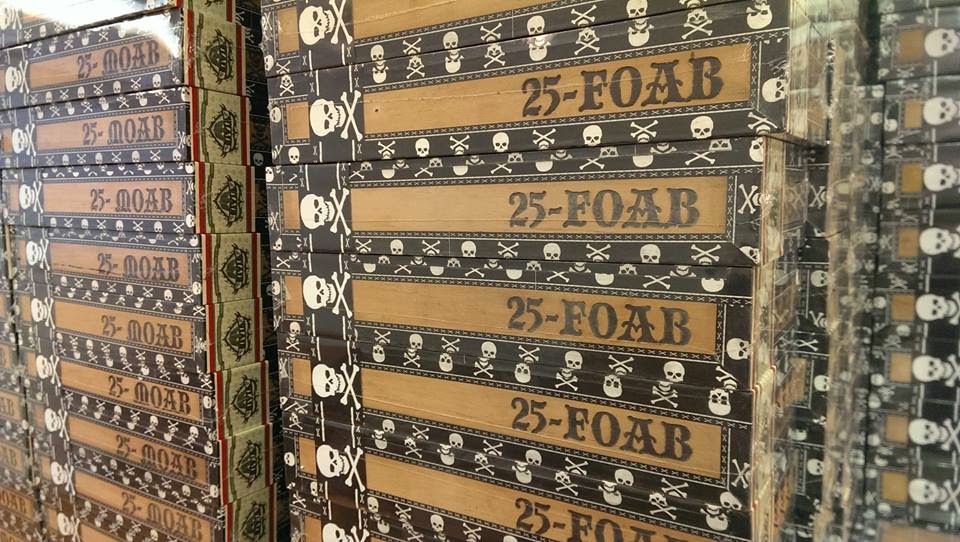 Photo Credit: Viaje Cigars Facebook
Viaje Cigars has announced on their Facebook page that the Viaje Skull and Bones FOAB (Father of all Bombs and MOAB are returning.  The plans are for the Viaje WMD 2014 to be released to retailers this week.  This will mark the eleventh shipment of a Skull and Bones release since its inception in 2010.

The Viaje MOAB was introduced in 2011 as part of the third batch of Skull and Bones cigars released. It was originally released as a 4 1/2 x 54 torpedo in the Skull and Bones red label blend.  The MOAB returned in 2012, but in a 4 1/2 x 52 robusto in the Skull and Bones White Label blend.  The Viaje FOAB was also released in 2012 and was a slightly larger version of the MOAB measuring as a 4 1/2 x 56 robusto.  In 2013, the FOAB and MOAB were not released.

The 2012 release of the Viaje Skull and Bones FOAB
The company has not publicly announced the specifics of the 2014 versions of the FOAB and MOAB, but typically has liked to incorporate the element of surprise into its Skull and Bones releases.  The Skull and Bones series has typically been a Nicaraguan puro except for its Skull and Bones Maduro releases.