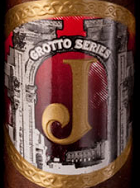 A few weeks ago, we broke news about a new line by Ocean State Cigars called the J. Grotto Anniversary. On May 15th, Ocean State Cigars owner Paul Joyal and Debonaire Cigrs co-founder, Phil Zanghi were guests on Episode 95 of Stogie Geeks. On the show, Joyal and Zanghi confirmed a collaboration by which Zanghi's Debonaire Cigars will be making the J. Grotto Anniversary cigar.
Joyal, who also owns Mr J's Havana Shop in Warwick, Rhode Island said, "We have had great success with the Debonaire line. I know Phil is very excited of what we've done in a very short period. We've talked quite a bit. I pitched him quite a bit and I asked if he would be interested in doing a line. With the success of the Debonaire line, I felt it was a natural perfect fit."

"We've come up with a blend that I am actually ecstatic about. We're going to go out with the Debonaire style and the Debonaire quality. And we're going to be releasing this at this year's trade show. I got a lot of calls for a Connecticut Broadleaf. Everyone wanted maduro cigars and I've always loved Connecticut. He (Zanghi) gave me the same quality he (Debonaire) has," added Joyal.
"It's in the main Debonaire House," commented Zanghi.
While the cigar will feature a Connecticut Broadleaf wrapper when asked about the other components of the blend, Joyal commented "Dominican and other Central American Fillers".
The J. Grotto Anniversary is currently in manufacturing at this time and will be launched at the 2014 IPCPR Trade Show.
Below is the video of the interview with Zanghi and Joyal.
Both Ocean State Cigars and Debonaire Cigars are sponsors of Cigar Coop and Stogie Geeks.