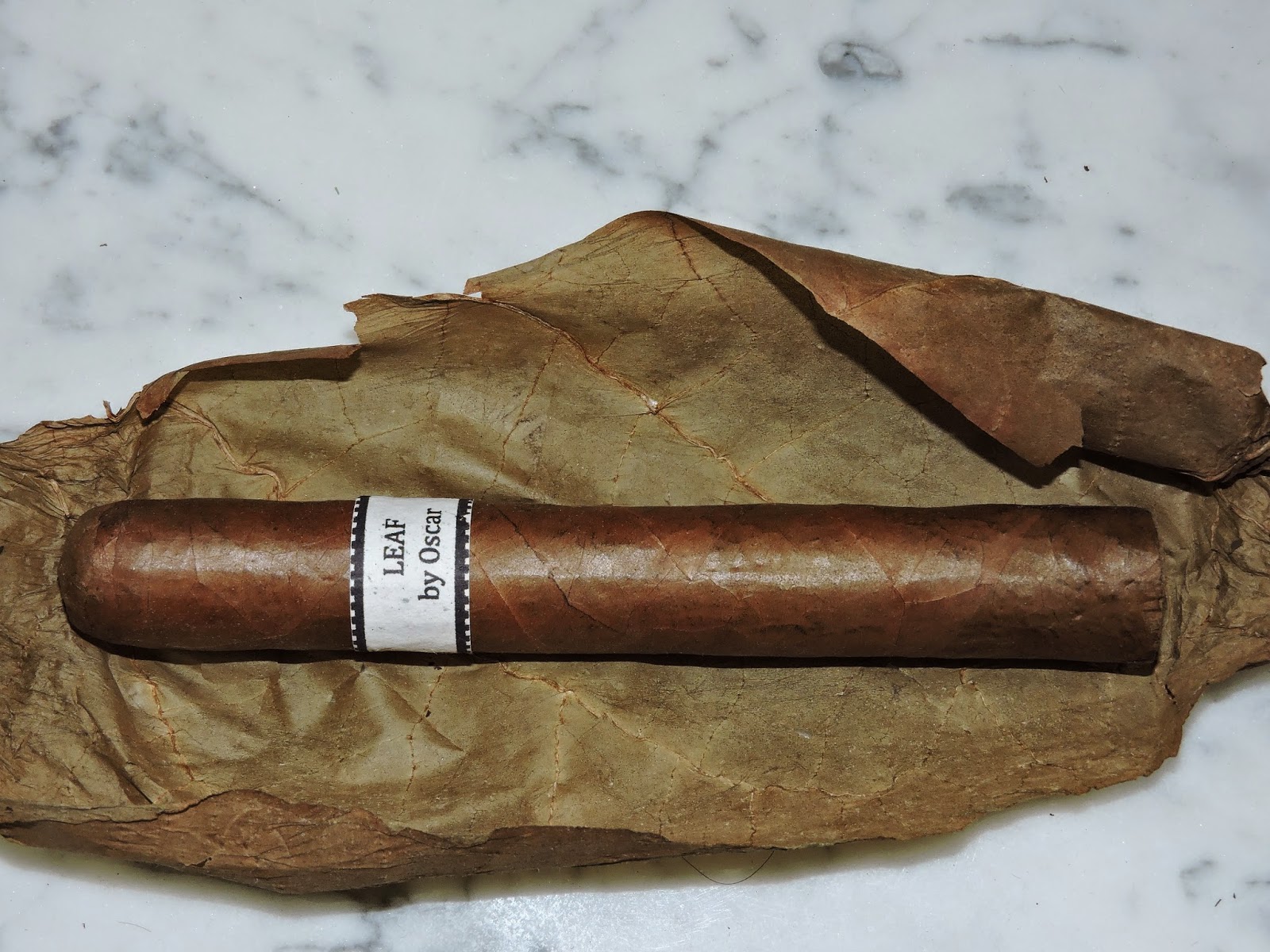 Leaf by Oscar Sumatra
Today we explore another cigar in Jim Robinson's Leaf & Bean series, the Leaf by Oscar Sumatra.  For those who don't know Robisnon is the owner of the Leaf and Bean retail shops based in the Pittsburgh, Pennsylvania area.  For his Leaf & Bean series, Robinson partnered with three boutique cigar makers: Esteban Disla (known from being a partner at the Nica Sueno factory), Noel Rojas (known from being the owner of Guayacan Cigars), and Oscar Valladares.  The Leaf by Oscar series represents cigars in Honduras made by Valladares.  There are four blends in the Oscar series – each called Leaf and denoted by the wrapper (Maduro, Connecticut, Sumatra, and Corojo).  These cigars are not only sold at Robinson's Leaf and Bean shops, but are also available for online purchase and are now being distributed by Puros de Ballard.  Today we take a closer look at the Sumatra offering – the Leaf by Oscar Sumatra.  I found this to be a different Sumatra offering and another excellent release in this line of cigars.

The Leaf by Oscar series is the one line which is made in Honduras (Danli).  In terms of the Leaf & Bean series, Robinson has explained the concept on his Facebook page:

"Oscar, Noel, Esteban. Three of the most talented, passionate, energetic people that I know. They all own their own cigar factories. All three have one thing in common, they make a cigar for Leaf and Bean. My label has two lines, first line is LEAF & BEAN, second is "BY" this 2nd line is important it tells us what factory the cigar is coming from. This is a project that I undertook to bring great cigars on a personal level to my consumers with a local twist. I know these guys, have spent many hours in their homes, factories and watering holes. Anybody that knows me, knows that I spend as much time in Honduras and Nicaragua as I do at home. I am trying something new, trying to share their talent of blending and bringing home a unique cigar. I want to give each of these blenders an outlet to share with us a cigar that compliments their brands. I love these guys, they are the future leaders of our industry. When I asked them to make a blend for Leaf and Bean I left all decisions to them, I want their best, they are artist at work. I am so honored that all these guys have agreed to help me with this, I am just a little cigar shop in the middle of no where. We have in common, a passion for great cigars. These guys were picked because I know they already make great cigars and I want to give them an outlet to expand, to do something outside the box. Also I am maybe a little selfish, I recognize the talent and skills that they have and I know I am on the ground floor, OSCAR, ESTEBAN, NOEL.. all names of the future cigar world.

"NOEL, ESTEBAN, OSCAR! Three guys who have done it the hard way, now own their own cigar factories, three guys making cigars for them selves and others, three guys that are going places. I am proud to be associated with them.
"NOEL and ESTEBAN each own factories in Esteli. OSCAR has a factory in Danli."
Without further ado, let's take a closer look at the Leaf by Oscar Sumatra and see what this cigar is all about.
Blend Profile
The Leaf by Oscar Sumatra uses a Sumatra wrapper from Ecuador over tobaccos from Honduras.
Wrapper: Ecuadorian Sumatra
Binder: Honduran
Filler: Honduran
Vitolas Available
The Leaf by Oscar Sumatra (as all cigars in the Leaf by Oscar line) is offered in one size – a 6 x 50 toro.
Appearance 
The Leaf by Oscar series is known for its unique packaging.  All of the cigars in the Leaf by Oscar series are wrapped in a tobacco leaf as opposed to cellophane.  The tobacco leaf gives a very rustic look to the cigar.  Once the leaf covering is removed, the actual cigar is revealed.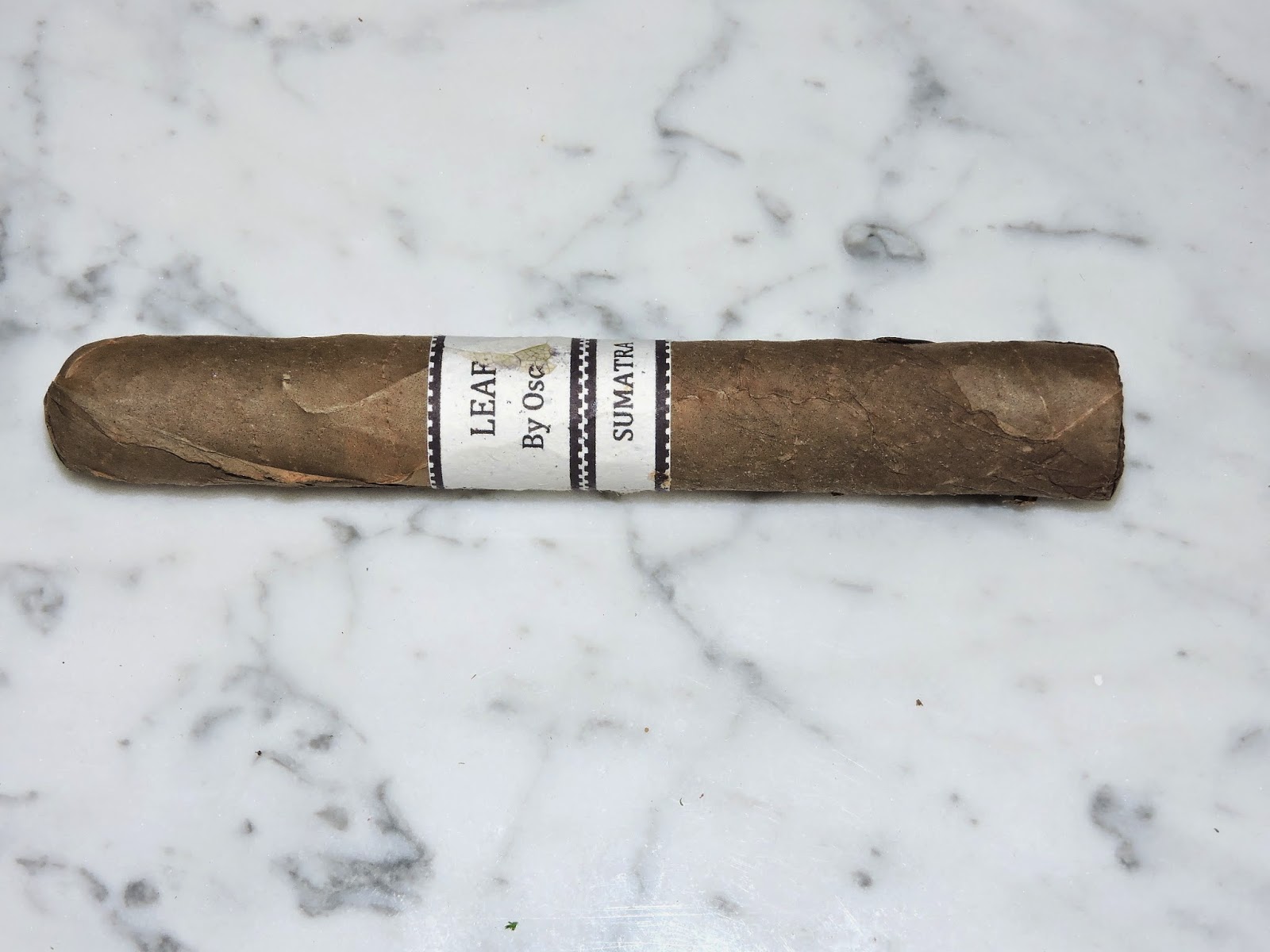 The Leaf by Oscar Sumatra with his tobacco covering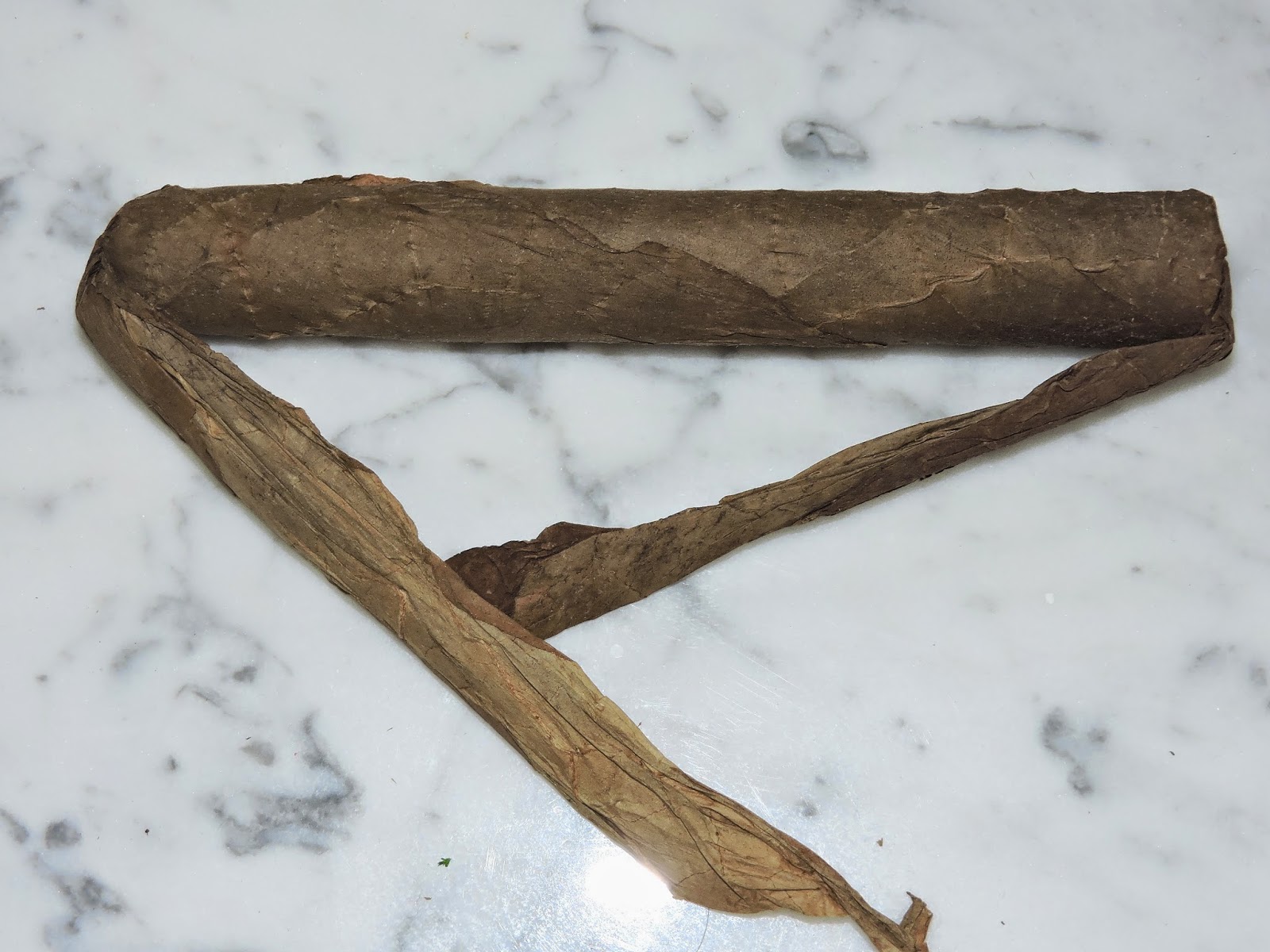 Unwrapping the Leaf by Oscar Sumatra
The wrapper for the Leaf by Oscar Sumatra has a medium brown color with a somewhat oily complexion. There is some darker marbling on the wrapper.  There are also some visible wrapper seams and visible wrapper seams.
The outer wrapper band over the leaf covering is a rustic styled one.  There was even a tobacco stain on the wrapper which I think gave it some real charm. It is off-white with the text "LEAF By OSCAR" in black font. There is a black design on the band trim as well as some darker colored adornments. Banding appears on both the cigar and the leaf covering.  Both are similar except the band on the leaf covering is a little longer as it has the text "SUMATRA" on it.  There is a story behind this band which Robinson also recently explained on his Facebook page.
"Leaf and Bean Label. Our label is made from the same plant that makes the Tequila that some of us like to drink, NOT ME! I like Rum. The label is a handmade paper product. Get it wet and pretty much its gone, so for you wet smokers. I dont see us using any other kind of label for the Leaf and Bean line of cigars. Paper is locally made in Honduras. The colors you see in label are the actual flowers in the plant (Agave). Paper is made in little shop, this little shop is the livelihood for many families in Danli, without it they would not be able to support their families. No, its not shiny, its not embossed, its made of love. This label represents a family being able to put food on table for their kids. I like it."
Preparation for the Cigar Experience
After removing my Leaf by Oscar Sumatra from its tobacco covering, I placed a straight cut into the cap of the cigar. From that point I moved on to the pre-light draw phase. The pre-light draw provided subtle notes of wood, earth, natural tobacco sweetness, and a citrusy / peppery twang. Overall I was pleased with the pre-light draw experience. At this point I was ready to light up the Leaf by Oscar Sumatra and see what this cigar would bring to the table.
Flavor Profile
The start to the Leaf by Oscar Sumatra started out with a mix of natural tobacco, white pepper with some background citrus notes. As the flavor profile developed, the primary flavors became a smooth natural tobacco with a slight milk chocolate component.  The white pepper notes were a close secondary note while the citrus notes remained in the background.  Meanwhile the retro-hale produced a combination of black and white pepper.
By the start of the second third, I saw the citrus notes had increased joining the natural tobacco in the forefront.  The milk chocolate notes diminished into the background joining the white pepper notes.  There also was a doughy quality that surfaced in the background as well.
By the last third, the natural tobacco flavors became more earthy.  There was an increase in pepper toward the end, but it did not become overwhelming.  The citrus notes and dough notes remained secondary.  This is the way the flavor profile held until the end.  The resulting nub was cool in temperature, but firm to the touch.
Burn and Draw
From a burn perspective, the Leaf by Oscar Sumatra performed very well. The burn line remained relatively straight from start to finish – requiring some occasional touch-ups along the way. The resulting ash was a charcoal gray. The ash wasn't overly tight, but it wasn't overly loose either. The burn rate and burn temperature were both ideal.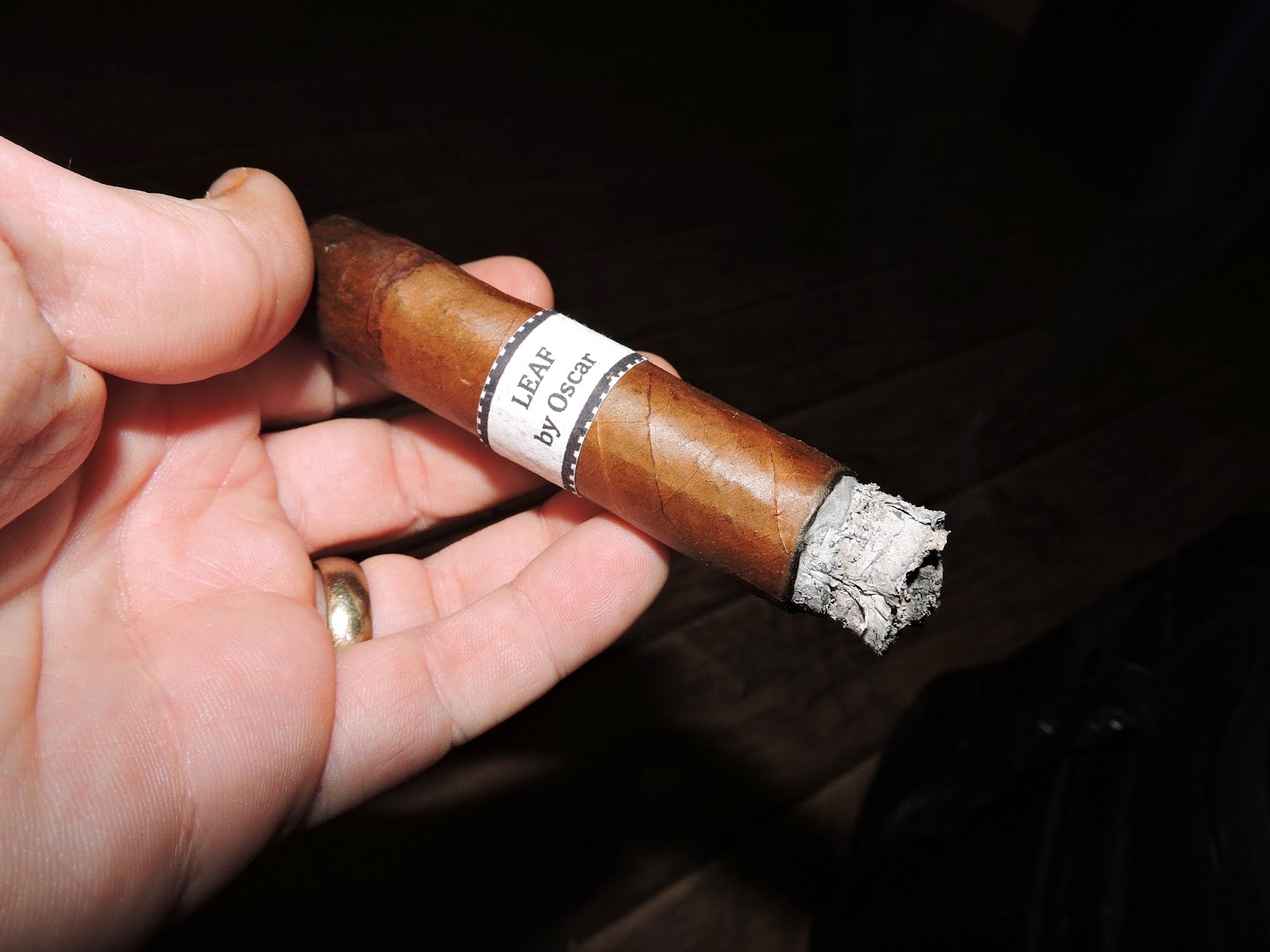 Burn of the Leaf by Oscar Sumatra
Overall the draw of the Leaf by Oscar Sumatra performed excellent as well.  The draw was open, but not overly loose.  The cigar produced an ample cigar production.
Strength and Body
From a strength perspective, I found the Leaf by Oscar Sumatra to have a bit of a kick. I assessed this cigar as a medium to full strength cigar.  As for the flavors, they had some nice depth, but they did not get out of the medium-bodied range.  In terms of strength versus body, I found this to be a cigar where the strength has a slight edge over the body.  At the same time, I did not find the strength smothered the body.  Overall I found this profile worked very well for this blend.
Final Thoughts
The more I have been smoking Oscar Valladares' cigars, the more impressed I continue to get. Valladares is bringing some unique qualities to the blends he produced. If you look the U.S. cigar landscape, there are not a lot of Ecuadorian Sumatra wrapper blends over Honduran binder and flller. As one would expect with the Leaf by Oscar Sumatra, this cigar will smoke differently than your Ecuadorian Sumatra + Nicaraguan / Ecuadorian + Dominican blend. I found this to be a welcome change and one that delivered an enjoyable smoke. Given this has a little strength, this is probably a cigar I would give to a more experienced cigar enthusiast, but certainly I would not discourage the novice from trying. As for myself, I found each subsequent smoke of this cigar to grow on me. It's one I'd smoke again and even go for a box split of.
Summary
Burn: Excellent
Draw: Excellent
Complexity: Medium
Strength: Medium to Full
Body: Medium
Finish: Good
Assessment: 3.5 – Box Split
Score: 90
References
News: n/a
Price $9.95
Source: Sample Provided by Manufacturer (*)
Stogie Geeks Episode: n/a
Stogie Feed: n/a
* Cigars for this assessment was provided by Leaf and Bean. The samples were received in order to provide feedback. Cigar Coop is appreciative for the samples, but in no way does this influence this write-up.
Turn On Builder