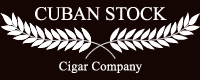 At the 2014 IPCPR Trade Show in Las Vegas, Cuban Stock Cigar Company will launch a new blend under its large ring gauge Chubbys line. The Chubbys Boss becomes the fourth blend under the Chubbys line. It features an Ecuadorian Maduro wrapper has has been launched in four sizes.
Cuban Stock Cigar Company was originally known as Crown David International. The company was established in 1995 and founded by Yaniv Levy. It has a factory in Santiago and attributes its name for the way they grow and ferment their tobacco as well as roll their cigars.

The Chubbys line has been doing large ring gauge for quite some time. In 1999 the original Chubbys became Cuban Stock's first 60 ring gauge cigar. In 2004, the line experienced growth when the company introduced their DMS (Dominican Maduro Special) wrapper. This is a naturally processed Dominican wrapper that produces a dark, oily cigar.
In 2007, the Chubbys Ultimate was produced. This featured the same core components as the Chubbys, but uses an Ecuadorian Sun Grown wrapper to produce a strong and spicy profile. This was followed in 2013 by the Chubbys 3-4-5, a line of short 60 ring gauge cigars that come in a 3 x 60, 4 x 60, and 5 x 60 designed for 30, 40, and 50 minute smokes respectively.
As Levy explained, ""The popularity continued to grow so I decided to continue to develop the Chubbys line."
Levy then explained some of the context that went into the Chubbys Boss line:
"The idea for a new Chubbys line was born in 2012" Yaniv continued. "I had the idea to merge two of our most successful sellers into one! Two of our best selling blends are the Chubbys and Cuban Stock Extra Maduro. Since thicker cigar have grown in popularity over the last few years, I decided to combine them and boom! It was like fireworks on the 4th of July!
"Once the prototypes were released we immediately knew that we had another winner. With a little more thinking I decided to only make three of the most popular sizes; five, six and seven inches. I also wanted to make a cigar that would appeal to a wider demographic of customers who may not want a 60 ring gauge so we made new molds for a 56 ring gauge.
"Cuban Stock Cigars is a company known for its uniqueness. Each of our individual lines has their own blends, boxes, labels, shapes and sizes. So we wanted to once again have this cigar stand out from the rest. We came up with a beautiful concept with a pigtail and an unfinished foot for a rustic yet modern look.
"The final results brought us an absolutely extraordinary cigar. It is a quad-ligero habano blend with an Ecuadorian Maduro wrapper. It's not too thick, not too dark, not too strong and not too pricy. It's a cigar with a lot of character that is bold and smooth, yet refined."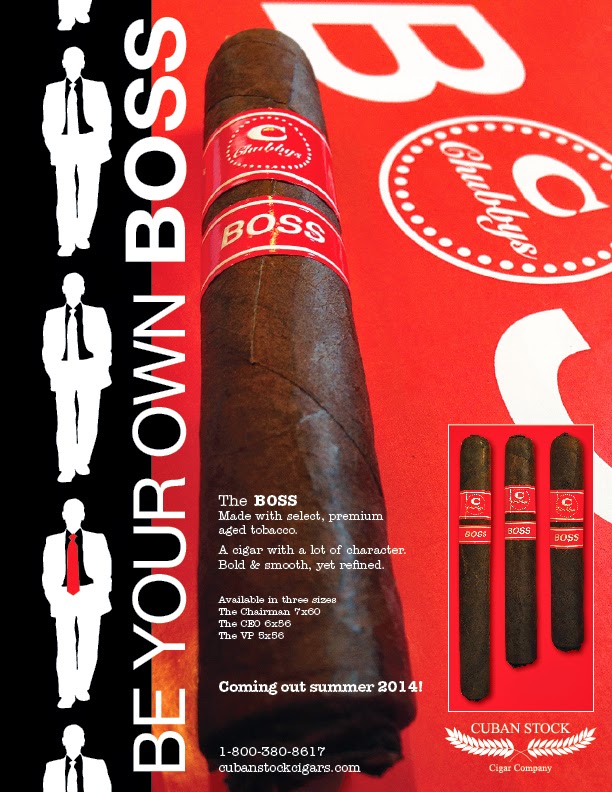 At a glance, here is a look at the Chubbys Boss line:
Blend Profile
Specific blend components were not disclosed. As mention above, the Chubbys Boss consists of an Ecuadorian Maduro and quad-ligero habano blend (*).
Wrapper: Ecuadorian Maduro
Binder: Not disclosed (*)
Filler: Not disclosed (*)
Vitolas Available
The Chubbys Boss will be launched in three sizes:
VP: 5 x 56
CEO: 6 x 56
Chairman: 7 x 60