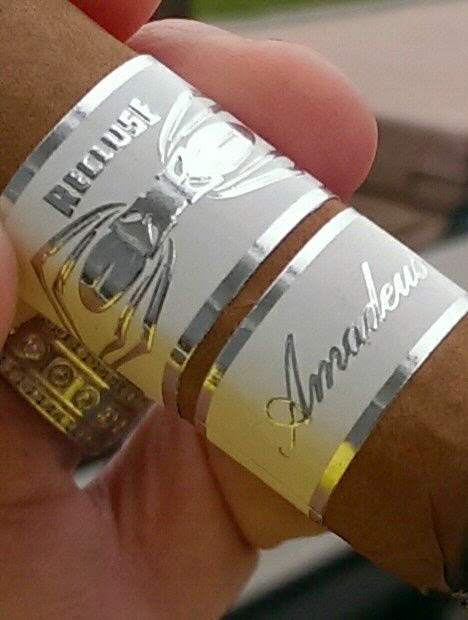 The Recluse Amadeus, the third release by Iconic Leaf Cigar Company has begun shipping. As the company did with 2013's Recluse Draconian, the cigar is being made to a list of select retailers prior to the 2014 IPCPR Trade Show. Ten retailers with a total of thirty retail shops between them will receive the initial allotment of the cigar. The company says the cigars should arrive by Monday July 7, 2014.
The Recluse Amadeus is the company's Ecuadorian Connecticut Shade release. It consists of a blend of Dominican and Connecticut Broadleaf tobacco and contains the company's proprietary MBC binder. The Amadeus is being launched in six sizes including three in the Sidewinder formats. The Sidewinder shape was introduced by Iconic Leaf Cigar Company at the 2013 IPCPR Trade Show with the Recluse Draconian and is being carried over to the Amadeus. It is what the company referred to as a "Side Press" – meaning it is rounded on the top and bottom, but box-pressed along the sides.

Last month, a pre-release review of the Recluse Amadeus was done by Cigar Coop.
The Recluse Amadeus had its national launch on June 28th at Cigar Cave in Palm Harbor, Florida. The following are the retailers who will have the pre-IPCPR allotment.
Cigar Cave; Palm Harbor, Florida
Cigarz on the Ave; Winter Park, Florida
Davidus Cigars (all 9 locations); Frederick, Maryland
Fusion Cigar Lounge; Clearwater Beach, Florida
King Corona Cigars; Tampa, Florida
Outland Cigars (2 locations); Charlotte, North Carolina
Safari Cigars and Lounge; Omaha, Nebraska
Smoke Inn (all 10 locations); Boynton Beach, Florida
Tobacco Cabana; Cedar Hill, Texas
Two Guys Smoke Shop (all 3 locations); Nashua, New Hampshire