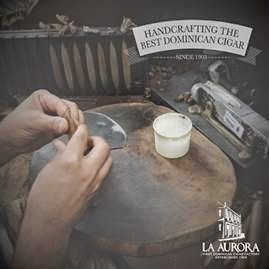 On October 8th 2014, La Aurora Cigars celebrated its 111th anniversary. For this occasion, the company has launched a giveback campaign as they will collect funds to support social programs supported by La Aurora. As a part of the campaign, the com pay will donate 11 cents for every picture received by the brand's social media channels to the Patronato de Lucha contra la Diabetes de Santiago de los Caballeros, a local institution that fights against diabetes disease.
The company will also use all of the pictures received to adorn their tabaqueria (tobacco shop) located in the factory.

In a press release by the company, Guillermo Leon, president of La Aurora said, "La Aurora is a family and we want to invite all our friends from all around the world to join our family on this very special day in which we accomplish 111 years of history," said Guillermo Leon, president of La Aurora. "We want to share the joy of this celebration with all our employees, our International distributors, the tobacco shops and with all smokers and friends, with a double challenge. We aim to fill the factory walls with the pictures of so many friends and make a generous contribution to the research of such a cruel disease as diabetes."
The company will use the hashtag #LA111th to collect the pictures on social media channels of Twitter, Facebook, and Instagram.
The company says they will keep everyone informed of the progress of the program and the evolution of the factory walls.