Assessment Updates will be posted on this web-site to: 1) Assess "pre-review" cigars that were not given a rating or score (typically pre-release cigars); 2) Provide numeric ratings to cigars previously assessed prior to the implementation of the numeric scoring system; 3) Provide a re-assessment and re-score of a previously assessed/score cigars. Today, we re-assess the Alec Bradley Fine and Rare 2012 (known as the BR1213 blend) . This was a cigar we assessed back in November 2012.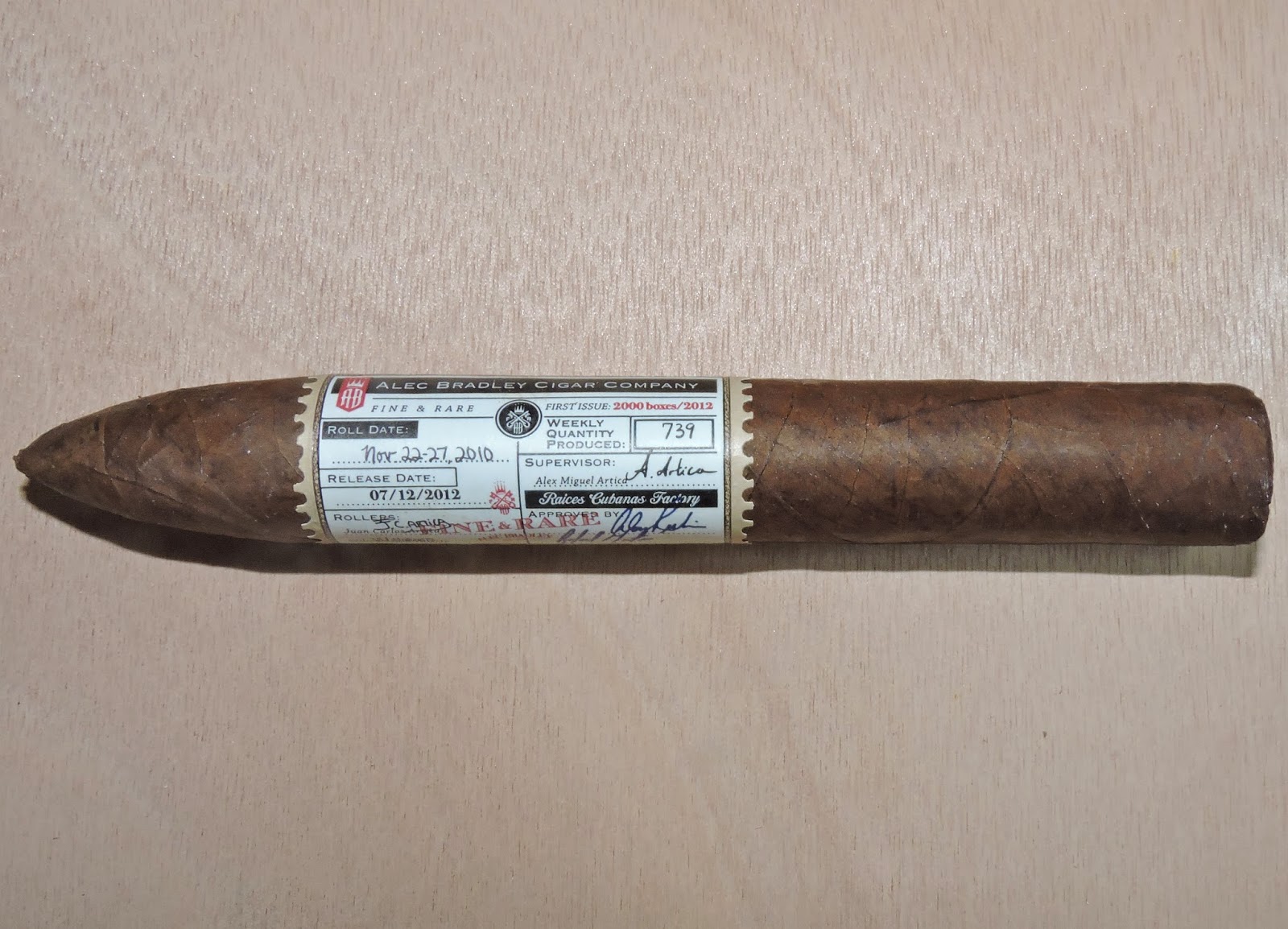 Wrapper: Honduras Trojes
Binder: Honduras
Filler: Honduras, Nicraragua
Torpedo: 6 x 52
The Alec Bradley Fine and Rare series has now become an annual limited production release by Alec Bradley Cigars. The series was launched back in 2011. The concept behind the Fine and Rare is that the blend incorporates ten different tobaccos into it. There have been four releases in the series and with the exception of the 2013 release, the blends and sizes have been different from year to year. Today we take a closer look at the Alec Bradley Fine and Rare 2012 – better known as the BR1213 blend. This is a cigar that originally placed as the Cigar Coop #17 Cigar of the Year for 2012. Today's assessment update is from a cigar that has been aging in the Cigar Coop humidor for two years.
Consistent with other releases in the Fine and Rare 2012 has been packaged in some very elegant boxes. There were a total of 2,000 boxes of ten of the Alec Bradley Fine and Rare 2012 produced. For 2012, a 6 x 52 Torpedo was made.
Wooden humidor housing the Alec Bradley Fine and Rare 2012
I found the Alec Bradley Fine and Rare 2012 to maintain many of the same qualities from when it was first smoked two years ago. The cigar delivered notes of coffee, earth, natural tobacco, citrus sweetness, and cedar sweet / spice. Like the cigar smoked two years ago, this Fine and Rare 2012 did finish up with a lot of cedar and pepper spice. This time around, I didn't get the smooth chocolate and cream notes that I had detected a couple of years ago and that took a little bit away from this cigar experience. The notes for the most part were full-bodied countered by medium to full strength.
As I noted a couple of years ago, the Fine and Rare 2012 provides a decent level of complexity, but given there are ten tobaccos in this blend, I was expecting more.
Overall I did fine this cigar to loose a little bit of gas (not quite as much as Paul said on Stogie Geeks) but this is a cigar that is still delivered some nice flavor. If you come across this cigar now (especially at press time), smoke it soon as I believe its past its peak aging-wise. While I recommend this as a box split, it is worth noting that it is probably going to be difficult to find boxes of ten.
Summary
Burn: Excellent
Draw: Excellent
Complexity: Medium
Strength: Medium to Full
Body: Full
Finish: Good
Assessment: 3.5 – Box Split (Original Assessment – Memorable *)
Score: 91 (Original Score 93 **)
* Original Assessment rating was assigned on a previous assessment scale.
** Original Score was under the pre-2014 scoring system
References
Original Assessment: Alec Bradley Fine and Rare 2012 (BR1213)
News: Alec Bradley Fine and Rare 2012
Price: $16.50
Source: Purchased
Stogie Geeks Podcast: Episode 32 – "Sudafed Brothers", Episode 67 – "Shower Time"
Stogie Feed: Alec Bradley Fine & Rare 2012 (Ep 32), Alec Bradley Fine & Rare 2012 (Ep 67)