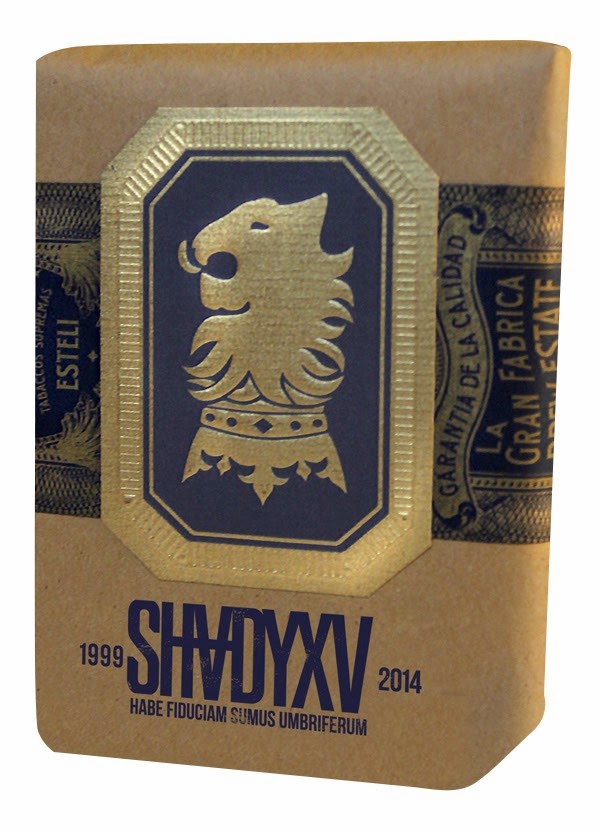 Drew Estate Tobacco has announced a new limited edition line extension to its Undercrown line. The Undercrown Shady XV is being done in partnership with New York and Detroit-based Record Company Shady Records. The cigar will commemorate the record company's 15 anniversary and will be a limited production cigar mad available to 10 brick and mortar shops in the Detroit metropolitian area. It will be shipped to retailers on November 27th coinciding with the release of the record company's Shady XV compilation album.
The ShadyXV is a 5 x 50 box-pressed belicoso. It is based on the Corona ¡Viva! blend and is now the third cigar in the Undercrown line to use that blend (joining the Undercrown Dogma – released for Cigar Dojo earlier this year). It becomes the ninth vitola overall. The cigar will be packaged in 10 count packs with a total allocation of 500 packs. The ten packs will have a retail price of $99.99.

Drew Estate co-founder Jonathan Drew commented, "this project has been in the works for some time and I couldn't be more amped that it's finally coming to fruition. Anyone who knows JD understands my affinity towards hip-hop, so to have this opportunity to work with Paul Rosenberg and the Shady family is a true honor. Drew Estate is always on the cutting edge and 'in the cut' — and the Undercrown ShadyXV is no exception. This will be a collector's piece for both the Drew Estate and the Shady fan."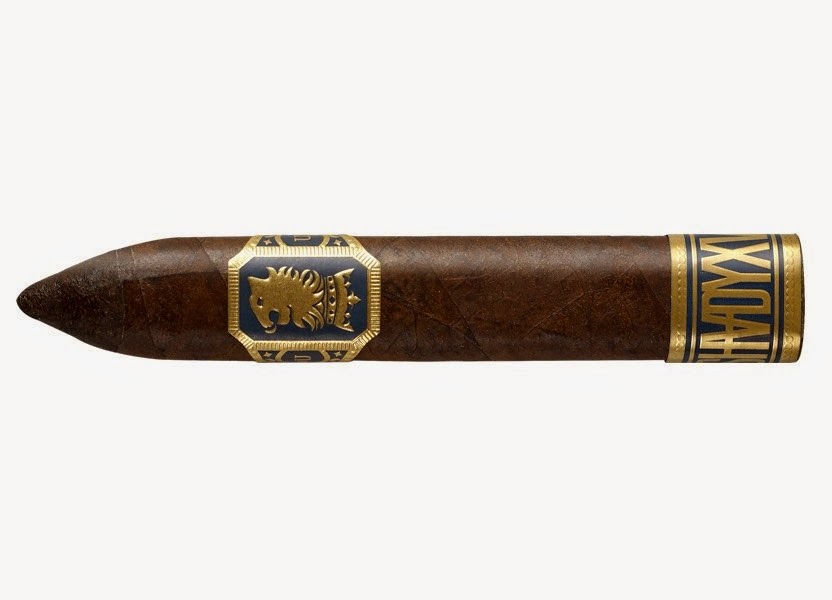 According to a press release by the company, Paul Rosenberg, long-time manager for musician Emimem and a partner in Shady Records was the impetus behind this partnership. Rosenberg said, "As an avid boutique cigar smoker and a long-time Drew Estate fan, this collaboration on our label's 15th anniversary is a huge honor that I'm really excitedabout. JD (Jonathan Drew) and his team went all-out to create a really special smoke that I'm very proud to be associated with."
The SHADYXV record will be a double-disc compilation. It will actually make its way to record stores a few days earlier than the cigar (November 24th). It will feature on disc of new music and a second disc of greatest hits from the record company in the past five year's. The project includes 50 Cent's monumental "In Da Club", D-12's classic hit "Purple Pills," and Eminem's Academy Award and Grammy-winning anthem, "Lose Yourself," the theme from his smash film debut 8 Mile.
Drew Estate and Shady Records have also launched a web-site to for the cigar.
Blend Profile
When the Corona ¡Viva! was released, this was based on a modified blend to the original Undercrown. However the tobaccos to both blends are from the same origins.
Wrapper: San Andres Mexican
Binder: Connecticut Stalk Cut Habano
Filler: Nicaraguan and Brazilian Mata Fina
Vitolas Available
As mentioned the ShadyXV is the third vitola to use the Corona ¡Viva! blend and ninth Undercrown vitola overall.
Corona ¡Viva! Blend Vitolas
ShadyXV: 5 x 50 (Box Pressed Belicoso)
Corona ¡Viva!: 5 5/8 x 46
Dogma: 6 x 56 (Box Pressed – Limited Edition for Cigar Dojo – exclusively available through Smoke Inn using Corona ¡Viva! blend)
Other Vitolas
Flying Pig: 3 15/16 x 60
Corona Double: 7 x 54
Belicoso: 6 x 52
Gran Toro: 6 x 52
Gordito: 6 x 60
Robusto: 5 x 54
Retailers Carrying the Undercrown ShadyXV
Churchills, Birmingham, MI
Churchills, West Bloomfield, MI
Wild Bill's, Roseville, MI
Wild Bill's, Commerce, MI
Smokes on Burdick, Kalamazoo, MI
La Casa, Detroit, MI
The Wine Garden, St Clair Shores, MI
Jenuwine's, Troy, MI
Jenuwine's, Sterling Heights, MI
Jenuwine's, Royal Oak, MI