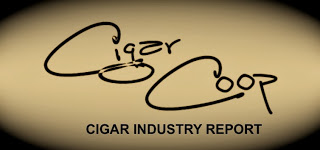 The Cigar Industry Report is a one stop place to catch up on the activity here at Cigar Coop and Stogie Geeks. It is a combination of our news reports, cigar reviews, and assessment updates we do throughout the week. We will also recap what happened on our Stogie Geeks show. Finally, each week we will look back at Cigar Coop history. Look for this report every Saturday morning at 8am Eastern time.
The CIGAR INDUSTRY REPORT HITS ITS 100th Edition

This week is the 100th edition of the "Cigar Industry Report". The Cigar Industry Report debuted back on January 26th, 2013. When Cigar Coop became a 365 day/year website in 2012, a weekly wrap-up soon became a necessity. Not only is this the 100th edition, but this is the 100th consecutive week we published this weekly wrap-up. There are a lot of weekly recaps, but we believe we have the longest continuous active streak for publishing this.
We thank you for your support – and how the Industry Report has been informative and useful.
Stogie Geeks Studio C is Coming to North Carolina
Over the next few weeks we will now be adding studio equipment to where the show is recorded in NC. This top of the line equipment includes an HD Camera, a professional audio mixer, new microphones, and studio lighting. This will also give us the ability to bring in live guests and do remote shows in the North Carolina area. This will supplement our Rhode Island Studio which remains the hub for Cigar Media's only multi-camera broadcast. Be sure to check us out and look for more announcements coming soon.


Aged Selects 2014 Cigar of the Year Countdown
In a Cigar Coop December tradition, we began a daily countdown of the Top 30 Cigars for the Yea for 2014. This is the fifth consecutive year for the countdown. We are proud to welcome Aged Selects as our official sponsor.
We outlined our vision and criteria in this month's Editor's Corner. Here were this week's selections #25 through #19:
#25: Viva Republica Propaganda
#29: A.J. Fernandez New World
#28: Viaje Plata Lancero
#27: Regius of London Claro Especial Exclusivo U.S.A
#21: Federal Cigar 93rd Anniversary Reserve No. 2 by Oliva
#20: Tortuga 215 Reserva El Coyote Negro by Legacy Brands
#19: J. Grotto Anniversary by Ocean State Cigars
Feature of the Week: Davidoff Brand Revamping


While it was a slow week, the big news came out of Davidoff. This week, announcements for revamping a couple of brands in the Davidoff portfolio were made. This includes the Winston Churchill and Avo brands. While the Winston Churchill rebranding was announced last month, full details of the new Davidoff Winston Churchill were announced in New York. Later in the week, the Avo details were announced.
News and Previews
Cubanacan Cigars: The company has shipped the long awaited HR Cigar. We assessed this cigar over the past week.
Davidoff: The company made additional announcements around its Davidoff Art Initiative at Art Basel in Miami Beach, Florida.
Kafie Cigars: The company announced their second Kafie 1901 blend, the Kafie 1901 Connecticut is slated for February 2015.
Legislative News
On this date December 13th…