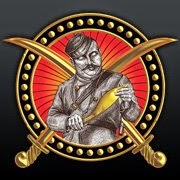 Gurkha Cigar Company has become the latest company to release a super premium luxury cigar. However, this is not the first time Gurkha has entered this market. Today the company has announced its second cigar to fall into this category – the Gurkha Maharaja. The cigar will be medium bodied cigar and carry a price point of $2,000.00 (*).

Gurkha's original entry into this market was the Gurkha 'His Majesty's Reserve' which has been priced at the $1,000.00 mark.  The price point of that cigar is driven by the fact that each cigar is infused with Remy's Louis XIII Cognac which sells for $2,400.00 a bottle. Unlike the 'His Majesty's Reserve', the Maharaja will not be infused.
The Maharaja is described as a blend consisting of a maduro wrapper over Dominican binder and filler.
"The limited edition 'Maharaja' has set a new precedent for premium tobacco," said Kaizad Hansotia, founder and CEO of Gurkha Cigars. "We're excited to be able to pair these rare leaves in such a magnificent and flavorful way. It's been a while since our first release of the 'His Majesty's Reserve' in 1996 and we think this cigar will set a new standard for an exclusively luxurious smoke to become the 'king' of all cigars. I couldn't be more proud of what we've accomplished with the 'Maharaja.'"
The Maharaja will be a limited production of only 100 boxes of ten made for a total of 1,000 cigars. It will be packaged in what is described as an "exquisite wooden humidor".
This is the third cigar in the past three months that has been priced in what could be considered a super premium luxury cigar.  Back in December, Padron released the Cigar Review: Padron 50th Anniversary in which 50 cigars are packaged in a luxury humidor for $5,300.00. Also in December, Davidoff released the Davidoff Oro Blanco – which also retails for $500.00
Note: Pricing originally provided in error at $500.  We have corrected this to be $2,000.00