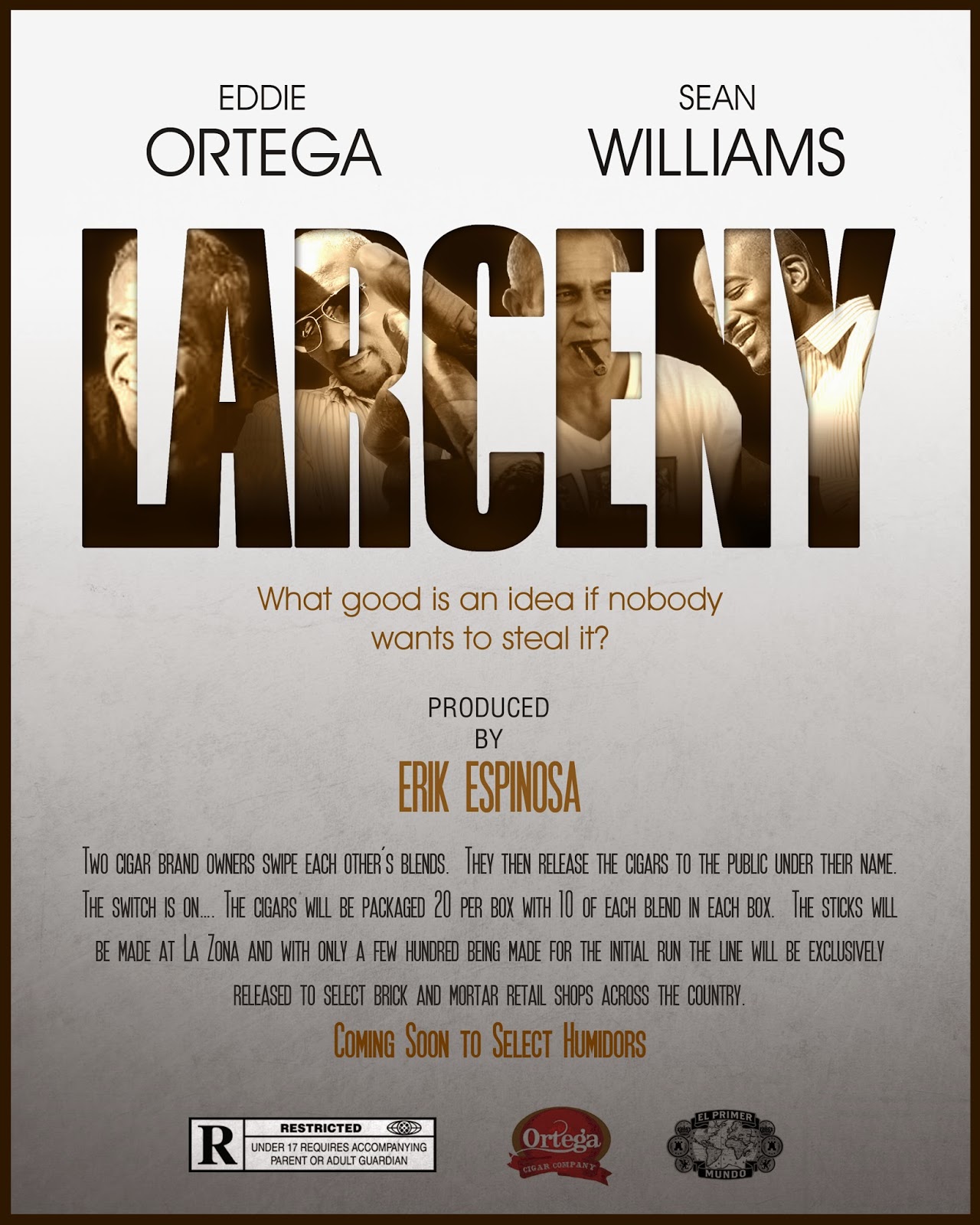 Back in February, we broke news of a collaboration project between Eddie Ortega of Ortega Premium Cigars and Sean Williams of El Primer Mundo (EPM) called "Larceny". With the cigar now in transit, Ortega and Williams were guests on Episode 140 Stogie Geeks to talk about the project and what it was like teaming up on this project together.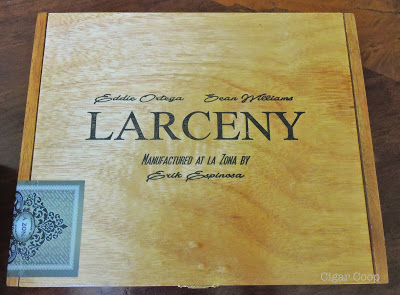 The concept behind this project is that each brand owner will create a cigar to suit the other brand owner's palate. The Ortega Larceny by Sean Williams consists of a San Andres Mexican wrapper over Nicaraguan binder and filler. The EPM Larceny by Eddie Ortega consists of a Habano Oscuro wrapper over Nicaraguan binder and filler. Ten cigars of Ortega Larceny and EPM Larceny are then packaged in a twenty count box with each cigar set divided by a partition. Both cigars have been made in one size – a 6 1/2 x 52 Toro.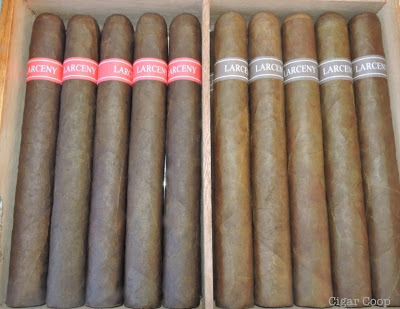 Ortega Larceny by Sean Williams (Left);
EPM Larcey by Eddie Ortega (Right)
A total of 400 boxes were made and were made available to 42 retailers. According to Ortega and Williams, they sold out in a couple of days just from the press announcement. Ortega said they were conservative with what they produced "you got to be careful when launching anything new, you don't want to over-extend the number of boxes you put out there."

In an added twist, the cigars are made at Erik Espinosa's La Zona factory in Esteli, Nicaragua. Espinosa is the former partner of Eddie Ortega at EO Brands. Larceny marks the first time they have teamed up since dissolving EO Brands. Ortega mentioned that he and Espinosa had mentioned they were going to work together for quite some time. When Larceny came along, Ortega said "it just clicked" in terms of working with Espinosa.
Ortega Larceny by Sean Williams (Left);
EPM Larcey by Eddie Ortega (Right)
Both Ortega and Williams have not announced any specific further projects. They expressed a willingness to work together and with Espinosa again, but want to see if the market demands it. "We talked about it and obviously we want to more. It's one thing for us to want to do more, it's another for consumers to want it done," said Williams.
Following this interview, Ortega and Williams got ready to hit the road. Both are scheduled to be in attendance at the National Launch Party of Larceny being held at The Pipe and Pint in Greensboro, NC on May 16th. Both are also going to be in attendance at the June 6 Southern Cigar Festival.
The Interview
Updated 5/17/15: Box and Cigar Photography added.