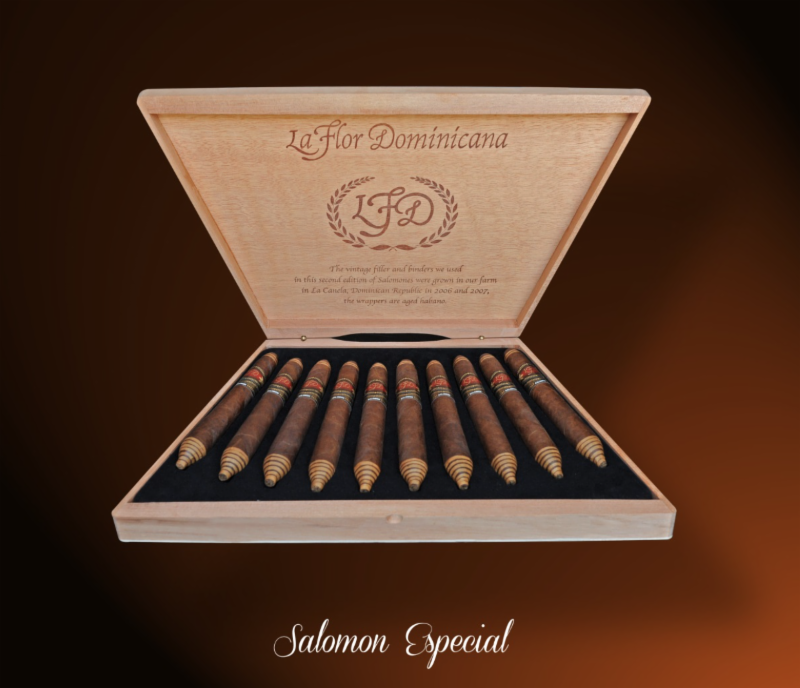 Last year, La Flor Dominicana brought back its Salomones offering for a limited run.  This year, it makes another return with a twist literally.  At this year's IPCPR Trade Show, the company will launch the La Flor Dominicana Salomon Especial.  This will be based on the Habano blend of the Salomones, but feature an Ecuadorian Connecticut leaf twisted around the cap and foot.
La Flor Dominicana introduced its Salomones offering in 2009 in both a Habano and a Maduro offering – a massive 7 x 64 vitola in a massive salomon vitola.  Last year, both blends returned in the same size and blend.  This year, only a Habano blend adorned with the Ecuadorian Connecticut return.
The leaf is twisted in a style similar to was done on the Mysterioso 2013 Collector's Edition.
At a glance here is a look at the La Flor Dominicana Salomon Especial:
Blend Profile
Wrapper: Nicaraguan Sun Grown Habano
Binder: Dominican
Filler: Dominican
Vitolas Available
As mentioned, the La Flor Dominicana Salomon Especial is a 7 x 64 vitola.
Photo Credit: La Flor Dominicana