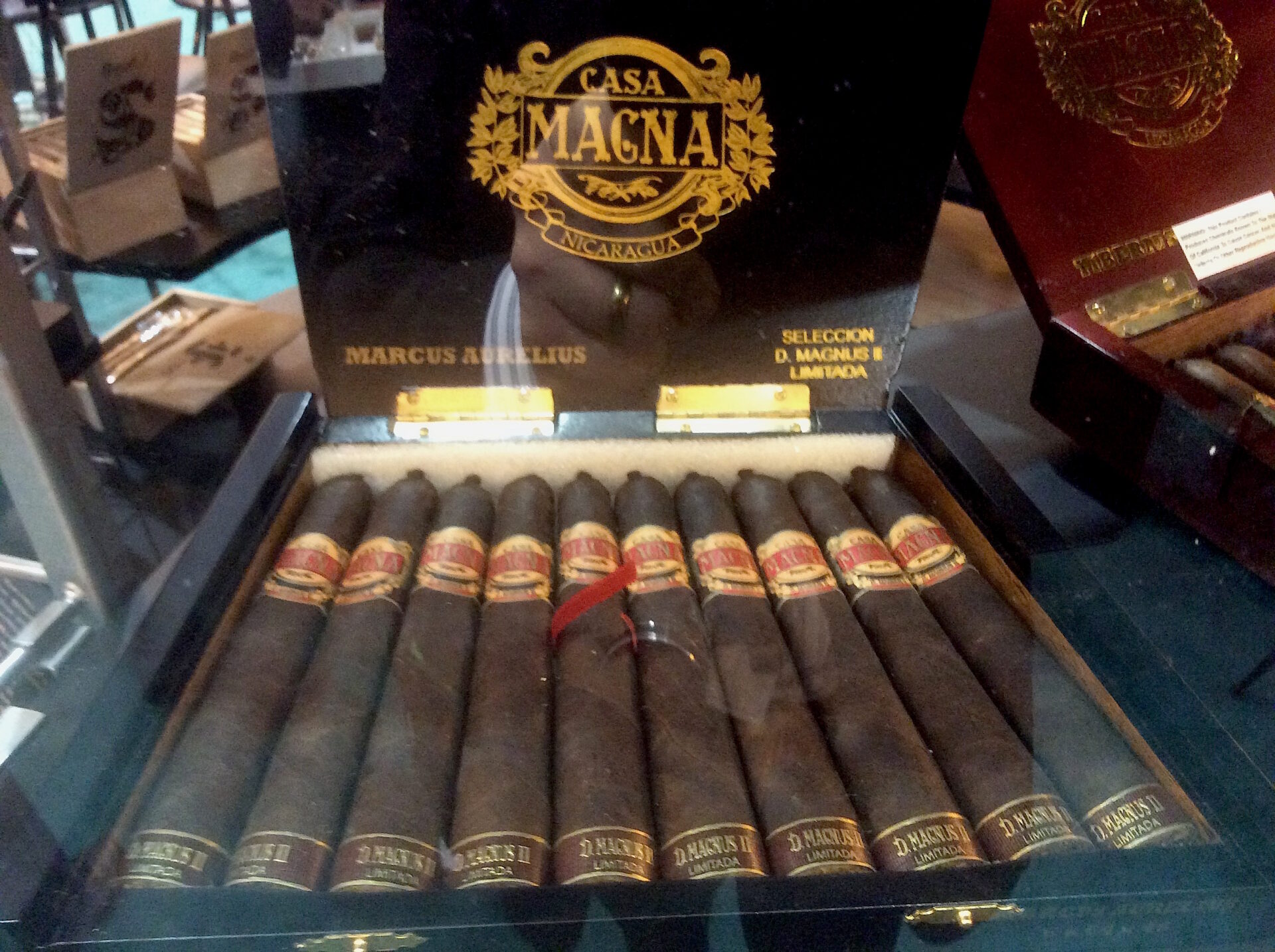 At the 2015 IPCPR Trade Show, Quesada Cigars showcased the Casa Magna D. Magnus II Marcus Aurelius.  The Marcus Aurelius is the third and final installment of its The Three Good Emperors line extension series of the Casa Magnus D. Magnus II (Domus Magnus II) line.  It was late last year when Quesada announced these line extensions that would pay homage to the reigns of three emperors at the height of the Roman Empire.  Each of the three extensions would feature a unique and innovative shape. The Marcus Aurelius was no exception.
With the Marcus Aurelius, this is a variant of the Casa Magna D, Magnus II Tiberius.  The Tiberius was a flat elliptical-pressed cigar that was released in 2014.  With the Marcus Aurelius, it puts the elliptical pressed shape into a pyramid shaped vitola.
Late last year, the first installment of "The Three Good Emperors", the Trajan was announced – a size that was a unique "D-shaped" cigar.  Earlier this year, the second installment, the Hadrian was released – which was a variant of Quesada's Salomon-Press.  The Hadrian is rounded in the middle and box-pressed at the ends (which is the opposite of the Salomon-Press which is rounded at the ends and box-pressed in the middle).  The Hadrian was only offrered to members to the Tobacconist Association of America (TAA).
At a glance, here is a look at the Casa Magna D. Magnus II line:
Blend Profile
Wrapper: 2007 Jalapa Sun Grown (Nicaraguan)
Binder: Nicaraguan
Filler: Nicaraguan
Country of Origin: Nicaragua (Plasencia Cigars SA)
Vitolas Available
A total of seven vitolas have now been made in the Casa Magna D. Magnus II line.
The Three Good Emperors:
Marcus Aurelius: 6 x 64 x 46 (Pyaramid Elliptical)
Hadrian: 5 1/2 x 60
Trajan: 5 1/2 x 60 ('D' Shape)
The Remainder of the line:
Tiberius: 6 x 54 (Elliptical shape)
Caligula: 6 x 60 (Box-press perfecto)
Primus: 6 1/2 x 55
Optimus: 5 3/4 x 52