Agile Cigar Reviews replace what we termed "Assessment Updates". The concept is the same, but the name is different. Agile Cigar Reviews use a lightweight, shorter format. These will never take the place of our comprehensive reviews. They are only used on blends we have previously assessed. This might be a blend we are re-scoring or providing a score for a first time. It might be a blend we are looking at in a different size. Today we look at the E.P. Carrillo INCH Natural No. 64. This is a cigar we previously did an assessment back in October, 2012.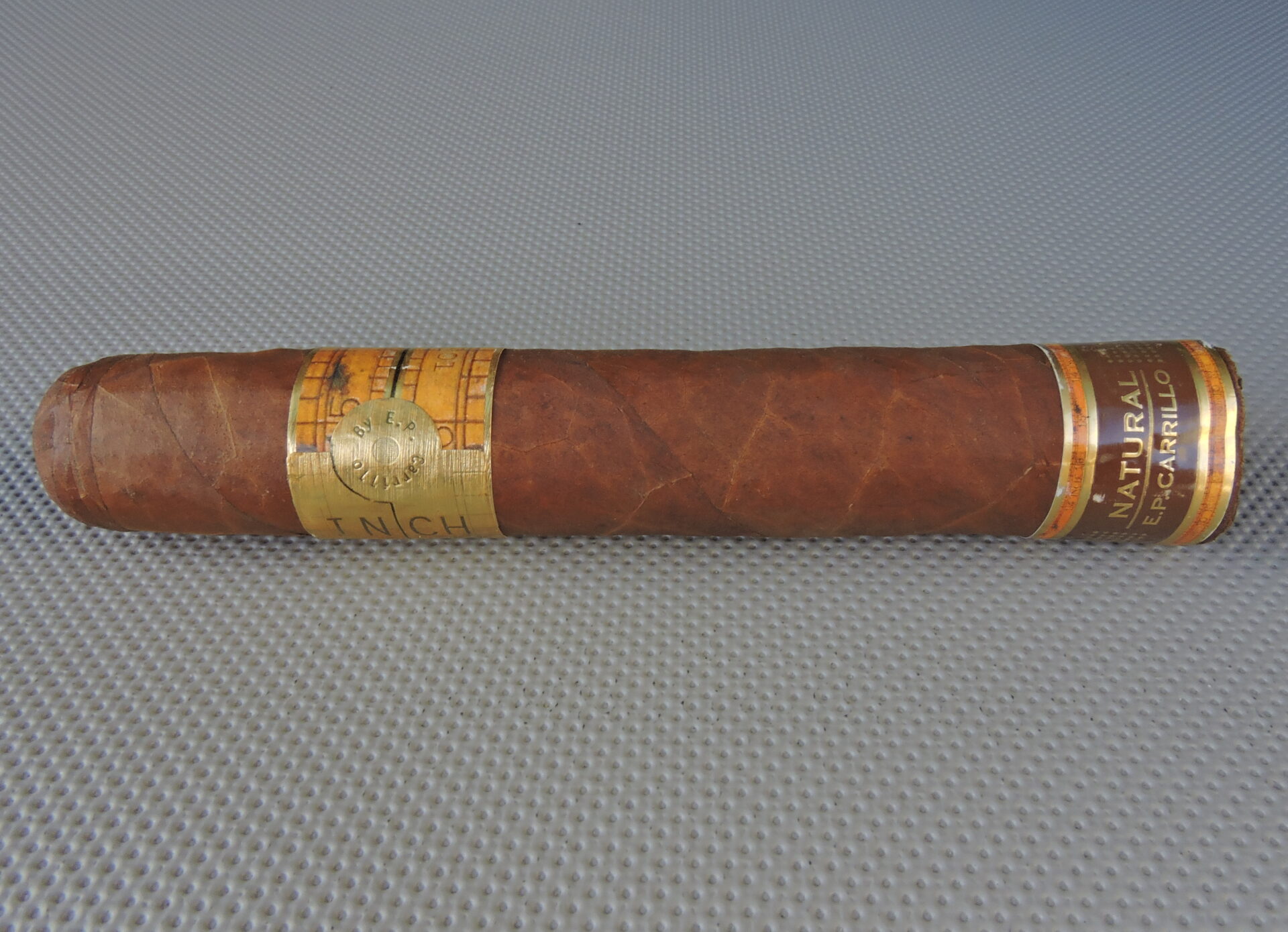 Wrapper: Ecuadorian Sumatra
Binder: Nicaraguan
Filler: Dominican (Piloto Cubano, Corojo and Criollo '98)
Country of Origin: Dominican Republic Tabacalera La Alianza)
No. 64: 6 1/4 x 64
Price: $10.00
The E.P. Carrillo INCH series is a line focused on large ring cigars that are 60 ring gauge or above. Large ring gauge cigars are nothing new to Ernesto Perez-Carrillo as he was considered somewhat of a pioneer in this area while he was with La Gloria Cubana.  Back in 2012, the INCH was originally introduced in a Maduro and a Natural (Sumatra) blend and it quickly became one of E.P. Carrillo's most successful lines. In 2014, a Corojo blend called the C-99 was added. We recently took a look at the INCH Maduro in the No. 64 size.  Today we take a closer look at the INCH Natural No. 64.
The INCH Natural No. 64 is a vitola that measures 6 1/4 x 64.  The blend incorporates a Connecticut Broadleaf wrapper, a Nicaraguan binder, and Dominican fillers.  When it was introduced, the No. 64 was the largest in the line, but in 2013 the No. 70 – a 7 x 70 was introduced.
Appearance wise, in 2014, a footer band was added to the INCH series. The footer indicates whether the blend is a C-99 (Corojo), Natural, or a Maduro. The INCH Natural No. 64 smoked today had the new footer band indicating natural.
The INCH Natural delivers a mix of cedar, nut, and natural tobacco. Throughout the smoking experience there also was a red pepper component that was present. Like its maduro counterpart that we recently assessed, the E.P. Carrillo Inch Natural No. 64 delivers a smoking experience that is medium to full in strength and medium to full in body.
In terms of burn, I did find this a cigar that needed more touch-ups than I prefer. The ash was also a little more flakey than I prefer. Meanwhile, the draw had a little resistance, but I consider that a positive as it helps prevent the larger ring gauge from burning hot.
One positive thing about the INCH line is that it is specifically blended to be a big ring gauge cigar. While I do think this E.P. Carrillo Inch Natural performs better in the No. 60, this was still very much an enjoyable smoke. If a big ring gauge is for you, this cigar is worthy of a fiver in your humidor.
Summary
Burn: Excellent
Draw: Excellent
Complexity: Medium
Strength: Medium to Full
Body: Medium to Full
Finish: Good
Assessment: 3.0-The Fiver
Score: 89
References
Original Assessment: E.P. Carrillo Inch Natural
News: Inch by E.P. Carrillo
Price: $10.00
Source: Cigar Provided by Manufacturer
Stogie Geeks Podcast: Episode 172
Stogie Feed: E.P. Carrillo INCH Natural No. 62, E.P. Carrillo INCH Natural No. 64