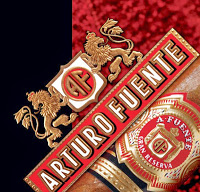 Arturo Fuente releases are usually shrouded in mystery, but when it comes to the Unnamed Reserve series, it is even moreso.  Over the past week, Fuente authorized retailers are reporting the arrival of the Arturo Fuente Unnamed Reserve 2015.  Once again, the release returns in two sizes, a Robusto and a Toro packaged in a single box.
It was in 2012 when Fuente launched the first Unnamed Reserve cigar – a 5 3/4 x 48 Toro. In 2013, there were two vitolas of the Unnamed Reserve released – a 5 3/4 x 50 Toro as well as a 5 1/4 x 48 Robusto. The Unnamed Reserve 2014 was a 6 x 60 Toro. In terms of the blends, it is not known any of them are and how much they differ from one another.
The Unnamed Reserve 2015 will consist of ten 5 1/2 x 48 Robusto vitolas and ten 6 x 50 Toro vitolas packaged in a single box.