Agile Cigar Reviews replace what we termed "Assessment Updates". The concept is the same, but the name is different. Agile Cigar Reviews use a lightweight, shorter format. These will never take the place of our comprehensive reviews. They are only used on blends we have previously assessed. This might be a blend we are re-scoring or providing a score for a first time. It might be a blend we are looking at in a different size. Today we look at the L'Atelier Extension de la Racine ER15 (a lonsdale). This is a cigar we previously did a pre-release assessment in the ER13 (Toro) size back in 2013.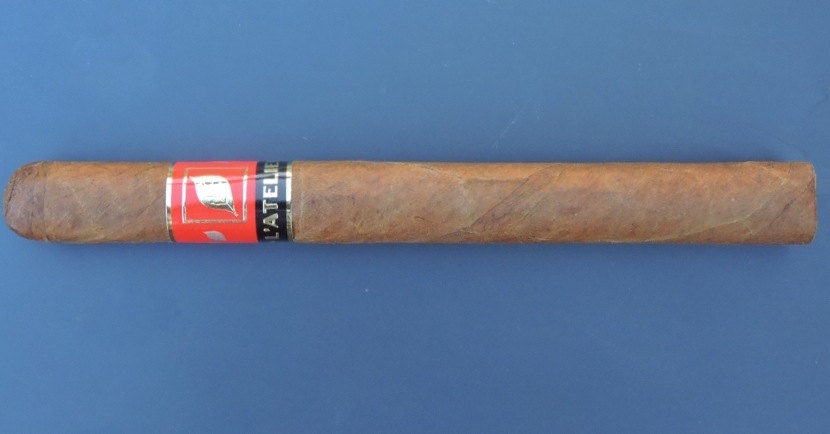 Wrapper: Nicaraguan Sun Grown Criollo '98
Binder: Double Binder – Sancti Spiritus (Ecuador)
Filler: Nicaraguan
Country of Origin: Nicaragua
ER15: 6 3/4 x 43
The L'Atelier Extension de la Racine is a annual limited production offering by L'Atelier Imports. The Extenson de la Racine was introduced in 2013 and each year has featured a new size with the same blend. In an effort to encourage retailers to come to the IPCPR Trade Show, Extenson de la Racine is only available to those retailers that actually attend the the show and place an order with L'Atelier. For 2015, a 6 3/4 x 43 lonsdale known as the ER15 was introduced.
The name "Extension de la Racine" translates to "extension of the root". The blend is an off-shoot of the core L'Atelier line. It incorporates the Sancti Spirtus tobacco – something that is a staple on all L'Atelier Import cigars branded under the core L'Atelier name. Sancti Spiritus is a hybrid of Criollo and Pelo de Oro and was designed as a replacement seed for Pelo de Oro. The remainder of the blend features a Nicaraguan Criollo wrapper as well as Nicaraguan fillers.
The ER15 started out with a classic Garcia black pepper blast before giving way to notes of cedar and natural tobacco. Early on there is a slight bitter component to the natural tobacco – which actually works well with this blend. As the cigar experience progressed, the cedar and wood notes became primary while the cedar and natural tobacco diminished. The bitter component to the natural tobacco dissipates toward the end.
Like its predecessors, I found the ER15 to have some kick. The flavors produced start out medium to full-bodied and become full-bodied by the second half. This is countered by medium to full strength.
When I had originally smoked 2013's ER13, there was actually a heavier sweet component that I thought was a little overpowering at times. This might have been youngness as that 2013 was a pre-release sample. With the ER15, this was not the case as the flavors were more balanced. Overall the ER15 was very enjoyable. It's a cigar I would steer toward a more seasoned cigar enthusiast. It's worthy of a box split in my book.
Summary
Burn: Excellent
Draw: Excellent
Complexity: Medium
Strength: Medium to Full
Body: Medium to Full (1st Half), Full (2nd Half)
Finish: Good
Assessment: 3.5-Box Split
Score: 90
References
Original Assessment: L'Atelier Extension de la Racine ER13 (Pre-Release)
News: L'Atelier Imports Extension de la Racine ER15
Price: $9.25
Source: Purchased
Stogie Geeks Podcast: Episode 172, Episode 181
Stogie Feed: L'Atelier Extension de la Racine ER15 (Paul), L'Atelier Extension de la Racine ER 15 (Will)