Recluse Cigar now will have its own Dominican puro.  At the 2016 IPCPR Trade Show opening July 25th in Las Vegas, the company will introduce the Recluse OTG Dominican Puro. The Recluse OTG Dominican Puro is the fifth to be announced of what is planned to be a series of nine blends that Recluse will unveil at this year's trade.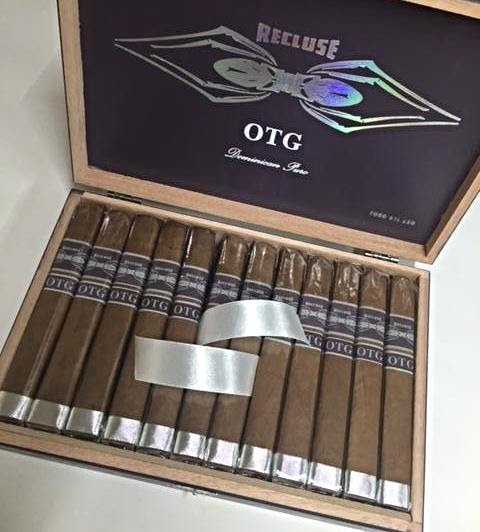 The cigar is unique to Recluse because up until this point, all of the company's blends have been multi-national. With the Recluse OTG Dominican Puro, it is the company's first puro – incorporating a blend of tobacco exclusively from the Dominican Republic.
Recluse Cigar Company co-founder Scott Weeks commented said in a press release, "The OTG Dominican Puro was the funnest and most challenging project we have done to date. Making a true Dominican puro blend and having the end result be this absolutely fantastic cigar is a satisfaction that is hard to put into words."
The Recluse OTG Dominican Puro joins the Recluse Amadeus Los Cabos , Recluse Amadeus Rosado, Recluse Amadeus Corojo Reserva, and Recluse OTG Connecticut as lines announced by Recluse Cigar Company thus far for 2016. The company's other Connecticut Shade offering is the Recluse Amadeus Connecticut.
At a glance, here is a look at the Recluse OTG Dominican Puro:
Blend Profile
Wrapper: Grade A Dominican
Binder: Dominican
Filler: Dominican
Country of Origin: Dominican Republic (Tabacalera Leyendas Cubanas)
Vitolas Available
The Recluse OTG Dominican Puro will be made available in Fourteen sizes. All will be in 24 count boxes except for the three Kanu offerings which will be in 20 count boxes.
Petit Corona: 4 x 42 (SRP $5.95)
Corona: 5 3/4 x 46 (SRP $ 6.75)
Robusto: 5 x 52 (SRP $7.50)
Toro: 6 1/4 x 50 (SRP $8.50)
Belicoso: 6 1/2 x 56 (SRP $8.95)
Lancero: 7 x 38 (SRP $8.95)
Tarantula: 6 x 60 (SRP $9.50)
Excepcionales: 7 1/2 x 56 (SRP $9.75)
Sidewinder #1: 5 x 57 (SRP $8.50)
Sidewinder #2: 6 x 57 (SRP $9.50)
Sidewinder #3 7 x 57 (SRP $10.50)
Kanu #1: 6 x 54 (SRP $10.25)
Kanu #2: 7 x 52 (SRP $10.95)
Kanu #3: 8 x 58 (SRP $11.95)
Photo Credits: Recluse Cigar Company