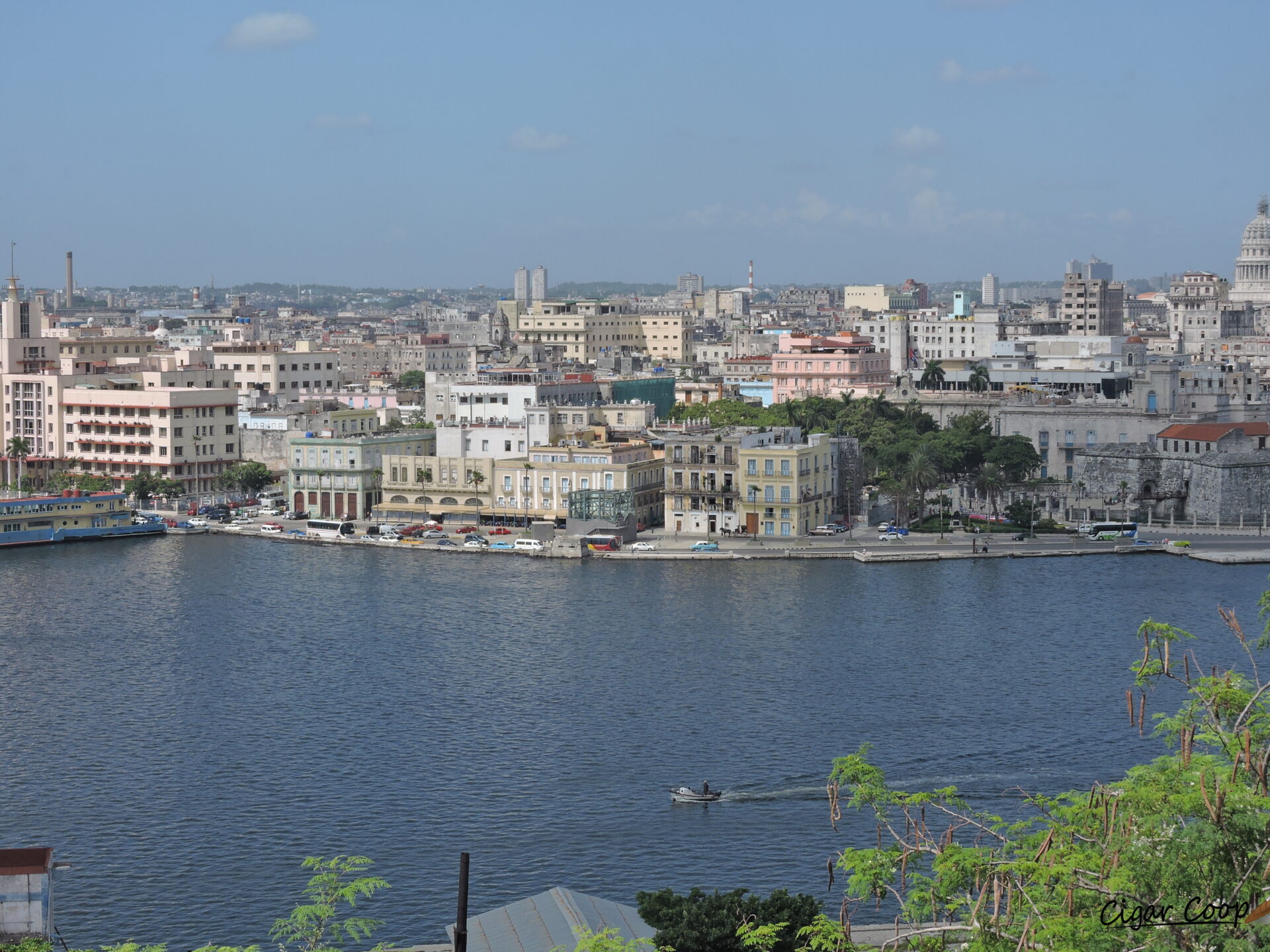 Recently, I had an opportunity to take a trip to Cuba. My purpose of going to Cuba was a combination of fact-finding and education. The signs are pointing toward the U.S. Embargo against Cuba ending. With that, this could lead to the Cuban cigar market being opened in the United States (although under current FDA regulations, this may never happen). Therefore, the time seemed right to explore this country that was much of an unknown to myself – and to learn about the Cuban Cigar Industry. While we have discussed Cuban Cigars on Stogie Geeks, we haven't covered much on Cuban Cigars on Cigar Coop.
For this feature story, it is a very different piece than has ever been published in the six plus years Cigar Coop has been in existence. The topic of this piece does not primarily deal with cigars. In my personal quest to better understand the Cuban cigar business, I felt the first step was to understand the dynamics of Cuban culture.
This is not a "trip report", but rather a series of twelve observations I had in Havana from "my mind's eye". It is the first of a two part series. The second installment, which will publish some time in September 2016 will have more of a cigar-centric theme.
The observations are listed in alphabetical order:
1. Automobiles – and the Island Lost in Time
When you arrive in Cuba one of the most noticeable things are the amount of antique classic American cares that are present – particularly in the city of Havana. Most of these American Cars are going to be 1962 or earlier. The reason is because following the implementation of the U.S. Trade Embargo against Cuba, it was quite difficult to obtain an American vehicle post 1962. I found these classic cars represent a microcosm of a city and country locked in time.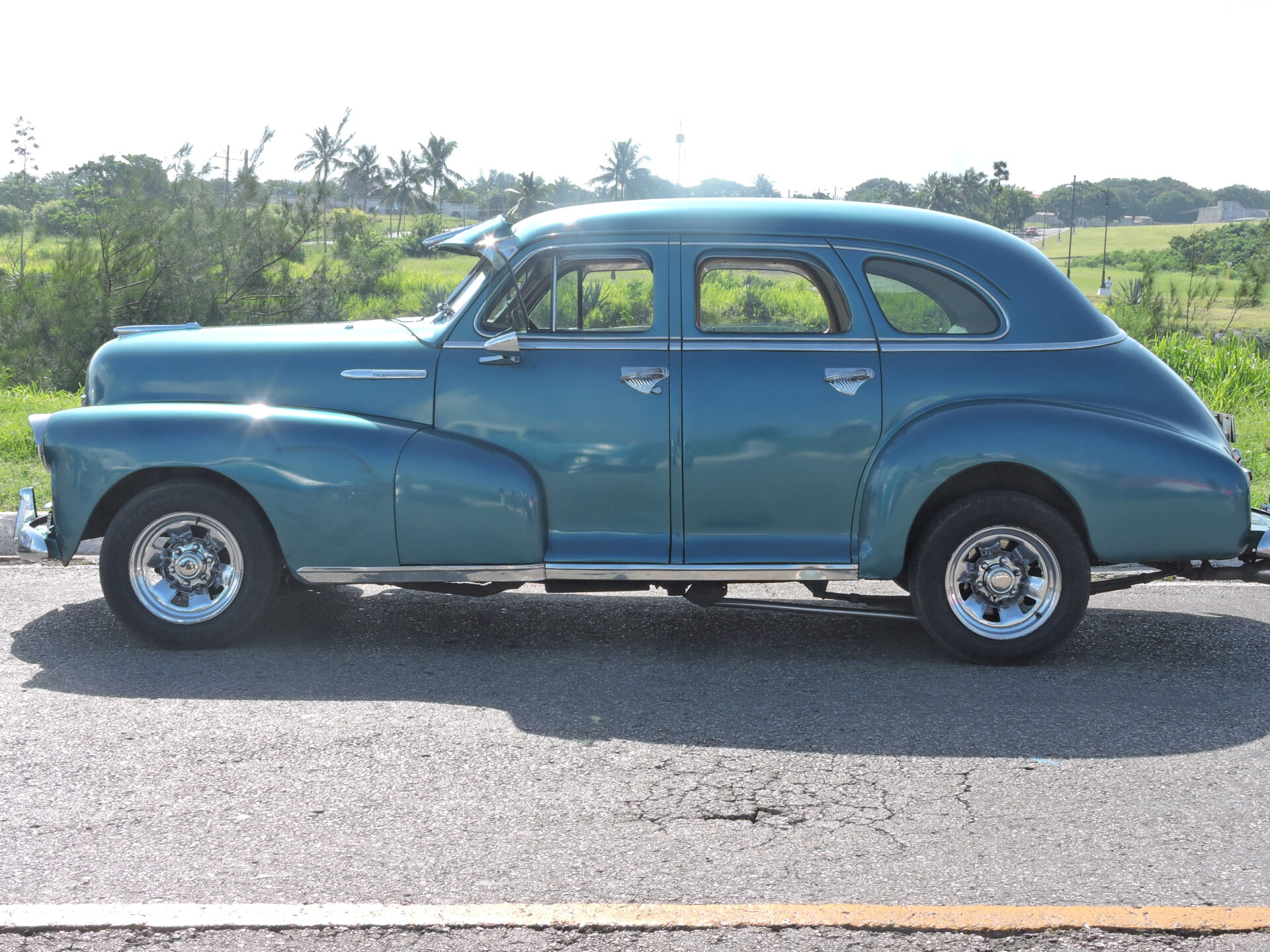 These cars are a source of pride to many of the Cuban people who drive them. They are kept in immaculate condition. The engines are often rebuilt using foreign engines and engine parts – and they mechanically ride very well.
Functionally, these are often serve as taxis.  There are also some convertibles – although these are typically used for higher-end taxis.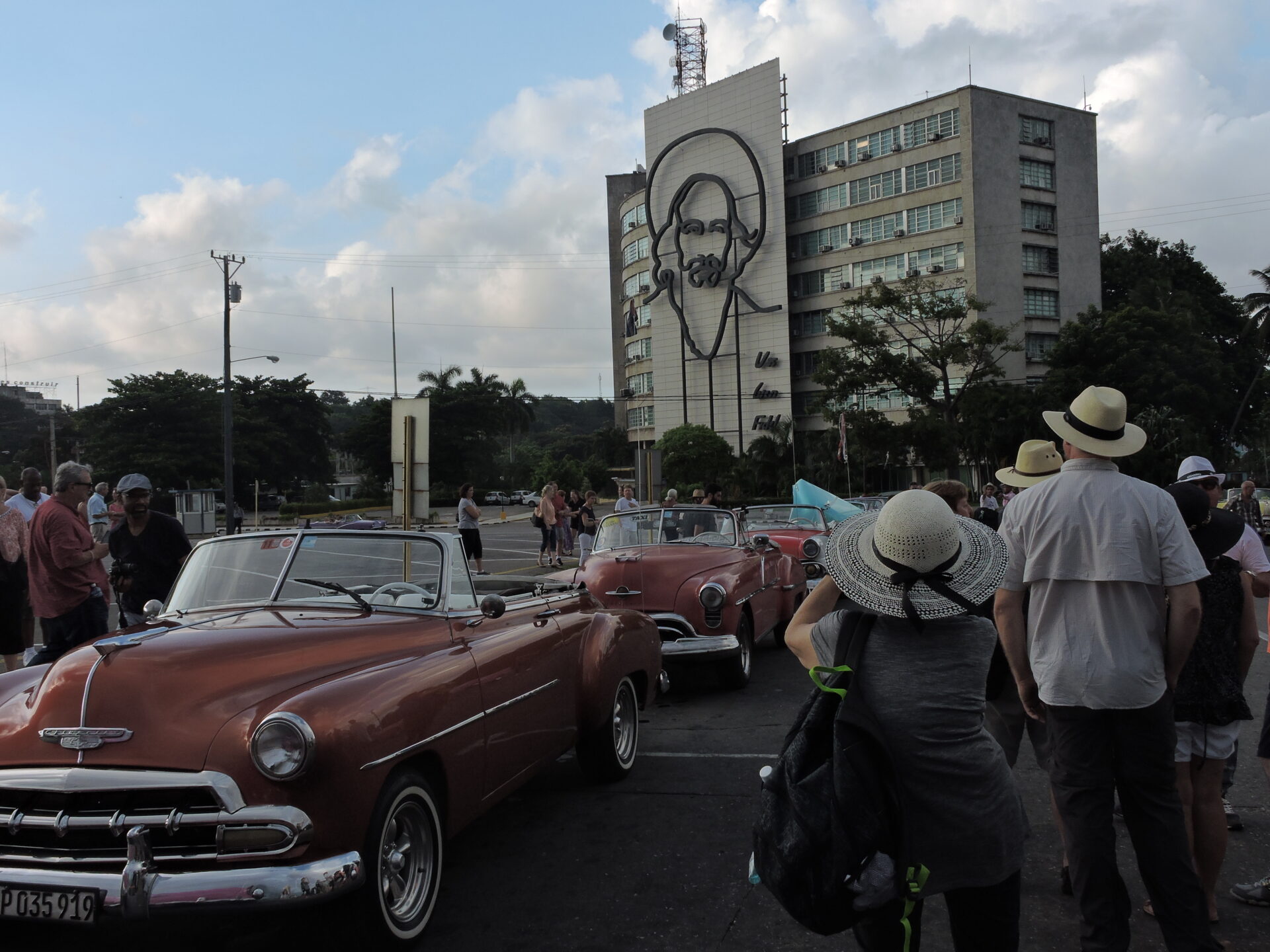 It is worth noting there are modern automobiles and many modern tour buses present. However, these are obviously not imported from the U.S.
2. Big Brother Watching You?
Cuba still very much is a Communist county and very much a totalitarian state. This weighed a lot on my mind when I first arrived in Havana and I wondered how much the Big Brother presence would be present. Overall, in addition to feeling relatively safe (Section Section 11 of this article for safety in Havana), I also felt Cuba and in particular Havana was a welcoming place to U.S. citizens.  However, there a few reminders of the type of country I was visiting.
Upon my arrival at the condo where I stayed, all of the attendees in my group were required to show our individual passports and visas. This is done because the lodging proprietor is required to report guests' passport and visa numbers to the government (The lodging proprietors are required to give 10 percent of what they take in to the Cuban government). This "registration" process happened early in my trip, so I wondered how much Big Brother would be a presence as the trip went on. However, after this it was less about Big Brother and more about the propaganda.
Then there was Fidel Castro's 90th birthday – which he celebrated the day before we arrived in Cuba. Many establishments such as the state owned restaurants were sure to remind people of the occasion. Throughout my travel in Havana, there were plenty of billboards also "promoting the good of the state". Che Guevara's portrait is present on many T-shirts and other souvenir items.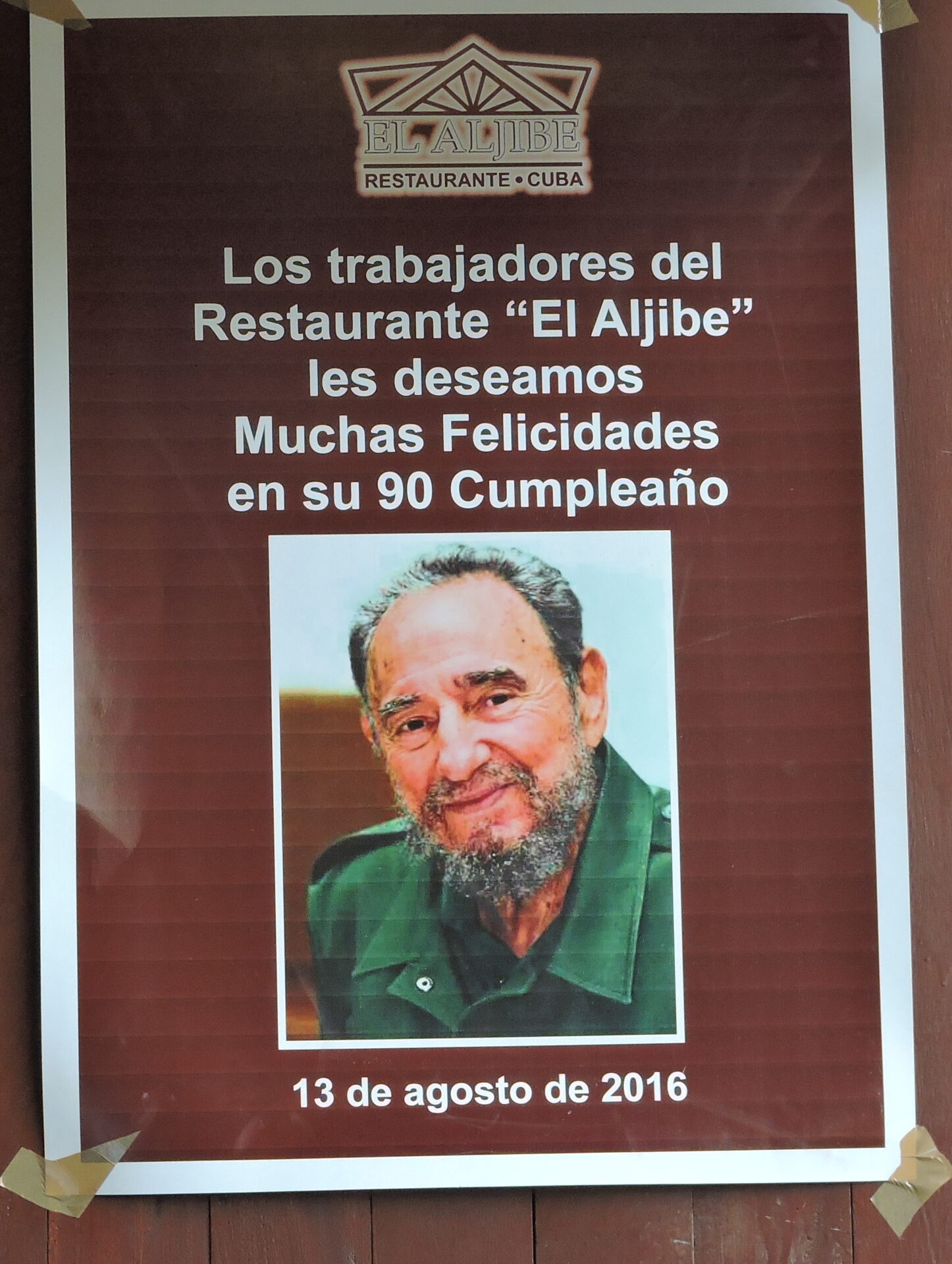 As I toured Cuba, I found the tour guides we encountered to not play a political angle one way or another. The Cuban Revolution is still a part of the current history of Cuba. In describing these events as well as Cuba today, the tour guides were respectful to their government, but at the same time, they did not play the propaganda angle either.
3. The Commercial Machine is Not There Yet
The charm of Havana is that it is not a city where you will see a McDonalds or Starbucks at any corner. In fact, I didn't see any of these two franchise giants. There are not a lot of big brands I saw in Havana or in Cuba. I did see some Coca Cola, and in one place I did find Pepsi. With Cuba starting to open up for Americans, this country will be a prime target to expand commercial business to, thus I would expect franchises and big brands to eventually surface in Cuba.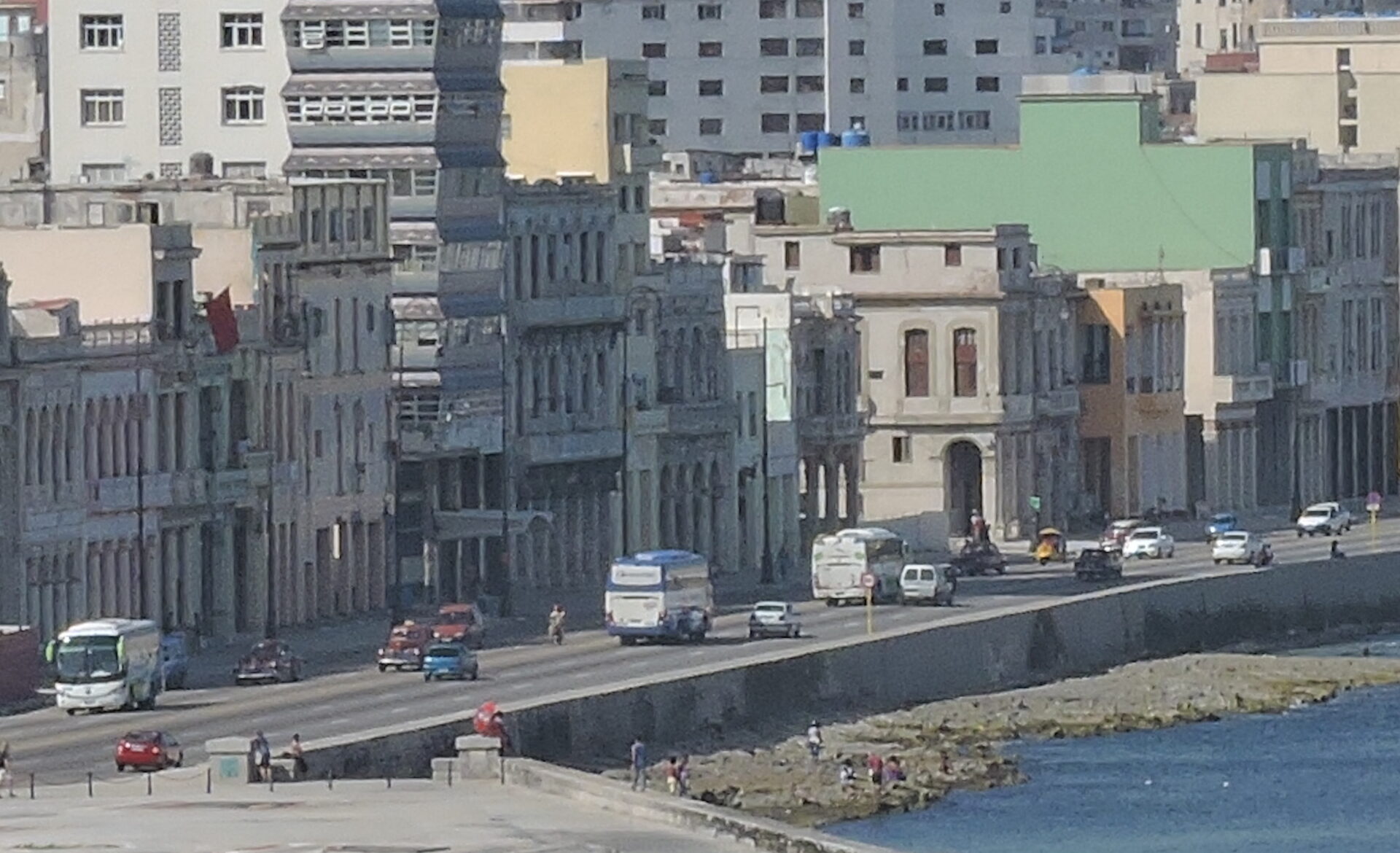 The Malecon is was perhaps the most interesting example of the commercial machine not present. The Malecon is the famous esplanade that stretches along the north shore of Havana featuring the famous sea wall. Some of the great architecture of Old Habana and Centro Habana is a part of the fabric of this street While there is some small to medium business that has been popping up on this road, it doesn't have the big retail chain commercial storefronts. As I traveled along this road, I couldn't help but wonder in ten years if this stretch would eventually be filled with the McDonalds, Starbucks, and other retail fronts that we have become accustomed to.
While there wasn't a lot of Coke or Pepsi, there was a prominent brand called Ciego Montero. This brand has the hold on the bottled water and soft drink market in Cuba. There is a an ironic twist with this brand. The bottled water comes from the Cienfuegos region in South Cuba. Ironically, this brand is a that is owned by Nestle, so the island isn't totally immune from large business.
4. The Eastern European Influence
One thing that is very visible – particularly along parts of the Malecon and in Revolution Square is the influence of Eastern European Soviet-bloc style architecture. This is seen in the design of several buildings and open lot parks. These structures come from the 1960s and 1970s, when the Soviet influence was stronger in Cuba. These buildings are easily identifiable and they stand out because they lack the charm of the classic Cuban architecture.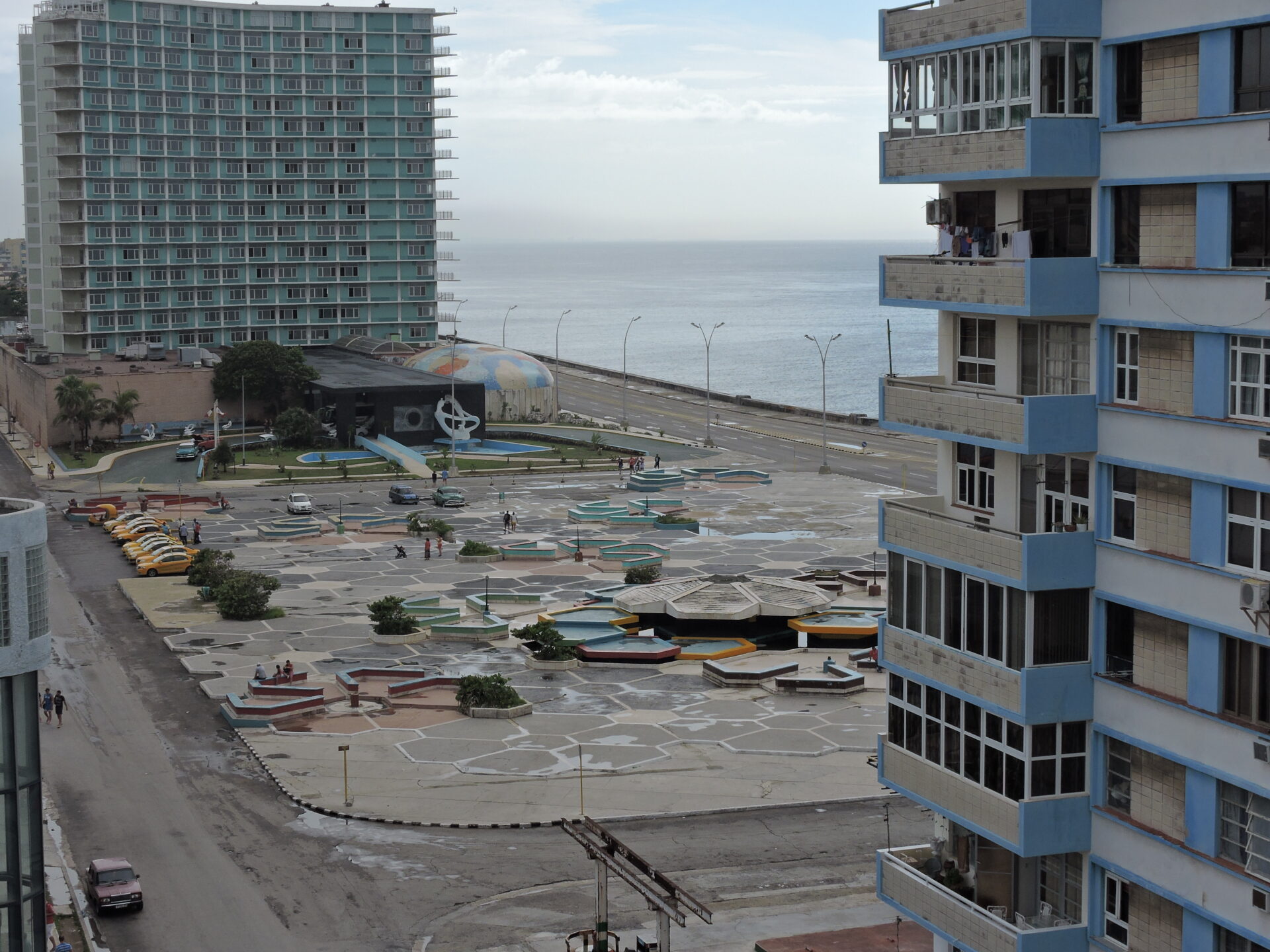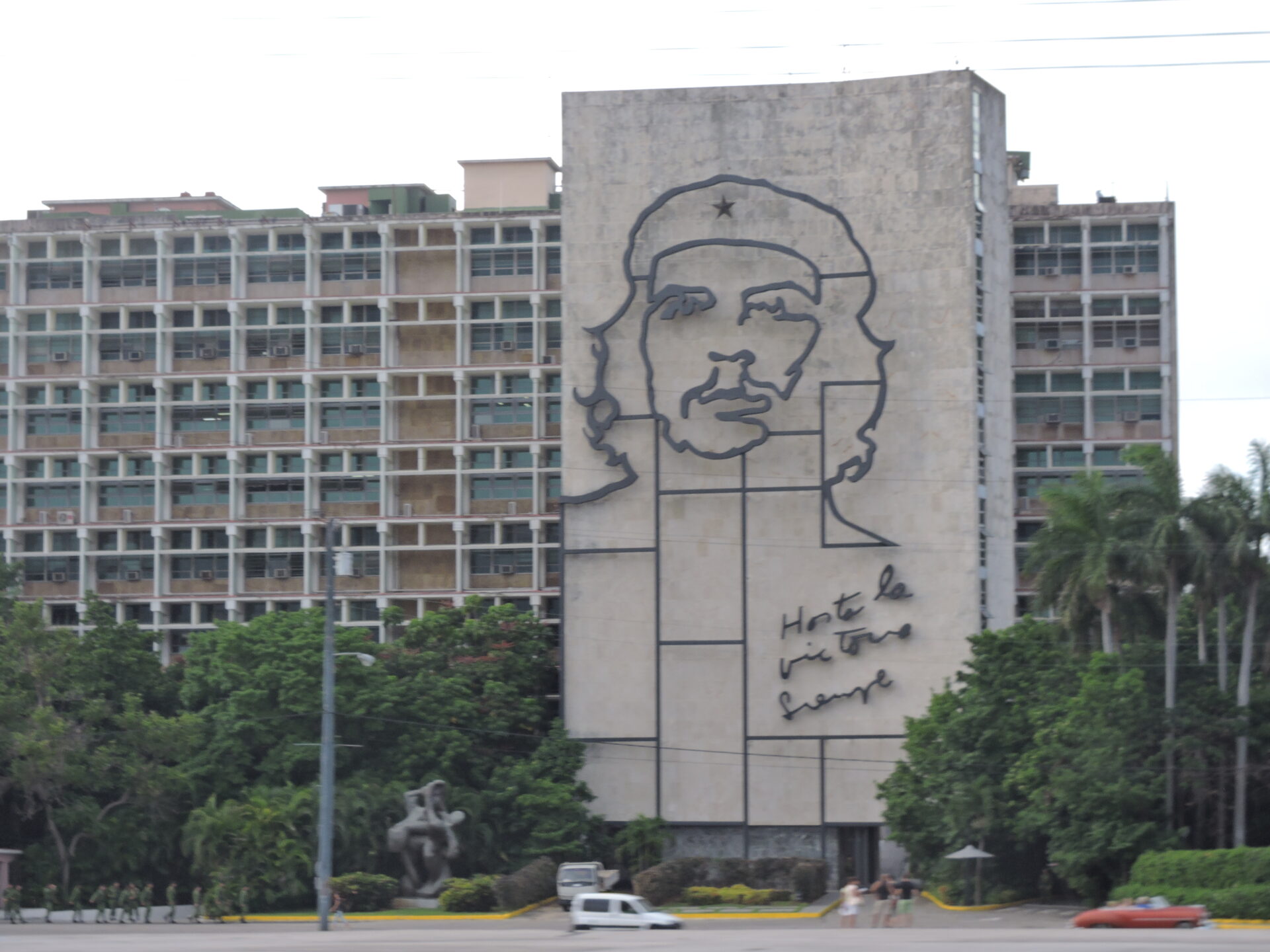 5. Havana Nightlife
Many cities lay claim to having a nightlife, but Havana is one of those cities where it truly lives up to its reputation. I found this to be a true 24 /7 city. There are numerous bars and clubs in Havana – and many don't even ramp up in activity until midnight. I've even heard of some bars staying open until 6 or 7am in the morning.
There is another component to the nightlife which was less obvious. Without luxury items such as television, many of the residents will gather outside at night. These gathering places include the front of apartment buildings or plazas. In particular, one of the gathering place that got my attention was the Malecon.  This place seemed to take on a subculture of its own. I saw many instances on the Malecon where radios or live music were playing added to the folklore of this area.
6. Impacts of a Potential End to the Cuban Embargo Unknown to Many in Havana
As we pointed out in our feature story "Understanding the Impact of FDA Regulations on Post-Embargo Cuban Cigars", if the Cuban Embargo is lifted tomorrow, as things stand (at press time), not a single Cuban cigar can be sold in the U.S. market. This is because any new product introduced into the U.S. market now must go through he costly U.S. Food and Drug Administration (FDA) approval process. Since Cuban Cigars  have were not present in the U.S. market on February 15, 2007, they are subject to regulation by the FDA and must be approved.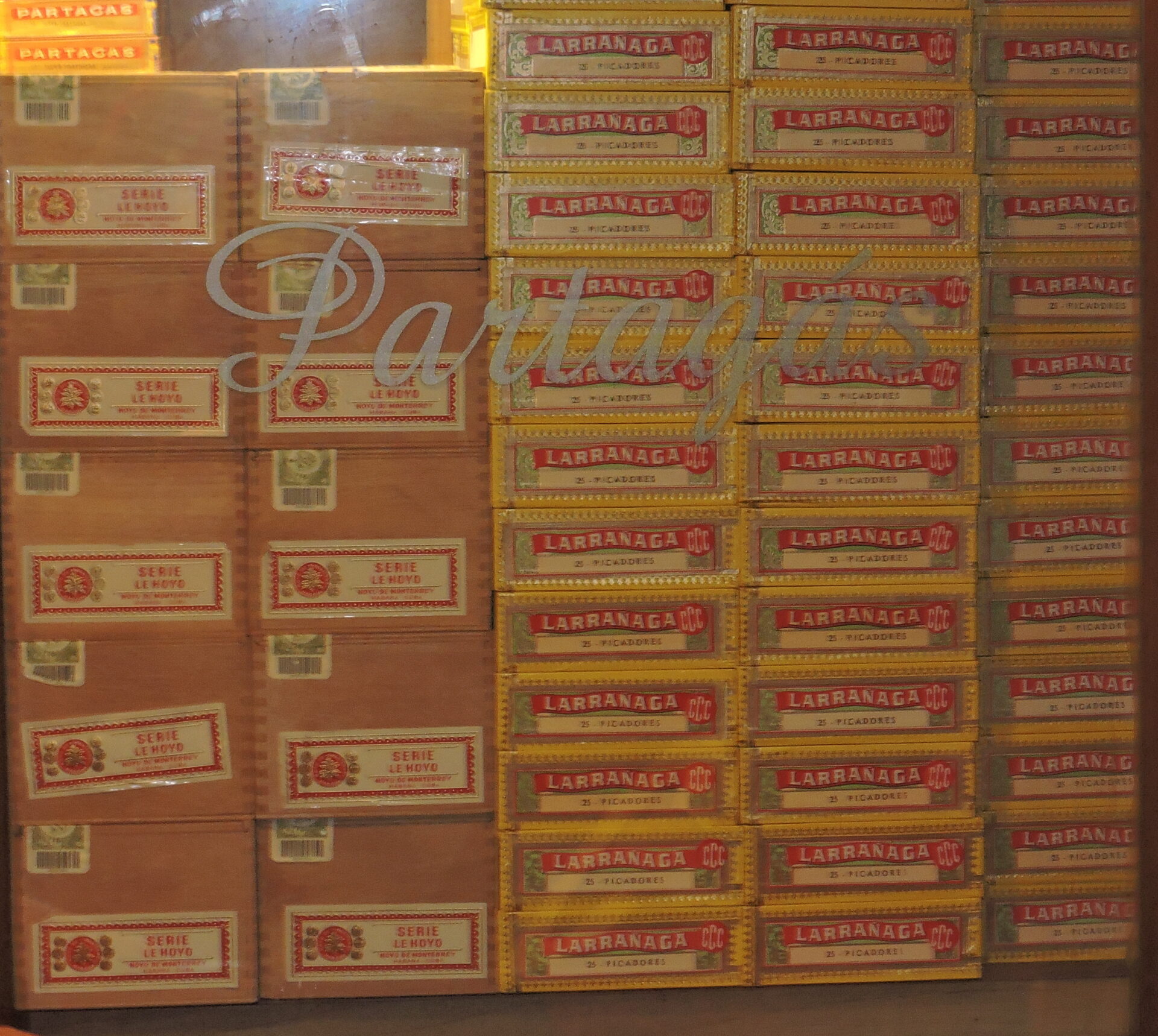 The people in Cuba and in particular, the cigar shops in Cuba are quite aware the U.S. Embargo has not been lifted. What they weren't aware of are the impacts the new regulations could have on the cigar industry – namely introducing Cuban cigars to the United States once the Embargo is lifted. As I discussed this with those who work in the La Casa del Habano shops (the state run premium cigar shops), it was clear that it was a surprise to them that our government would not allow these cigars to be sold in the U.S..
7. The Internet or Lack Of Internet
Wifi access is extremely limited. Private Wifi is pretty much non-existent. It was only in 2015 where the Cuban government opened up about 35 Wifi spots around the country. It also isn't free, but also quite costly. To gain access there are one hour Wifi access cards for 2 to 3 CUC (which loosely translates to 2 to 3 U.S. Dollars – see the Money section below).  The internet in Cuba is also very much subject to censorship.
The card contains a unique id and password that you will enter on a splash screen once you connect to the internet. Almost like a lottery ticket, the password is concealed behind a opaque strip that is scratched off to reveal the code.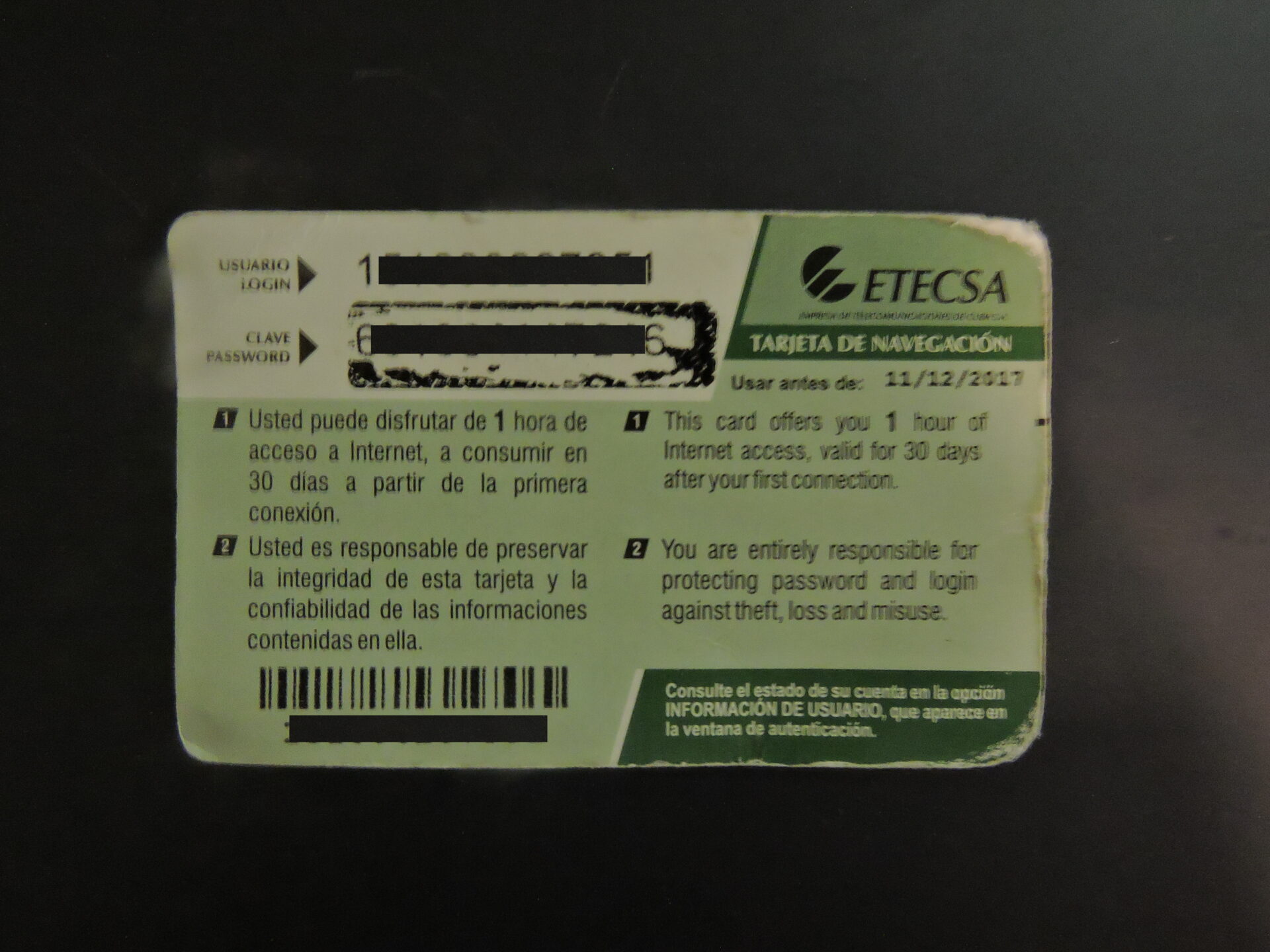 Despite the lack of internet, I did see many Cuban people with cell-phones – and in particular Apple iPhones. The iPhone was one area where I didn't see Cuba caught in the time warp. Now as far as using your own cell phone in Cuba as a visitor, you will need to get a SIM card. We have some details here on how to do this and what it will cost.
8. Money
Here is one thing you won't see in most countries. Cuba actually has two currencies – CUC (Cuban Convertible Peso – shown below) and CUP (Cuban Peso – not shown). Cuban workers are paid in CUP, while the CUC is used for tourism and luxury items. In 1993, following the collapse of the Soviet Union, Fidel Castro made the decision to legalize the American Dollar. Meanwhile workers continued to be paid in CUP. By 2004, the American Dollar was removed from circulation and replaced by the CUC. There are plans to eventually re-unify the currency system. Meanwhile on my visit to many places, it was not unusual to see pricing in both CUC and CUP – particularly in cigar stores.
The good news is that it is pretty much a 1:1 rate in terms of converting U.S. Dollars to CUC. The bad news is with the U.S. Dollar out of circulation, it pretty much means you cannot use it in Cuba. There still is a ten percent surcharge to convert U.S. Dollars to CUC (although Cuba has discussed eliminating this surcharge). In the case of gratuities, I did find some people would take the U.S currency.
This is a cash country. In most cases, your credit card will not work. While there are some banks that will allow you to use a credit card here, it is worth noting I saw several places throughout Havana resist or refuse to accept a credit card.
Plan for how much case you are going to bring. If you are used to have $300.00 spending money, bring some extra. You will need the for tips or extra spending money for those cigars and rum (but remember, in the U.S. you are only allowed to bring back $400.00 in goods and you are only allowed a maximum of $100.00 of cigars and alcohol combined).
9. Mr. Trump
As much as I felt isolated when it came to media and happenings in the world, there was one "celebrity" that still was very much known – 2016 Republican Presidential Nominee Donald Trump.
The one person I saw protesting in Havana was someone shouting "Anti Donald Trump! Anti Donald Trump!".  Not one police person tried to stop him. What was clear was that this reflected the mood of many people I talked to in Cuba. Most were very concerned about Mr. Trump's position on the Latin American community as well as fears of what his perceived position on ending the U.S. embargo. (President Obama is particularly well-liked for his efforts to end the embargo).
10. A Poor But Safe City
There are some reports which say the poverty level of Cuba is one of the lowest in developing world countries. However, make no bones about it, this is a poor country and in particular Havana is a city where most people don't live in luxury. In the nine countries I have traveled to, this one seemed to have the most poverty – and in particular Havana was the poorest metropolitan area I have visited.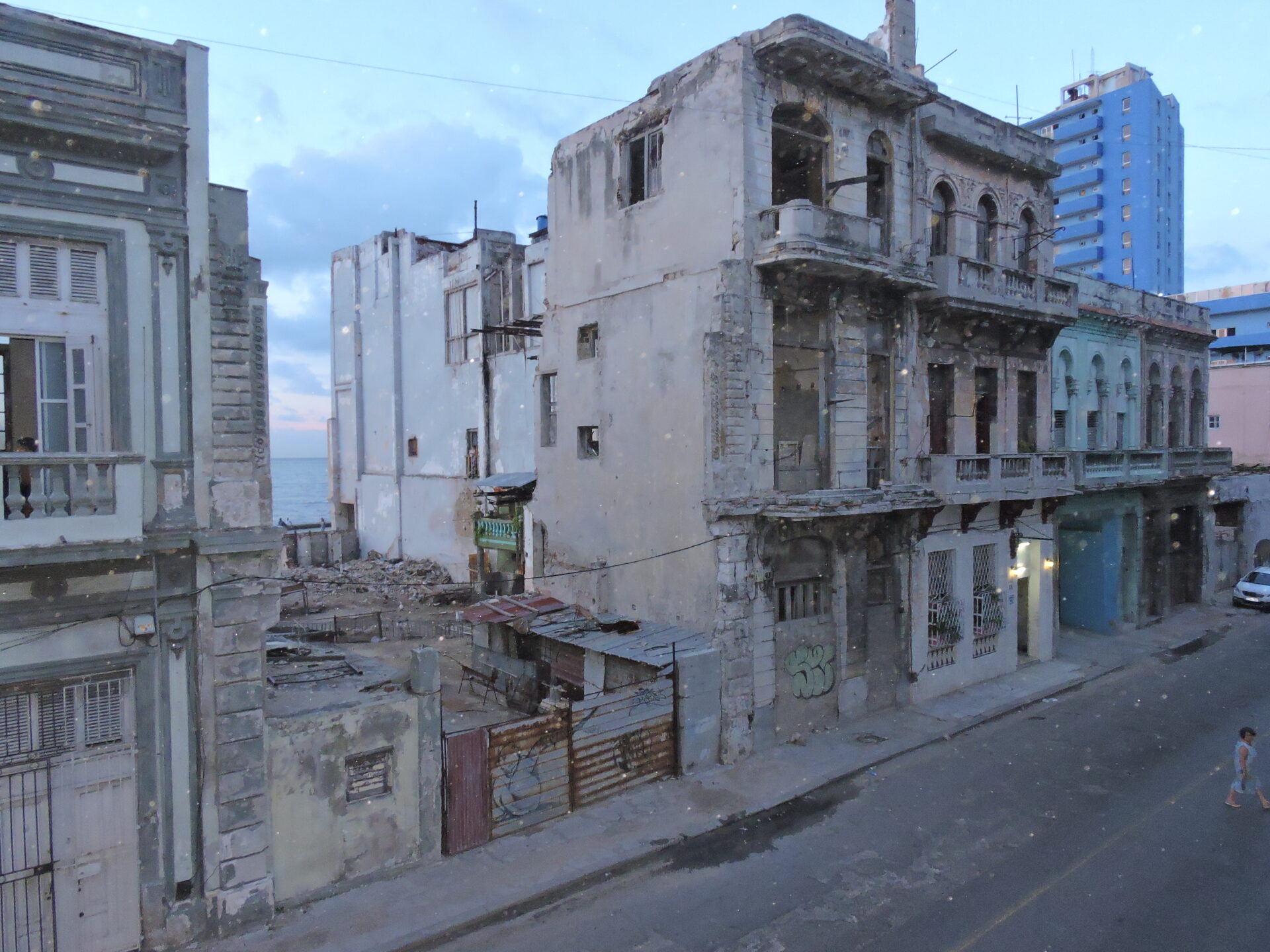 On the other hand, despite the poverty, I found crime to be quite low. In fact within my first hour of being in Havana, I found it to be a relatively safe country – and really didn't have an uneasy feeling walking around the city.
11. Smoker Friendly – For Now
The good news is I found Havana to be a smoker friendly place. While there were some places that did restrict smoking, in general I found it easy to find a bar or restaurant to smoke in. In fact, when it came to lighting up a cigar, this wasn't an issue as it is in the less smoker friendly places in the U.S.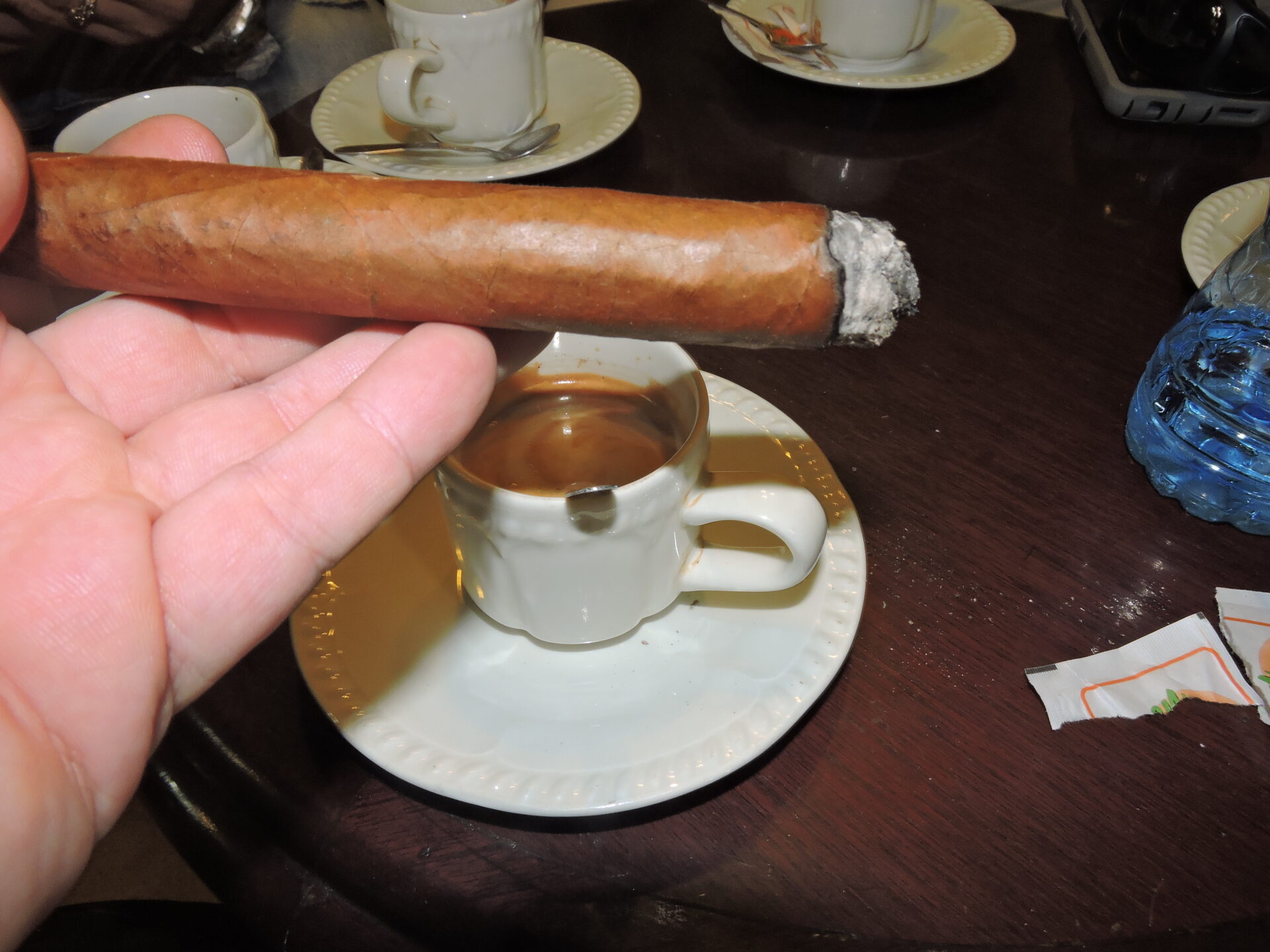 I did find it interesting many places in Havana had sigs up indicating smoking is permitted.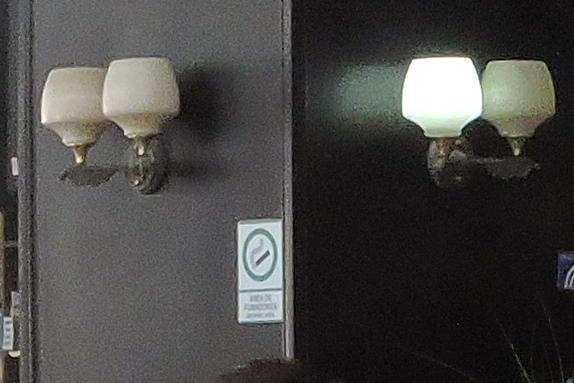 Much like I wondered it the Malecon would become spoiled as Cuba begins to "open up", I also wondered if the U.S. influence would bring more anti-smoking contingents and businesses putting pressure to prohibit smoking. In general, my feeling was to enjoy the relative freedom of being up to light up while it lasts.
12. Stray Dogs
One thing I wasn't familiar with is that Havana Cuba has a major problem in terms of homeless stray dogs.
As I walked the streets of Havana, it soon became clear that the city has a problem in terms of stray dogs. Many dogs seemed to find "adopted" homes with street vendors. They could be found sleeping in high traffic areas like steps or on the sidewalks near buildings. There were a couple of instances I even saw dogs mating right on crowded city streets.
One thing that was interesting is I saw a couple of these dogs wearing "ID tags" wandering around the street. I didn't photo it because at the time I didn't realize the significance. It turns out that these dogs were sort of "adopted' by state institutions. They live on the streets, but still receive some care from the workers at the state institutions. More details can be found in this article in the UK publication, the Daily Mail.
Acknowledgements
Special thanks to Nick Syris and Gary Laden of the Smooth Draws Radio Show who are now providing guided tours to Cuba. I personally recommend these guys as they provided an outstanding tour with a nice cigar focus.
Smooth Draws Radio also has a special series of free recorded podcasts called "Nick's Notebook" that provide a cigar enthusiasts an excellent information guide for visiting Cuba.
Photo Credits: Cigar Coop, except where noted.