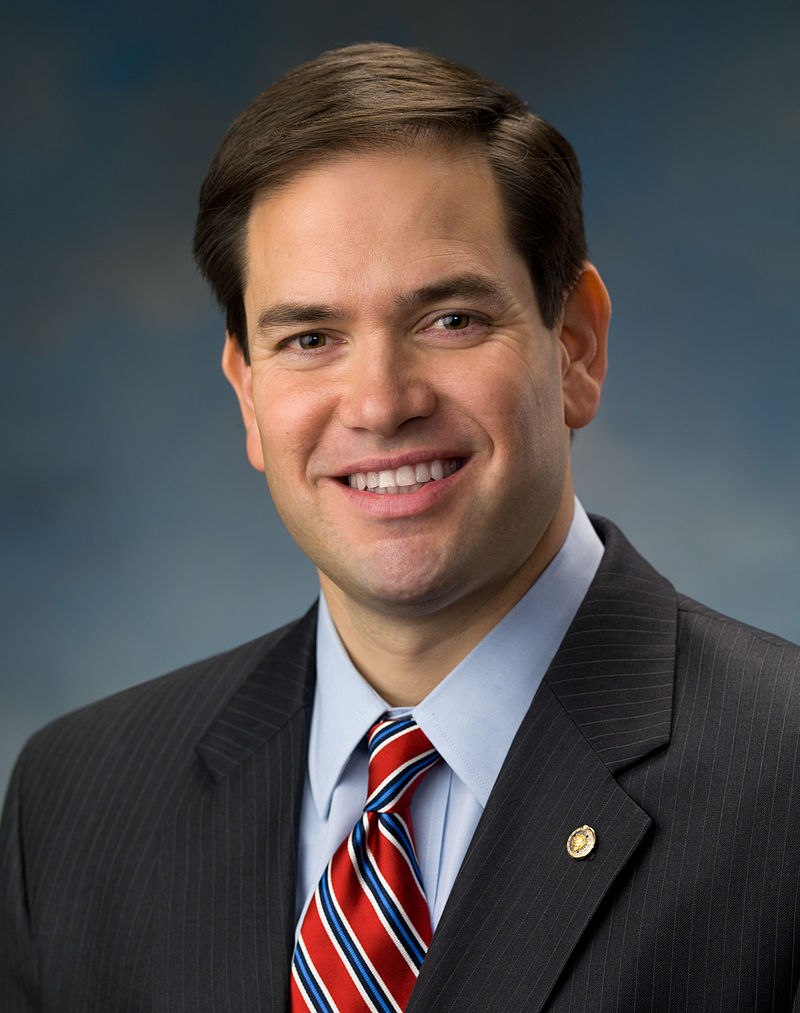 It isn't every day a United States Senator and former Presidential candidate visits a cigar factory, but that's exactly what Senator Marco Rubio (R-Florida) did this past Wednesday. On the campaign trail Senator Rubio, joined by Florida House Representative Dana Young paid a visit to the J.C. Newman Cigar Company Factory, the last cigar factory operating in the city of Tampa. During his visit Rubio called out the U.S. Food and Drug Administration (FDA) and its regulations aimed at the premium cigar industry as well as the Obama Administration's recent actions further easing trade restrictions with Cuba. The majority of Rubio's visit was broadcast live on J.C. Newman Cigar Company's Facebook page.
Rubio's visit began with a tour of the factory. Rubio even took to one of the machines to make a cigar. He also took time to talk to the workers at the factory. Following the Tour, a question and answer session was held at the factory with members of the media to discuss the impacts regulation could have on the premium cigar industry.
J.C. Newman Cigar Company President Eric Newman gave some opening remarks to the media where he gave a history to media members of how the FDA regulations on cigars have reached the state it is at. Newman talked about the importance of the cigar industry to the city of Tampa, much like the wine industry is to Napa Valley. He also discussed the impacts regulation could have on the future of his company, factory, and the jobs that could be lost as the FDA regulations take effect. He pointed out the efforts from Florida Senators Rubio and Bill Nelson as well as Congresswoman Kathy Castor as they sponsored legislation to exempt the premium cigar industry from FDA regulation.
Back in 2012, Rubio gave a speech at the 2012 Republican National Convention where he talked about his grandfather's love of Padron Cigars and how he used to sit with his grandfather as he smoked cigars. In his opening remarks at the factory, Rubio referenced those memories sitting with his grandfather smoking cigars and the two would talk about history and his grandfather's life in Cuba. Rubio's grandfather had polio and as a result could not work on the farm like other members of his family. Instead Rubio's grandfather went to school and eventually landed his first job as a lector in the cigar factory where he would read newspapers and novels to Cuban factory workers. His grandfather would also sometimes roll cigars at the tables. While Rubio acknowledged he doesn't smoke three cigars a day like his grandfather, he certainly enjoys in partaking in a cigar from time to time.
It was very clear, Rubio understands the importance of the cigar industry to both Tampa and the State of Florida. He pointed out the high costs cigar companies like J.C. Newman will incur under FDA regulations and the business impacts of what these regulation will have on the premium cigar industry. "It's outrageous. These people are going to lose jobs over the next couple of years. An industry that is culturally and historically tied to the Tampa Bay region, to Florida is going to be wiped out or significantly curtailed," commented Rubio.
Rubio also understands this is not an industry targeting youth – something that has been the basis of the FDA's argument in favor of regulation. "Anyone who knows about the premium cigar industry knows it is not an industry that either targets or quite frankly is consumed by young Americans. Number one it is too expensive. Number two, a premium cigar is not the kind of thing that is smoked in ten minutes; it's the kind of thing you need to smoke over a 35 or 50 minute period of time in a different setting from you would smoke cigarettes or vaping, commented Rubio. "Anyone who has common sense understands is simply not consumed the way a cigarette is or a vape is."
Rubio held up a Brick House cigar and gave the example that if a size of blend is changed, it would have to go through an expensive regulation process. He pointed out how this could impede a company like J.C. Newman to introduce new products and mentioned the danger it poses for the cigar industry. "When you tell any company you cannot offer new products without going through a very expensive process , any industry I don't care what you sell, you tell someone you can't make a new product; all you can do is sell what you used to sell ten years ago, you are going to struggle to survive – especially facing unfair foreign competition," commented Rubio.
Recent actions taken by the Obama Administration now allow Cuban cigars to be brought into the U.S. by travelers abroad. While Rubio said it he is open to changing policies in Cuba, he feels reciprocal changes are needed. "We've done everything, they've done nothing" said Rubio. "What is America getting in return for this deal". Rubio pointed out the changes made in the United States' diplomatic relations with Myanmar (Burma) and how relations were restored in exchange for changes toward Democracy. Right now Rubio has felt Cuba has not reciprocated and pointed out a recent example on how Cuba is giving Russia the opportunity to open a military base on the island nation.
Rubio gave a status of the Senate legislation that he is sponsoring with Senator Nelson to exempt the premium cigar industry from FDA regulation. He pointed out that this has been a very difficult piece of legislation to move forward as a standalone bill. He discussed how both he and Nelson tried to execute a "Hotline" process for their bill. A Hotline process is a piece of legislation that can be called up to pass without a vote as long as it has unanimous consent. However, if a single Senator objects, the hotline process is stopped. Rubio said there were two objections, thus putting a stop to the Hotline process. As a result, Rubio now feels the best chance the premium cigar industry has is to get the Appropriations Bill passed that contains language for an exemption that would prevent the funding needed for the FDA to execute its regulations.
Currently Rubio is engaged in a close race for re-election to the Senate and Florida Congressman Patrick Murphy. Rubio pointed out that Florida races between Democrats and Republicans are typically very close in a presidential year. "I feel very positive about the progress we made," commented Rubio on his chances come election day.
Photo Credit: Official portrait of US Senator Marco Rubio of Florida., usage via public domain license.