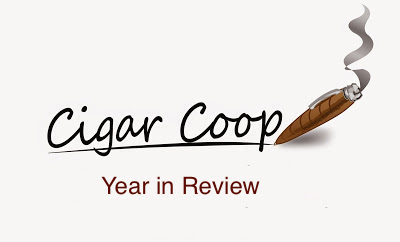 On Friday January 20, Cigar Coop named the late Carlos Fuente Sr its 2016 Cigar Industry Person of the Year Award recipient. The Person of the Year Award is awarded to a person(s) in the cigar industry that has made a significant impact over the course of a year or from a lifetime achievement perspective.
This year, we opted to eliminate the Honorable Mentions category for Cigars and instead create an Honorable Mentions category for Person of the Year.
The following are four Honorable Mentions:
A.J. Fernandez
A case for last year's winner (Fernandez) could have been made this year.
After splitting from his long-time partner, Kris Kachaturian, Fernandez established a new distribution operation out of Miami. The company also took over distribution for La Gran Llave and eventually took over the company. The company also announced it had intended to acquire Sosa Cigars.
On the production end of things, Fernandez also collaborated with many high profile companies on cigar releases. These companies included: Tabacalera USA, General Cigar Company, La Palina, Foundation Cigar Company, and Boutique Blends. Later this year, Fernandez would acquire a new factory in Ocotal, Nicaragua. Just this past month, Espinosa Cigars shifted production of most of its 601 brand to that new factory.
Based on 2015 and 2016, there is no reason to believe he plans on slowing down in 2017.
Frank Herrera, Attorney
Frank Herrera has long established himself as the go to attorney for many in the cigar industry. While we weren't in his office, we can imagine his phone must have been ringing non-stop as the U.S. Food and Drug Administration (FDA) Deeming Rules for premium cigars went into effect.
Herrera is representing Enrique Sanchez Icaza, Jim Robinson, and Luis Falto in a lawsuit against the FDA. Perhaps the best job he has done is keeping people informed of the happenings of the FDA – highlighted by a Q&A Seminar held at RoMa Craft Tobac headquarters in Austin, Texas
Jim Robinson, Leaf Cigars
In a span of about three years, Robinson has taken a brand that started out as a house cigar and built it into a powerhouse.
Brands distributed by Robinson – namely Leaf by Oscar and Island Jim cigars are no longer the new kids on the block, but a staple of many humidors. While the cigars have received critical acclaim, what is perhaps most impressive is how Robinson has built a distribution machine to get these cigars in the hands of many retailers.
On top of it he partnered with Enrique Sanchez Icaza on a lawsuit against the FDA over its regulations.
Enrique Sanchez Icaza, Global Premium Cigars
He was called "David versus Goliath" on the Smooth Draws Radio Show – namely for spearheading a lawsuit.
When he announced his lawsuit Sanchez commented: "It's time for action! Talking belongs in the past"
While many smaller companies praised Sanchez for his actions, it was clear the cigar industry had other ideas. Just prior to filing the lawsuit, a joint  strategy  was laid out this past Friday by the Cigar Association of America (CAA), Cigar Rights of America (CRA), and International Premium Cigar and Pipe Retailers (IPCPR). These associations have pretty much ignored Sanchez's lawsuit.
Sanchez took this action while continuing to grow his own company, Global Premium Cigars. Global Premium Cigars is best known for its 1502 Cigars brand.