Agile Cigar Reviews replace what we termed "Assessment Updates". The concept is the same, but the name is different. Agile Cigar Reviews use a lightweight, shorter format. These will never take the place of our comprehensive reviews. They are only used on blends we have previously assessed. This might be a blend we are re-scoring or providing a score for a first time. It might be a blend we are looking at in a different size. Today we take another look at the E.P. Carrillo 5th Anniversary. This is a cigar we have previously assessed back in October, 2014.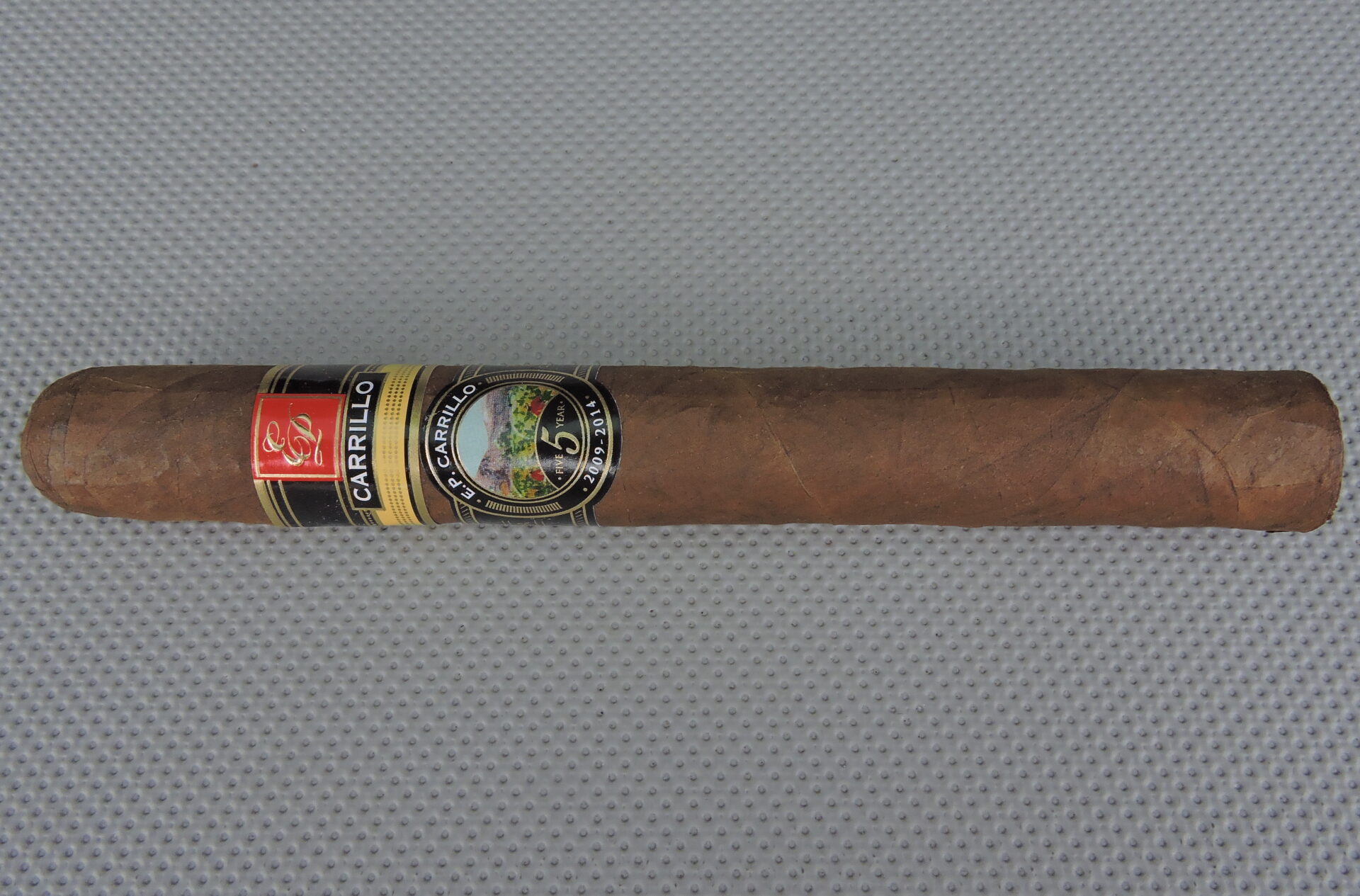 Wrapper: Ecuadorian Sumatra
Binder: Ecuadorian Corojo '99
Filler: Nicaraguan
Country of Origin: Dominican Republic (Tabacalera La Alianza)
Double Robusto: 6 1/2 x 54
Back in 2009, Ernesto Perez-Carrillo Jr. departed General Cigar to form his own company known as EPC Cigar Company. In 2014, EPC celebrated five years in the cigar business and released a special cigar to commemorate the milestone – the E.P. Carrillo 5 Year Anniversary. Almost every year since 2010, EPC has chosen the Fall Season to release a special "Edicion Limitada" offering – a special one and one cigar. In 2014, EPC opted to release the 5 Year Anniversary in place of an "Edicion Limitada" offering.
The blend features an Ecuadorian Sumatra wrapper – a wrapper that is pretty much synonymous with master blender Ernesto Perez-Carrillo. The blend also has an Ecuadorian Corojo '99 binder and an all-Nicaraguan filler.Perhaps the biggest surprise with this blend is that it doesn't contain Dominican tobacco. The E.P. Carrillo 5 Year Anniversary comes one size – a 6 1/2 x 54 offering that the company refers to as a "Double Robusto".
The E.P. Carrillo 5 Year Anniversary delivers a flavor profile consisting of nut, natural tobacco, cedar, and red pepper. In the early stages, I saw the cedar and red pepper to be a little more prominent. During the second third, the nut flavors moved into the forefront. The last third of the 5 Year Anniversary saw a return of the red pepper and cedar as the primary notes. Throughout the smoking experience, I found the both the strength and body of the E.P. Carrillo 5 Year Anniversary to be medium to full.
Overall, I still found the E.P. Carrillo 5 Year Anniversary to be an excellent offering. The one difference is this cigar lost a little bit of its smoothness that it had when it first came out, but it's still a cigar that was enjoyable flavor wise. It's a cigar that I probably would steer toward a more experienced cigar enthusiast. As for myself, it's a cigar that I would smoke again. At $8.50 per cigar, this is easily a box worthy cigar.
Summary
Key Flavors: Nut, Natural Tobacco, Cedar, Red Pepper
Burn: Very Good
Draw: Excellent
Complexity: Medium
Strength: Medium to Full
Body: Medium to Full
Finish: Excellent
Rating 
Assessment: 4.0 – Box Worthy
Score: 91
References
Previous Assessment: E.P. Carrillo 5 Year Anniversary
News: E.P. Carrillo 5th Anniversary Cigar Coming This Fall
Price: $8.50
Brand Reference: E.P. Carrillo