Agile Cigar Reviews are cigar assessments where we use a lightweight, shorter format. These will never take the place of our comprehensive reviews. They are only used on blends we have previously assessed. This might be a blend we are re-scoring or providing a score for a first time. It might be a blend we are looking at in a different size. Today we look at the Cornelius & Anthony Venganza in the Toro size. This is a cigar we assessed back in October 2016 in the Robusto size.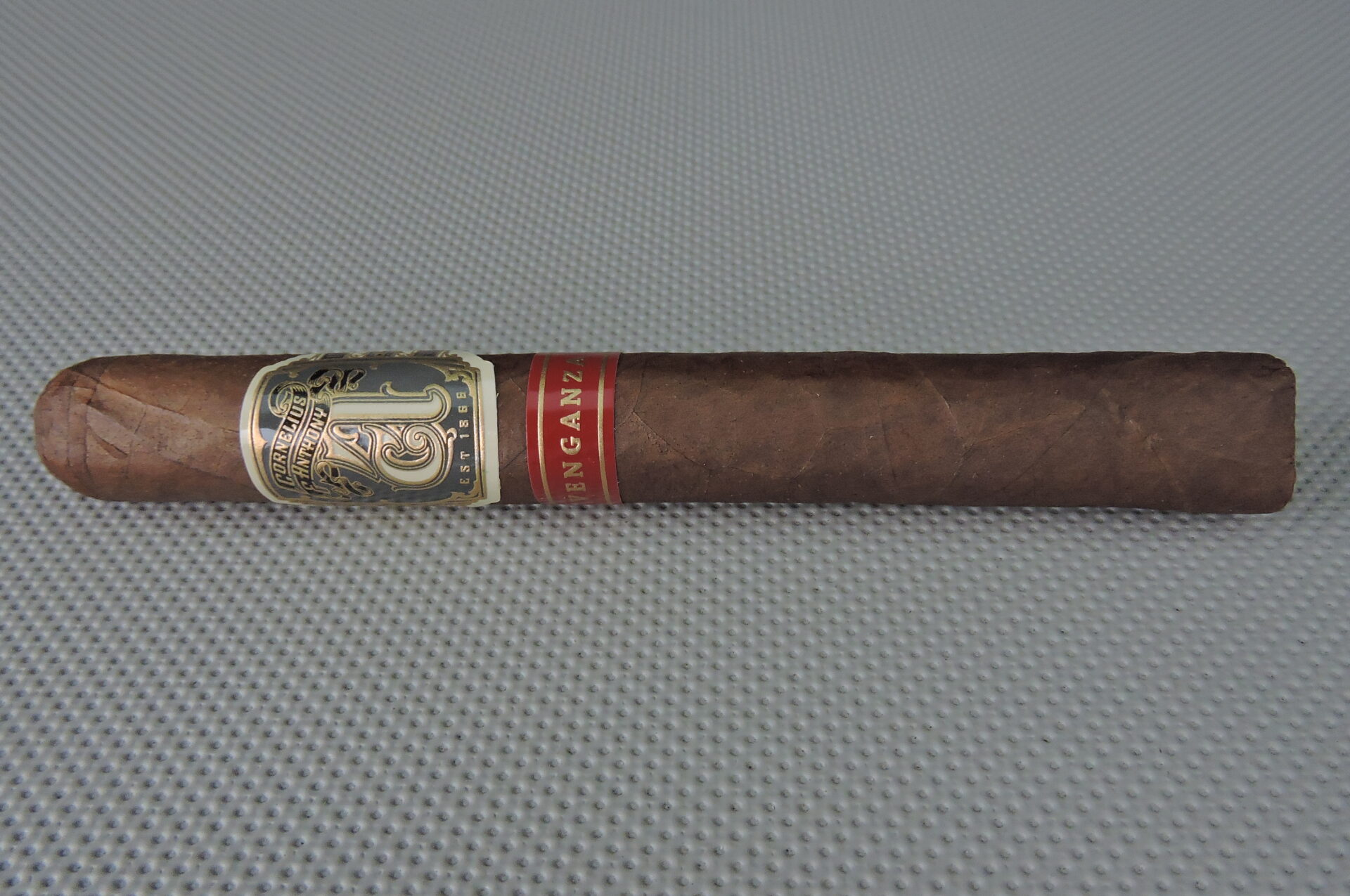 Wrapper: Ecuador
Binder: Nicaragua
Filler: Nicaragua
Country of Origin: Nicaragua (La Zona)
Toro: 6 x 50
Cornelius & Anthony is the premium cigar division of Virginia-based tobacco company, S & M Brands. S & M Brands is owned by Steven Anthony Bailey. Bailey and his family have been in the tobacco business for over 150 years. In 2016, Cornelius.& Anthony rolled out four new offerings. One of those new offerings was the Cornelius & Anthony Venganza. The Venganza is one of several offerings by Cornelius & Anthony where the company teams up with Erik Espinosa's La Zona factory for production. Venganza was designed to be a "rich and flavorful" powerhouse cigar in the Cornelius & Anthony portfolio. Today we take a look at the Toro size in this line. This was a cigar that had been aging in the Cigar Coop humidor for nearly twelve months.
The name Venganza, it translates to "vengeance". The packaging for the Cornelius & Anthony Venganza features artwork of the patent of the Bailey Machine Gun. It was designed by Fortune Bailey (we were told no relation to current owner Steven Bailey). Sometimes called the Gatling Gun, the Bailey Machine Gun is a rapid-fire machine gun. It is symbolic of the power behind this cigar. The slogan "Use only Venganza-Caliber Stogies for Maximum Effect" appears on this art work.
Last year I assessed the Venganza in the Robusto size. I found the Venganza Toro to share many similar characteristics. I detected notes of earth, wood, black cherry, classic wood, cedar, and chocolate. Early on the black cherry and earth notes were primary. As the cigar moved through the first third, a rich chocolate note started to develop. By the early part of the second third, the chocolate note was quite prominent and was in the forefront with the cherry and earth notes. The second half saw the sweetness diminish and the last third and the cigar took on more earth and woody characteristics.
I found this version of the Venganza Toro to be slightly dialed back. I assessed this cigar as being medium to full for both attributes. When I assessed the Venganza Robusto last year, I found it to be full strength, full-bodied. While I consider every vitola to be a unique smoking experience, I'll infer it was the twelve-month aging mellowed this cigar more than the size change. I like a strong and fuller cigar, but I found this mellowing brought out more complexity with this cigar.
Overall, I really liked this aged version of the Venganza Toro. I found excellent balance between the sweetness and spice. While this cigar was slightly dialed back in strength and body, it's still a cigar I'd recommend to an experienced cigar enthusiast. As for myself, it's a cigar I would smoke again – and one definitely worthy of a box purchase.
Summary
Key Flavors: Cherry, Earth, Chocolate, Cedar,
Burn: Excellent
Draw: Excellent
Complexity: Medium+
Strength: Medium to Full
Body: Medium to Full
Finish: Good
Rating
Assessment: 4.0-Box Worthy
Score: 92
References
Previous Assessment: Cornelius & Anthony Venganza Robusto
News: Cornelius & Anthony Venganza to Launch at 2016 IPCPR Trade Show
Price: $10.00
Source: Cornelius & Anthony
Brand Reference: Cornelius & Anthony