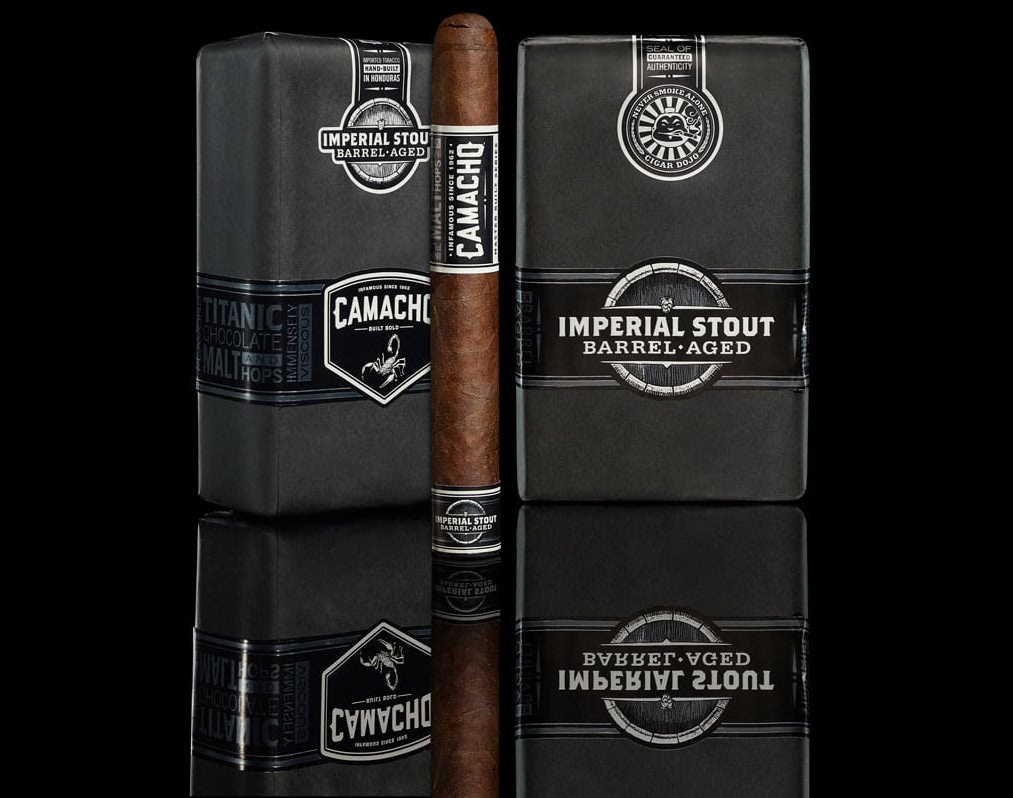 The Camacho Imperial Stout Barrel-Aged, a limited edition collaborative project between Camacho Cigars and cigar media brand Cigar Dojo, is returning for one more release. On September 29th at Noon Eastern time a second allocation of 400 bundles of the Camacho Imperial Stout Barrel-Aged will go on sale. As with the previous allocation, the cigars will be offered through South Florida retailer Smoke Inn.
The new Camacho Imperial Stout Barrel-Aged uses a corojo leaf aged in a beer barrel. In this case, the beer is a bourbon barrel-aged version Ten FIDY by Oskar Blues.
The Imperial Stout Barrel-Aged blend is based on the Camacho Triple Maduro blend. The barrel-aged corojo leaves were blended with Brazilian and Dominican maduro leaves. The cigar is finished with an Original Corojo maduro binder, and a San Andrés maduro wrapper. Like the previous release, the Camacho Imperial Stout Barrel-Aged is offered in the same 6 x 50 Toro size. According to Cigar Dojo, the second shipment is from the same batch as the initial shipment, but the cigars now have an additional three months of age.
"For the second release of Imperial Stout Barrel-Aged, we've timed the shipment to fit snugly between Oskar Blues' seasonal release of Ten FIDY in September, and the brewery's doubly sought-after Barrel Aged Ten FIDY in early November," commented Eric Guttormson, owner of Cigar Dojo. He continued, "We were extremely happy with Camacho's expertise in crafting this unique blend, but wanted more smokers to have the chance to enjoy the 'full experience,' as pairing ISBA with the very brew that gave it life takes this project to a whole new level!"
The first allocation of the Imperial Stout Barrel Aged sold out quickly. Pricing remains at $9.99 per cigar and $99.99 per bundle.
Photo Credit: Supplied by Cigar Dojo