Agile Cigar Reviews are cigar assessments where we use a lightweight, shorter format. These will never take the place of our comprehensive reviews. They are only used on blends we have previously assessed. This might be a blend we are re-scoring or giving a score for the first time. It might be a blend we are looking at in a different size. Today we look at the Liga Privada Unico Serie UF-13 Dark by Drew Estate. This is a cigar we last assessed back in March 2013.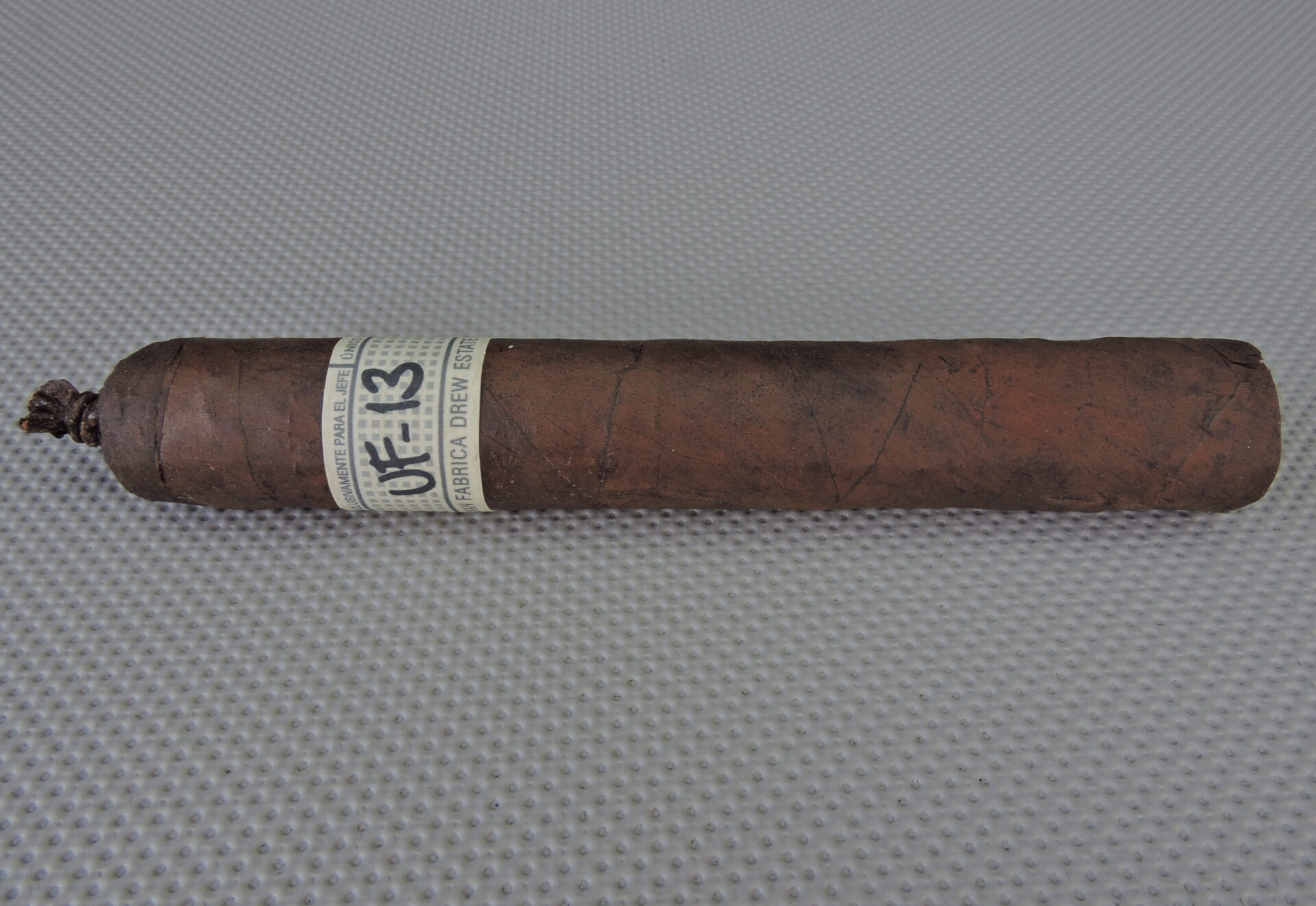 Wrapper: Connecticut Broadleaf Dark Medium
Binder: Plantation-Grown Brazilian Mata Fina
Filler: Select Honduran and Nicaraguan Cuban Seed
Country of Origin: Nicaragua (La Gran Fabrica Drew Estate)
Robusto: 5 1/2 x 52
Today we revisit the Liga Privada Unico Serie UF-13 Dark by Drew Estate. This is a cigar that made its official debut in 2013. The Unico Serie is a line that features a unique blend in a different size. All of the cigars in the series are more limited and small batch in production. Some of the releases are even more limited than others. Many of the Unico Serie cigars have some ties to Liga Privada No. 9 or Liga Privada T52 in terms of the tobaccos used.
The cigars smoked for this assessment have been aging in the Cigar Coop humidor since March 2013 – over 4 1/2 years!
Below is the background information on the origins of Liga Privada Unico Serie UF-13 Dark.
Origins of the UF-13
In this post from BOTL, former Drew Estate CEO Steve Saka explained the origins of how they got to the UF-13 Dark came to be:
T52-4 was the final head-to-head blend that was competing internally with T52-3 to become the T52 final blend.
T52-4 was exceptional, in fact JD (Jonathan Drew) and I both liked it a slight bit better, but we were concerned that it tended to overpower some of the nuances in the liga and that we were sacrificing flavors for strength, so we ultimately decided that the T52-3 would be the final T52 blend.
JD for his own smoking pleasure kept having T52-4s made, but we banded them as JD4 so as to not cause confusion in the factory or with those he shared them with.
After he started handing them out, he decided that he didn't like putting his personal name on the product, so we started ringing them with MF-4 – it stood for what you think it does.
In the factory we kept tinkering with the T52-4/JD4/MF-4 blend to try to improve it (in our opinion) – goal was to keep the octane, but restore the depth of flavors… so we made a variety of minor liga tweaks and vitola changes to try and get it "perfect".
The result was the MF-13 – a robusto format. I think the MF-13 is better, not sure where JD stands on this – truth is the difference is so very minor between the two cigars I doubt most folks could even tell there was any difference unless they smoked them side by side… and maybe not even then, but we can tell… or so we tell ourselves.
We started sharing both MF-4s and MF-13s at events and out of our pockets and they started to get some buzz online.
JD came to me one day with a My Father cigar and pointed out that Pepin's rings have an MF in the center of them. How both of us missed this is kinda crazy since we both smoke a lot of their cigars, but we did. So we decided to change the name to UF out of respect – we take pride in not knowingly copying others, so we re-banded all the MFs as UFs on our own accord.
UF stands for "Unico Fuerte."
So MF-4 = UF-4 and MF-13 = UF-13.
UF-13 to UF-13 Dark
The original UF-13s had the Stalk Cut Connecticut Broadleaf wrapper used on the T52. Along the way, the wrapper was changed to a Connecticut Broadleaf wrapper. Saka said that most of the UF-13 event-only cigars that were distributed use the Broadleaf wrapper (and that there was very little distributed with the Habano wrapper).
As for the name "Dark", the spec sheet refers to this as the designation of unique high Broadleaf Mediums we utilize on this particular Liga Privada. Other than making a slightly longer vitola with a fan cap, there have been very little changes to blend profile of the UF-13 Dark from those pre-release UF-13s.
In addition to the Connecticut Broadleaf wrapper, the UF-13 Dark consists of a Brazilian Mata Fina binder and a combination of Honduran and Nicaraguan fillers. The UF-13 Dark is a 5 1/2 x 52 Robusto.
The UF-13 started out with a mix of coffee and creamy chocolate notes in the forefront along with notes of lemon and nut in the background. There also were notes of cedar on the retro-hale.
By the second third the coffee notes became primary and at times there were some leather notes mixed in. There was a slight increase in the lemon notes during this time. I also detected some black pepper on the retro-hale.
By the last third, while the coffee and leather notes were still primary, I found there was more in the way of cedar and black pepper present. The cedar and pepper had more of a lingering effect on the tongue. I also still detected some notes of chocolate and nut.
Given this cigar had some age, this was not the full strength, full-bodied smoke I had back in 2013. This is a cigar that started out medium in strength and body. By the second half, I found both attributes progressed to medium to full in the second half.
One thing that stands out. This is a cigar that stands the test of time. While it lost some of its boldness, it definitely did not lose its flavor, and really didn't sacrifice much in terms of complexity. While I'd still recommend this cigar to an experienced cigar enthusiast, I wouldn't discourage the novice from trying. Four and a half years later, this cigar is still box worthy. I'd recommend smoking some now, and definitely putting some away.
Summary
Key Flavors: Coffee, Chocolate, Lemon, Nut, Leather, Cedar, Pepper
Burn: Excellent
Draw: Excellent
Complexity: Medium to High
Strength: Medium (1st Half), Medium to Full (2nd Half)
Body: Medium (1st Half), Medium to Full (2nd Half)
Finish: Very Good
Rating
Assessment: 4.0-Box Worthy
Score: 93
References
Previous Assessment: Liga Privada Unico Serie UF-13 Dark
News: n/a
Price: $16.20 (2017 pricing)
Source: Drew Estate (2013)
Brand Reference: Liga Privada