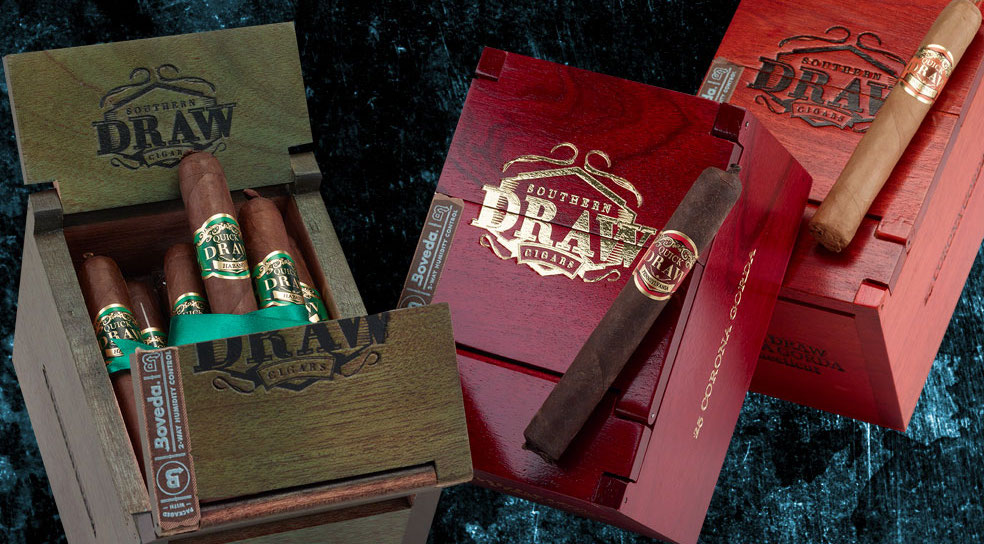 Last year, Southern Draw Cigars' announced it would be adding a Corona Gorda line extension to the three blends of its QuickDraw line. Today the company announced the initial allocation of this line extension will be made exclusively available to online retailer Famous Smoke Shop.
The Corona Gorda will be a 5 1/2 x 46 vitola and will be available to the Quick Draw Habano, Quick Draw Broadleaf, and Quick Draw Connecticut lines. The cigars will be available in 25-count boxes, and consistent with the company's other releases, it will be shipped with a Boveda humidification pack.
Plans are for the QuickDraw Corona Gorda to be exclusively available to Famous Smoke Shop at this time. The company has said there are plans to expand the distribution.
"Famous Smoke Shop and Southern Draw Cigars are coming off a wonderful Veterans Day Appreciation event, which was highlighted by our mutual commitment to Cigars for Warriors and our active duty military personnel. This partnership has provided an ideal opportunity to join forces again to distribute the first release of this exciting new line extension of our QuickDraw blends," said Robert Holt, Chief Evangelist of Southern Draw Cigars
The QuickDraw line is a series of what the company calls "Connoisseur" sizes designed to provide a smoking experience in a short amount time. The Corona Gorda joins the Petit Corona (4 1/2 x 44) and Short Panatela (5 1/2 x 40) vitolas available across the three lines.
"Each QuickDraw blend provides for the perfect Morning (Connecticut), Noon (Dark Habano) & Night (Pennsylvania) smoking experience that fits a busy lifestyle," commented Southern Draw's Sharon Holt. "Especially," she says,"for cigar lovers who only have a shorter break that might benefit from a smaller sized cigar."
"Both Sharon and Robert, along with our team at Famous, expect the new QuickDraw Corona Gorda to deliver the strength and flavor of its smaller ring gauge counterparts. And now that we're doing it in this classic and popular size, we want to keep it around the same price," added Jim Charnley, Famous Smoke Shop's Director of Purchasing.
At a glance, here is a look at the QuickDraw line:
Quick Draw Broadleaf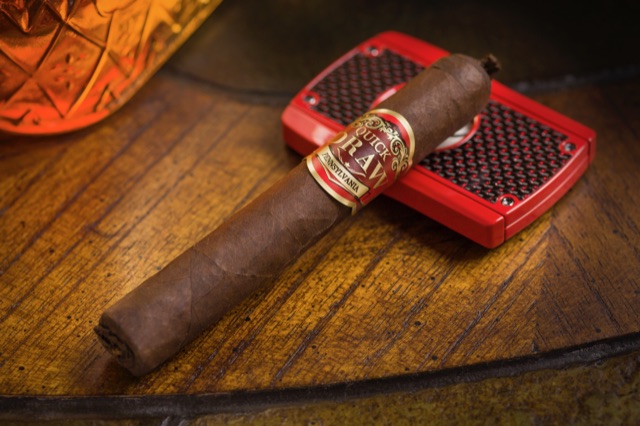 Wrapper: Pennsylvania Broadleaf
Binder: Nicaraguan
Filler: Nicaraguan
Country of Origin: Nicaragua
Petit Corona: 4 1/2 x 44
Short Panatela: 5 1/2 x 40
Corona Gorda: 5 1/2 x 46
Quick Draw Ecuadorian Habano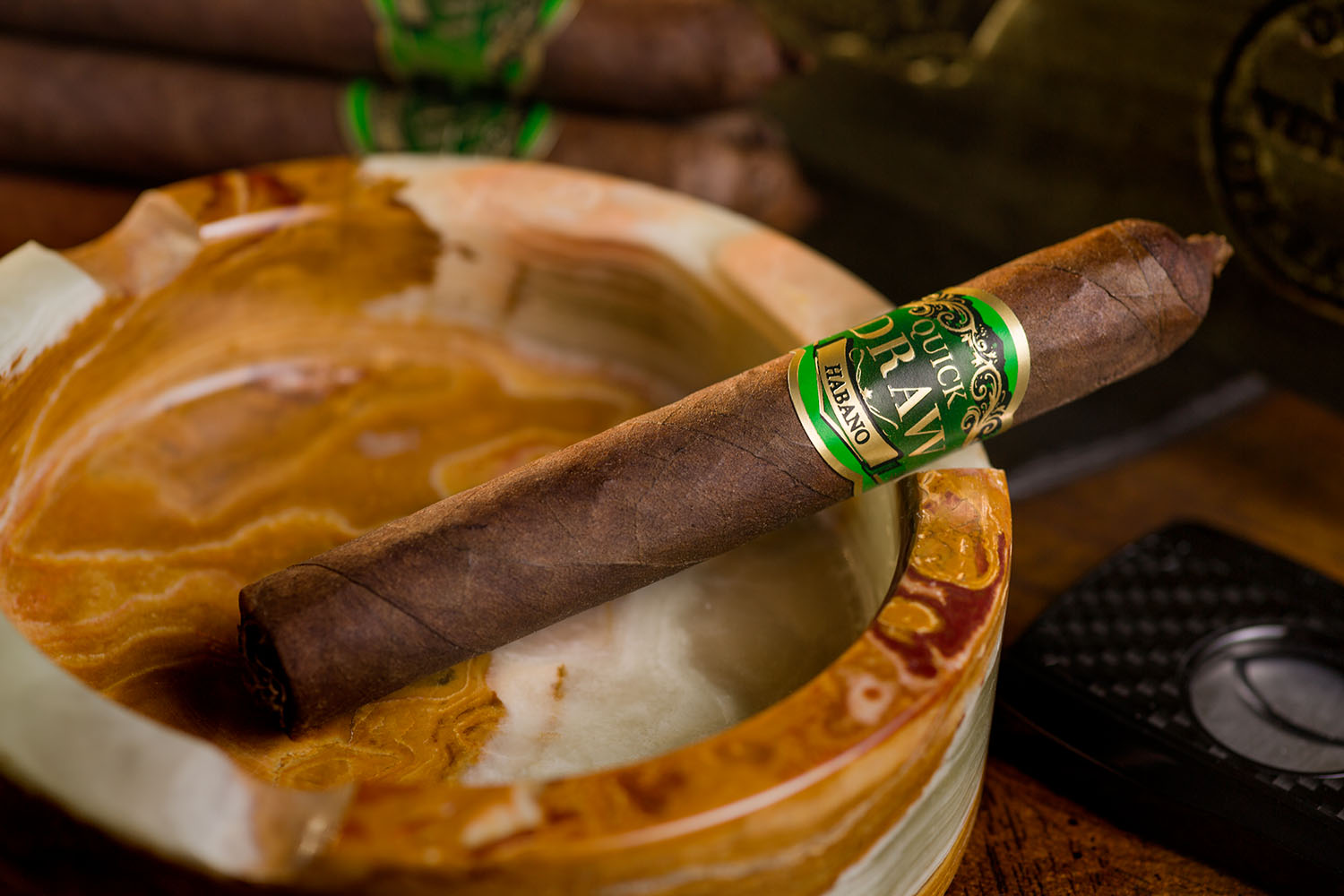 Wrapper: Ecuadorian Dark Habano
Binder: Nicaraguan
Filler: Nicaraguan
Country of Origin: Nicaragua
Petit Corona: 4 1/2 x 44
Short Panatela: 5 1/2 x 40
Corona Gorda: 5 1/2 x 46
Quick Draw Connecticut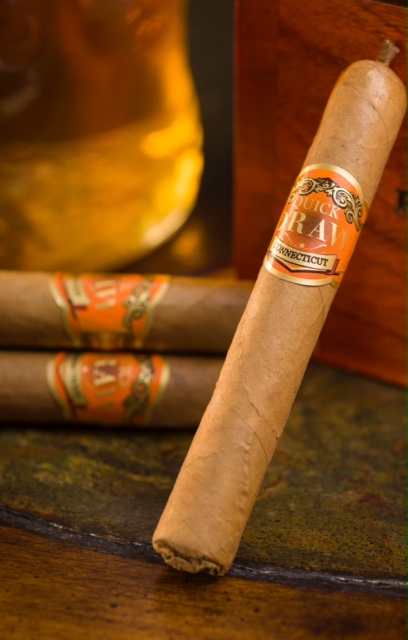 Wrapper: Ecuadorian Connecticut
Binder: Ometepe (Nicaraguan)
Filler: Esteli, Condega (Nicaraguan)
Country of Origin: Nicaragua
Petit Corona: 4 1/2 x 44
Short Panatela: 5 1/2 x 40
Corona Gorda: 5 1/2 x 46
Photo Credits: Southern Draw Cigars