Agile Cigar Reviews are cigar assessments where we use a lightweight, shorter format. These will never take the place of our comprehensive reviews. They are only used on blends we have previously assessed. This might be a blend we are re-scoring or giving a score for the first time. It might be a blend we are looking at in a different size. Today we look at the Emilio Draig K. This is a cigar we last assessed in the Corona size back in July 2012.
Wrapper: Colombian Cubanito Maduro
Binder: Unknown
Filler: Honduran, Nicaraguan
Country of Origin: Honduras (El Paraiso)
Robusto: 5 x 50
It's hard to believe that 5 1/2 years has passed since the release of Emilio Cigars' limited edition Draig K. It's even harder to believe that it was 6 years ago when we first started hearing about this from our friends at Stogie Review.
2011 was a breakthrough year for Emilio Cigars, a premium cigar brand started by LJ Zucca, the company that owned the Delaware Cigars' retail chain. At the time Emilio Cigars was being spearheaded by Gary Griffith who not only managed the retail operation, but was also the brand developer for Emilio Cigars. Following the successful launch of three regular production brands Emilio AF1, Emilio AF2, and Emilio Grimalkin, Griffith turned his attention to introducing a limited edition offering under the brand and thus the Draig line was born. The plan with Draig was to introduce a different blend from a different factory on an annual basis. The Emilio Draig K was the first release of the Draig line.
The name Draig paid homage to Griffith's Welch background. Draig K specifically paid homage to a Welch friend of Griffith's named Ken who had recently passed away in a car accident.
For the blend, Griffith turned to the Plasencia Family's El Paraiso factory in Honduras (who also produced the Emilio Series H line). The cigar was highlighted by a very dark wrapper from Colombia known as Cubanito Maduro over an undisclosed binder and a filler of Honduran and Nicaraguan tobaccos. It was produced in 3 sizes (Corona, Robusto, Toro) with a total of 400-ten count boxes per size produced. Using a powerful social media marketing machine, Griffith propelled the Emilio Draig K into one of the most anticipated boutique limited edition releases seen in recent years.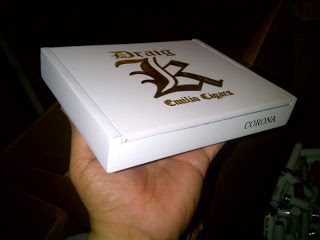 There was a double-edged sword with the Emilio Draig K. Flavor-wise, the cigar delivered. In fact, the Corona size landed as the Cigar Coop #15 Cigar of the Year for 2012. However when it was released, there were some issues:
"Draig K should begin arriving at retailers today. Over the weekend we test smoked a few, and it seems as though, considering the heat and humidity both here and in Central America, the coronas could use a bit of rest before smoking. We just felt that in all fairness to consumers we should give this advice. Not a thing wrong with them as far as construction or flavor, but they are a bit moist, likely a combination of a wrapper that does not breath well, and the smaller ring gauge. "
Finally the pink dragon on the band did create a bit of a stir on social media, but in the end, it probably didn't affect the sales.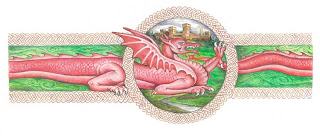 Today we revisit the Emilio Draig K, but this time in the Robusto size. 2012 was the only time the Draig K was released, so this cigar had been resting in the Cigar Coop humidor for 5 1/2 years!
When I smoked the aged Emilio Draig K Robusto, I was treated to coffee, chocolate, black pepper, cedar, and an apple vinegar-like flavor. The apple sweetness was something I remembered from my experiences with the Draig K in 2012, but this time it had more of an astringent quality to it. During the first third, the coffee and apple vinegar notes were more prominent. As the Draig K got into the second third, there was a rich, somewhat-heavy chocolate note that emerged with the coffee. By this time the apple flavor had diminished into the background. By the last third, the coffee notes returned to the forefront. At the same time, the pepper and cedar notes had increased while the apple notes diminished. Overall, I found the flavors to be medium to full-bodied countered by medium strength.
Back when it was first released, while I never had the problems due to moisture, these were not the best burning cigars. Five plus years later there was not much improvement in terms of the burn on each of the three cigars I smoked – this despite long-term aging in the humidor.
With 5 1/2 years age on this cigar, I think its fair to say that the Draig K Robusto might have slightly gone past its peak. Unfortunately, while there was a second Draig released with a new blend called the Draig Cayuquero, it was still fun revisiting not only this cigar, but the story of the Draig line. I'd still encourage cigar enthusiasts to try this cigar, but I caution that I don't think age will improve it.  I look forward to smoking my remainder of my supply. If you can find these, it's worth picking up multiples.
Summary
Key Flavors: Chocolate, Coffee, Apple Vinegar, Cedar, Black Pepper
Burn: Fair
Draw: Excellent
Complexity: Medium Plus
Strength: Medium
Body: Medium to Full
Finish: Good
Rating
Value: Buy Multiples
Score: 89
References
Previous Assessment: Emilio Draig K
News: Press Release: Draig K by Emilio Cigars
Price: $10.80
Source: Purchased
Brand Reference:: Emilio
Photo Credits: Emilio Cigars, except where noted.