Agile Cigar Reviews are cigar assessments where we use a lightweight, shorter format. These will never take the place of our comprehensive reviews. They are only used on blends we have previously assessed. This might be a blend we are re-scoring or giving a score for the first time. It might be a blend we are looking at in a different size. Today we look at the Fratello Oro Robusto. This is a cigar we last assessed back in May 2017.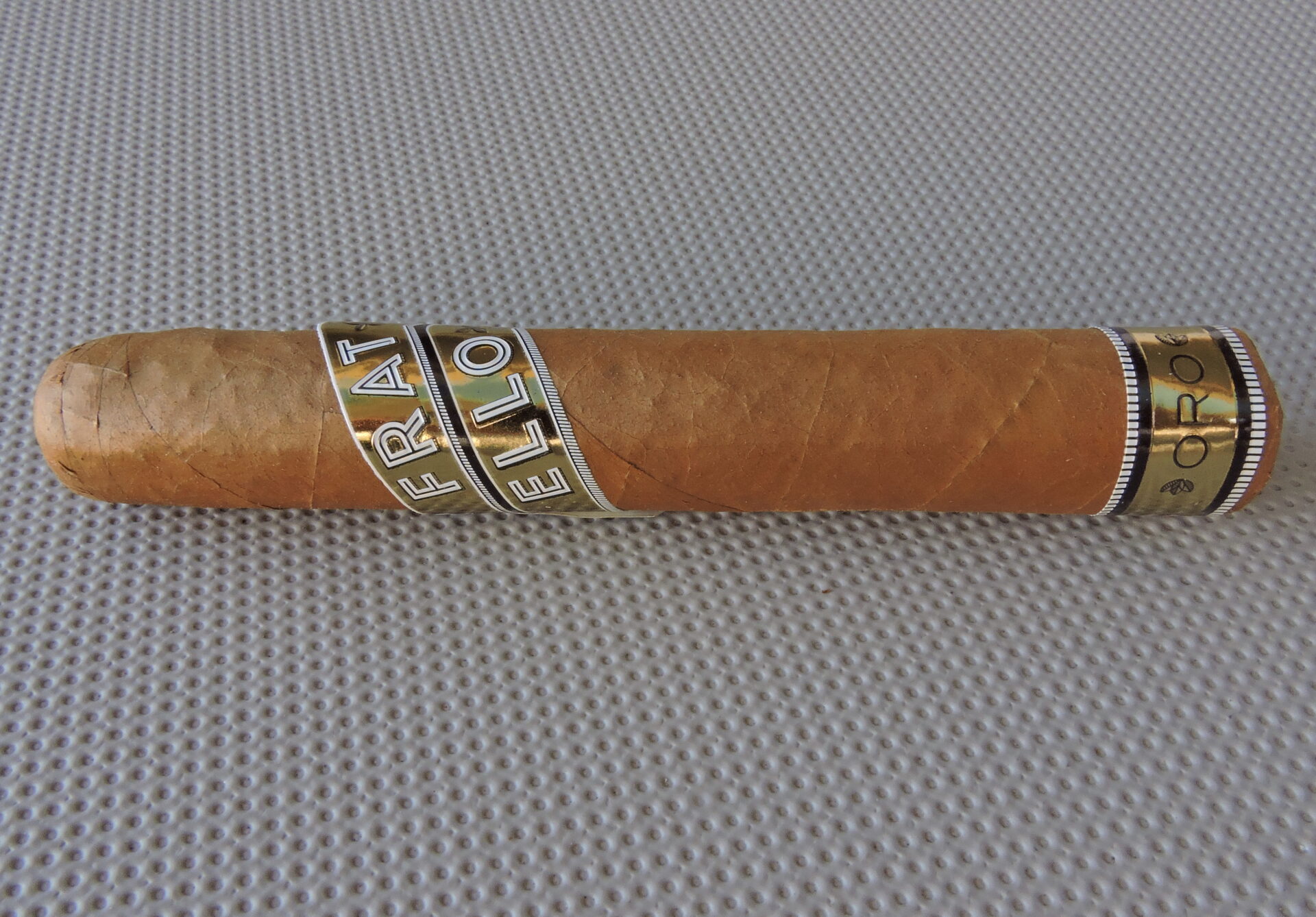 Wrapper: Ecuadorian Connecticut
Binder: Cameroon
Filler: Dominican, Nicaraguan
Country of Origin: Dominican Republic (La Aurora SA)
Robusto 5 x 50
The Fratello Oro is the third cigar line to be released under Omar De Frias' Fratello Cigars brand. With the Fratello Oro, de Frias introduced his first Connecticut Shade cigar to market. For his first two lines, de Frias worked with the oldest factory in Nicaragua – Joya de Nicaragua. With the Oro, de Frias turns to his home country of the Dominican Republic and opted to work with the oldest factory in that country – La Aurora. The Oro made its debut at the 2016 IPCPR Trade Show and was released later that year. We assessed this cigar back in May in the Robusto size, today we take another look at this cigar.
The Fratello Oro uses an Ecuadorian Shade Grown wrapper.  The Oro also features a Cameroon binder and a combination of Nicaraguan and Dominican filler. The Fratello Oro Robusto is in a classic 5 x 50 format.
The Fratello Oro Robusto delivered a mix of cream, classic wood, cedar, black pepper, and chestnut. During the first third, the creamy notes moved into the forefront. The cedar notes helped give the Fratello Oro some sweetness. As the Oro Robusto moved into the second third, the chestnut notes moved into the forefront and alternated with the creamy notes in intensity. While the chestnut notes were slightly less pronounced this time around then when it was reviewed in May, they still gave the Oro Robusto its uniqueness. By the last third, the cedar notes displaced the cream and chestnut notes. During the smoking experience, I found the Oro to start out lower end of medium in terms of strength and body with both attributes slightly increasing in intensity along the way.
Back when I first assessed the Fratello Oro Robusto, I commented how I felt this cigar had some aging potential. Nine months later, I feel this cigar is doing better with age. While the score is a point less, one must keep in mind the scoring methodology is different now than when it was a year ago. The Fratello Oro Robusto is a cigar that I would recommend to any cigar enthusiast any time of the day. As for myself, this is a cigar I'd purchase again – and it's worthy of box purchase consideration.
Summary
Key Flavors: Cream, Cedar, Classic Wood, Black Pepper, Chestnut
Burn: Excellent
Draw: Excellent
Complexity: Medium Plus
Strength: Medium
Body: Medium
Finish: Good
Rating
Value: Box Worthy Consideration
Score: 91
References
News: Fratello Oro to be Connecticut Shade Made in the D.R.
Price: $8.25
Source: Fratello Cigars
Brand Reference: Fratello Cigars
Photo Credits: Cigar Coop