Agile Cigar Reviews are cigar assessments where we use a lightweight, shorter format. These will never take the place of our comprehensive reviews. They are only used on blends we have previously assessed. This might be a blend we are re-scoring or giving a score for the first time. It might be a blend we are looking at in a different size. Today we look at the L'Atelier Côte d'Or La Tâche. This is a cigar we last assessed back in November 2016.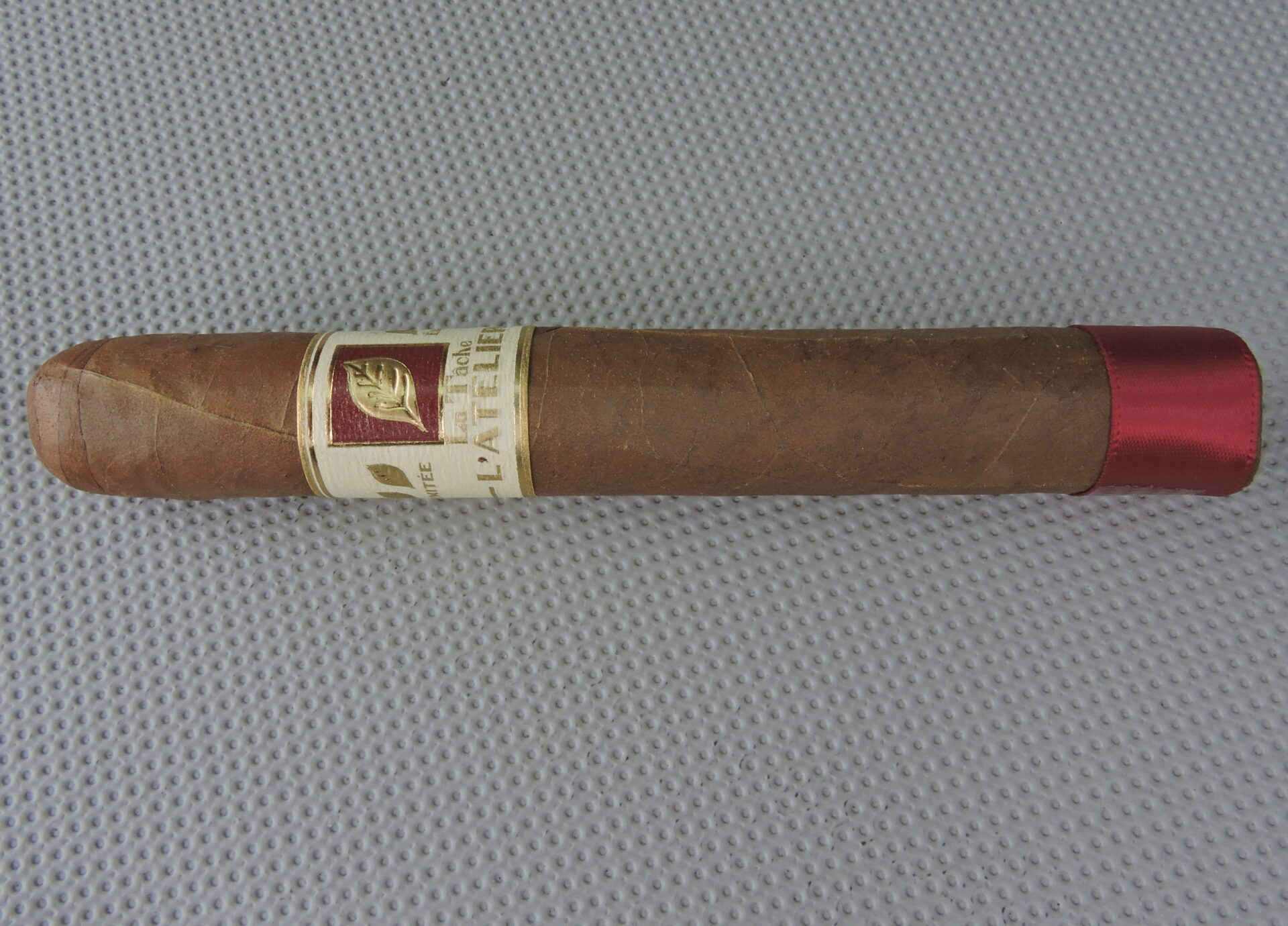 Wrapper: Sancti Spiritus (Ecuador)
Binder: Nicaraguan (Double Binder)
Filler: Nicaraguan, including Pelo de Oro
Country of Origin: Nicaragua (My Father Cigars SA)
Robusto: 5 1/2 x 50
The L'Atelier Côte d'Or La Tâche is a limited edition cigar released by L'Atelier Imports in 2016. It was the second installment of the company's L'Atelier's Côte d'Or line. This is a line that is also the company's most premium offering to date.
The L'Atelier Imports brand is co-owned by Tatuaje owner and founder Pete Johnson. Johnson is well known for his affinity with the wine industry. He has been known to incorporate this theme in several of his cigar projects and Côte d'Or is no exception. When the Côte d'Or line was introduced, we described the meaning of the name and the analogy with the wine industry.
The name Côte d'Or translates to "gold coast". It also is the name of the department in Eastern France that is the famous Burgundy wine growing region. One grape grown is the Pinot Noir – which is considered a high maintenance, temperamental plant. There is an analogy to Pelo de Oro as it is a high maintenance leaf to work with (it has been prone to mold). While both Pinot Noir and Pelo de Oro have low yields, both are known to produce high quality end products for wine and cigars respectively.
The first L'Atelier Côte d'Or was released in 2015 in a 7 x 47 soft-pressed Churchill size. La Tâche is a 5 1/2 x 50 Robusto sized offering that has a similar blend to the Churchill.  Both cigars use Nicaraguan tobacco for the binder and filler with some Nicaraguan grown Pelo de Oro incorporated into the filler. All L'Atelier branded cigars have utilized Sancti Spiritus tobacco, which ironically was intended to be a replacement for Pelo de Oro because of the problems of getting a good yield. In the case of the Côte d'Or Churchill and Côte d'Or La Tâche, the Sancti Spiritus is used for the wrapper of the cigar. The difference is La Tâche uses a lower priming wrapper.
The L'Atelier Côte d'Or La Tâche starter out with natural tobacco notes, white pepper, and wood. There was also an underlying creamy texture that made the flavor profile smooth. Early on, the natural tobacco notes became primary. These had a slight berry component during the first third which transitioned to more of a caramel component in the second third. During the second half, some of the creaminess and sweetness diminished, as I picked up more in the way of wood notes. Like my previous experience with the L'Atelier Côte d'Or La Tâche, I found it delivered a medium strength, medium-bodied experience. While the cigar burned fine, I found the draw to be a little tighter than I preferred.
Overall, I found the L'Atelir Côte d'Or La Tâche to be a cigar that scores very well and in fact I liked the flavors better as the cigar now had some age. However, much like my previous cigar experience, I still found the La Tâche to lack a "wow factor". When a cigar is priced at an ultra-premium level, I expect a little more. It's still a cigar I would recommend smoking on merit alone. It's one that is perfect for the novice or experienced cigar enthusiast, but given the price point, I would recommend that you somehow try this cigar before buying it.
Summary
Key Flavors: Natural Tobacco, Wood, Pepper, Caramel, Berry
Burn: Excellent
Draw: Excellent
Summary: Medium
Strength: Medium
Body: Medium
Finish: Good
Rating
Value: Try a Sample
Score: 89
References
Previous Assessment: L'Atelier Côte d'Or La Tâche
News: L'Atelier Côte d'Or La Tache Coming This Spring
Price: $16.00
Source: Purchased
Brand Reference: L'Atelier Imports
Photo Credit: Cigar Coop