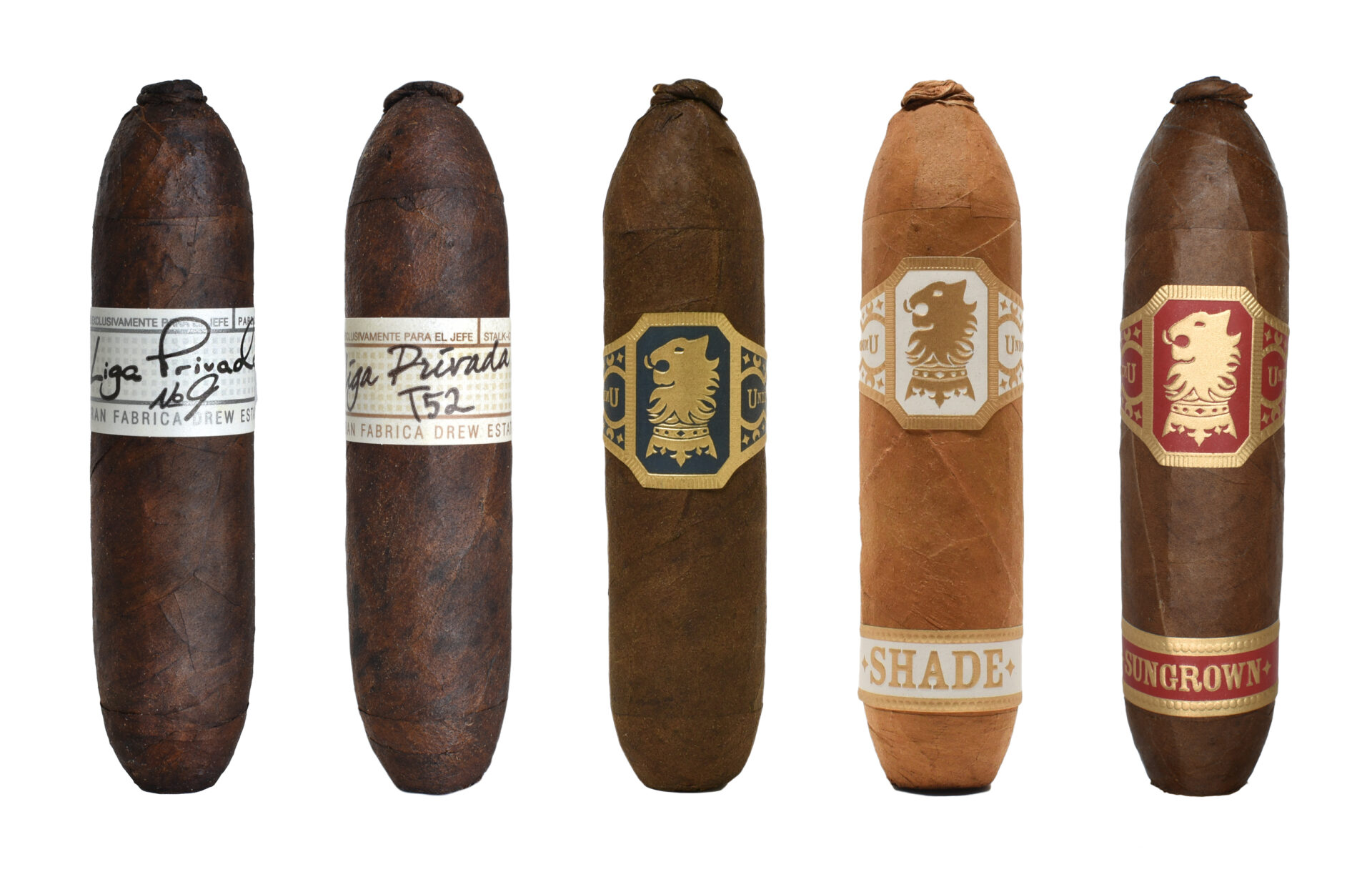 Drew Estate has announced it is releasing five of its signature Flying Pig releases to its Drew Diplomat retailers. The release is intended to coincide with the Father's Day celebration in the U.S.
The Flying Pigs being shipped include the Liga Privada No. 9, Liga Privada T52, Undercrown (Maduro), Undercrown Shade, and Undercrown Sun Grown blends. All of the sizes are packaged in 12-count boxes. A total of 2,500 Flying Pig boxes will be available.
The Flying Pig is a 3 15/16 x 60 ring gauge perfecto that is based off an 1895 cigar salesman's size selection stake. Drew Estate describes it as one of the most difficult cigars Draw Estate has made as it requires specialized training by the buncheros at rollers at the La Gran Fabrica Drew Estate facility in Estelí, Nicaragua.
In a press release announcing the return, Drew Estate President and co-Founder Jonathan Drew commented, "As President of Drew Estate it brings me great pride to report that our production floor's passion, and painstaking dedication to detail, remains as strong today as the day we began as a little fabriquita. All of us at DE wish to dedicate this release collection to all the fathers who give us the wisdom and love to fly high everyday."
The three Undercrown Flying Pigs are each priced at $152.64 per 12-count box while the two Liga Privada Flying Pigs are each packaged at $181.20 per 12-count box.
At a glance here is a look at the five Flying Pigs:
Liga Privada No. 9
Wrapper: Connecticut Broadleaf
Binder: Brazilian Mata Fina
Filler: Nicaraguan, Honduran
Country of Origin: Nicaragua (La Gran Fabrica Drew Estate)
Flying Pig: 3 15/16 x 60
Liga Privada T52
Wrapper: Connecticut River Valley Stalk Cut and Sun Cured Habano
Binder: Brazilian Mata Fina
Filler: Nicaraguan, Honduran
Country of Origin: Nicaragua (La Gran Fabrica Drew Estate)
Flying Pig: 3 15/16 x 60
Undercrown Maduro
Wrapper: Mexican San Andres Maduro
Binder: Connecticut River Valley Stalk Cut
Filler: Nicaraguan, Brazilian Mata Fina
Country of Origin: Nicaragua (La Gran Fabrica Drew Estate)
Flying Pig: 3 15/16 x 60
Undercrown Shade
Wrapper: Ecuadorian Connecticut Shade wrapper
Binder: Sumatra
Filler: Nicaraguan, Dominican
Country of Origin: Nicaragua (La Gran Fabrica Drew Estate)
Flying Pig: 3 15/16 x 60
Undercrown Sun Grown
Wrapper: Sumatra
Binder: Connecticut River Valley Stalk Cut
Filler: Nicaraguan
Country of Origin: Nicaragua (La Gran Fabrica Drew Estate)
Flying Pig: 3 15/16 x 60
Photo Credit: Drew Estate