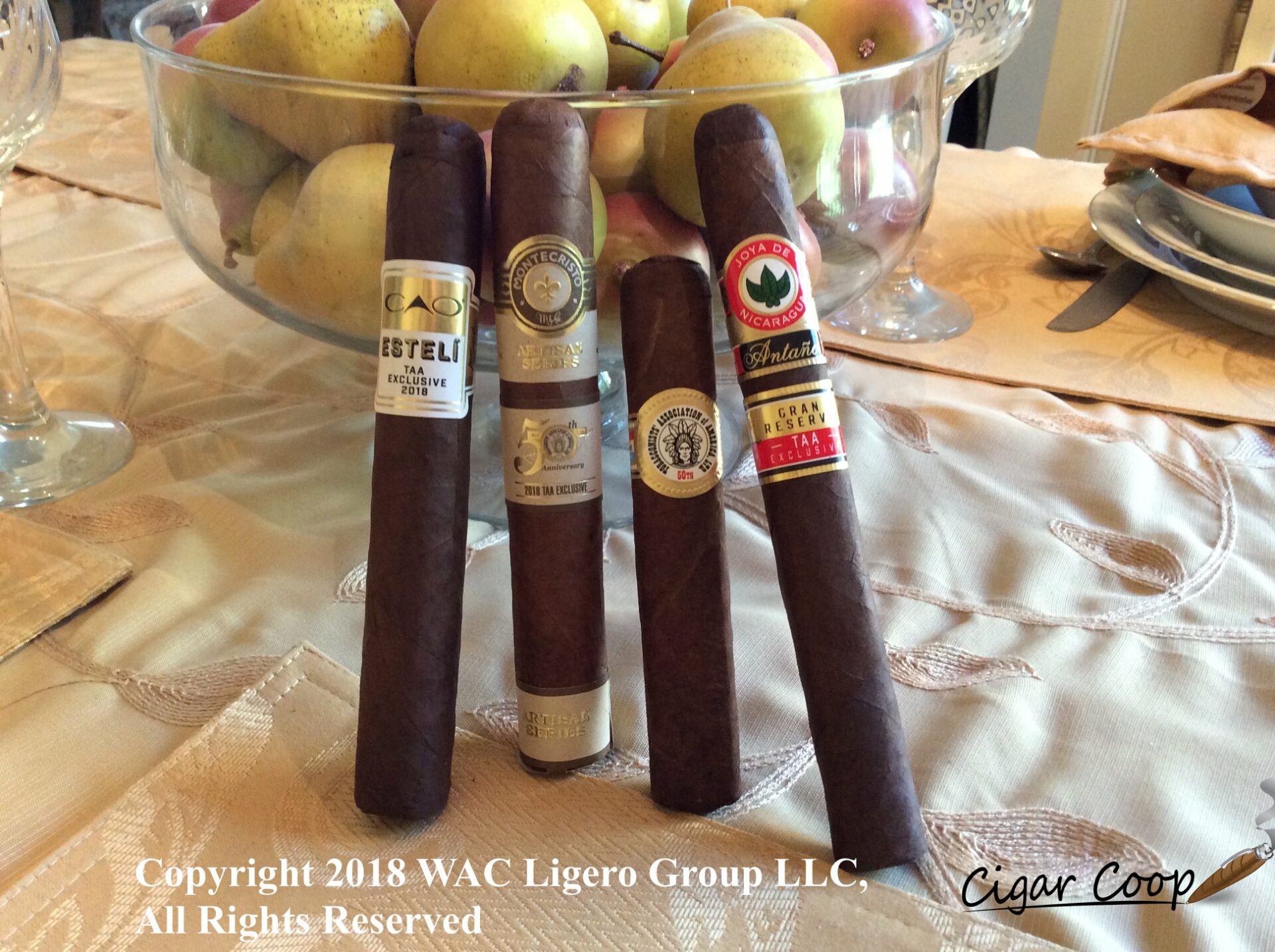 It's fair to say that the subject of cigar reviews is a polarizing one. If you follow cigar reviews closely, you will see a debate rage on about the usefulness of them. I'm not sure why, but it seems to have gotten more polarizing than ever over the past few years. There are some that will say they don't have any use for reviews and others will critique the content of the review itself. In terms of the content of the review, perhaps the most critical thing I've seen is when a reviewer uses a metaphor or an analogy for a flavor descriptor – namely when a reviewer claims to get notes such as pine needles, mashed potatoes, or elderberry. While a cigar reviewer should not be immune to criticism, sometimes I think the criticism is directed in the wrong direction – with much of the emphasis placed on the flavor analogies.
In terms of questioning notes such as elderberry or mashed potatoes, certainly I would say it's a valid criticism – but often I see that as the main target while criticizing a review. The flavor analogy description is only one small part of the equation. There are many other very important components to a review that often are not addressed, yet seem to be immune to criticism.
Overall, I have come up with six questions I look for when I read a review – and I've tried to carry these questions into the reviews I write.
What is the cigar being reviewed?
How does this cigar fit in with the overall brand?
Does this cigar fit my profile?
How well does this cigar perform?
Is this cigar worth the price?
Where can I get this cigar?
We'll discuss why these things are important, but first, let's turn our attention to what I think are some of the things a cigar review should not do.
Things a Cigar Review Should NOT Do
A cigar review should not be about the reviewer
The review is about the cigar, not the reviewer. Writing about what the weather is or that you smoked the cigar with a brand owner or representative has no place in a review. While there is nothing wrong with this kind of content, it should be written outside a cigar review.. In my opinion, if the reviewer is writing about himself, he should have an online diary/journal and not a cigar review site.
A cigar review should not editorialize beyond the product being reviewed
A review should focus editorializing on the actual product (in this case, the cigar) itself. It should not be an editorial on the marketing strategy, what the brand or brand owner says on social media, or how you feel about the particular brand or brand owner. That includes saying you are a "fan of the brand".
A cigar review should not be written as a marketing tool
Finally, good reviews are not set up as marketing tools. Naturally, companies hope that a positive review will serve as free marketing. But the reviewer should not craft a review as if it were an advertisement.
The 6 Questions a Cigar Review Should Answer
What is the cigar being reviewed?
This might seem like a basic question, but ultimately it is the reviewer's job to accurately get the name of the cigar correct. This includes the cigar name, the vitola name, and the brand name. Believe it or not, there are many cases where the cigar name is simply wrong in the review. We've seen it before: things like "Liga Undercrown" (it's Undercrown) and Tatuaje The Mummy or Tatuaje Mummy (it depends on the size).  Brand names are often jumbled. Look at the Warped/Casa Fernandez collaboration of Guardian of the Farm.  Many people mistakenly thought it was a cigar in the Warped portfolio where in reality it's distributed by Casa Fernandez in their portfolio.
The name is important because many people will take the time to google the cigar – or go to their local retailer looking for the cigar. When a reviewer doesn't nail down this information, that reviewer is doing a disservice to the reader and end consumer.
How does this cigar fit in with the overall brand?
This is very important when a consumer seeks out a cigar. A reader needs to know exactly what size, vintage and blend the review was based on so he or she can select it from a brick and mortar or catalog. The following are some examples of scenarios like this:
A cigar may be one of several vitolas in the same blend.
A cigar may be one of several vitolas and the blend differs from vitola to vitola.
The cigar may be an annual edition and the cigar being reviewed may be very different from another year's release.
The cigar may be a re-release.
The cigar may be out of circulation.
The cigar may be a shop exclusive.
The cigar may be a regional release.
The cigar may be an event-only cigar
The cigar may not even be for sale.
Background information and specifications on the cigars are quite important to educate the consumer on exactly what the reviewer smoked.
Does the cigar fit my profile?
This is more than whether the cigar tastes like elderberry or marinara sauce. There are other things one will look for when considering a cigar such as:
Does it lean toward sweet, spicy, sour, etc?
Is this a mild, medium or strong cigar when it comes to strength?
Is this a mild, medium or strong cigar when it comes to body?
Does the cigar have a short or long finish?
Does the cigar draw on the looser side or the tighter side?
The emphasis that many have placed on the flavor note analogies is simply too much. If we just use simple descriptors to describe the flavor profile (i.e. the cigar starts off sweet, becomes salty, and then spicy in the final third) a review will be quite generic and boring. While I do think there is a point where it can go overboard, metaphors and analogies can help paint a better picture of the cigar. Personally, I think the flavor analogies are an easy target for many critics of cigar reviews.
Strength and body are not even mentioned in some cigar reviews. To me, this is a very important part of the assessment when it comes to letting people know the profile of a cigar.
How well does this cigar perform?
Flavor is an important category, but overall performance is pre-eminent in my book. To some degree, these factors weigh differently depending on one's personal preference. There are a lot of things that need to be considered here.
How good are the flavors of this cigar?
Is the cigar well constructed?
Does the cigar burn well?
Does the cigar have a nice draw?
How complex is the cigar?
Are the flavors well-balanced?
A composite of these factors is taken and ultimately that is what is used to come up with a rating or score. I call this a merit rating. Of course, there is much controversy on what system should be used to deliver a rating or score. We have all seen the debates rage about the 100 point system, the 10 point system, some other point system, or no point system. In the end, the choice of system to be used is sort of a religious war. It's more important that the review delivers a clear and understandable mechanism on the cigar's performance.
Cigar Coop utilizes a 100 point system. While that certainly has its shortcomings, many people can relate to it – and it does the job of delivering a composite of the performance factors.
Is the cigar worth the price?
Ultimately someone looking at a review is going to want to know if the cigar is worth the money.
The position at Cigar Coop is merit and value rating are two separate categories that should not be intermingled. Not all scores are weighted the same. For example, an 89 point rating on merit and overall performance might be considered respectable, but it could have different meanings in terms of value. In other words, an 89 point rating for a $5.00 cigar is going to be valued differently by a consumer than an 89 point rating for a $20.00 cigar.  There are some that would take away points for the $20.00 cigar on that 89 point rating, but in this author's opinion that is when the waters start to get muddy. If the price of the cigar is discounted, does it suddenly get scored higher?
Where can I buy this cigar?
It's the most asked question Cigar Coop gets from readers. I think an Internet search is quicker than contacting us or contacting the manufacturer, but nonetheless, the information is something a reviewer should be able to provide.
That's something we have been a little lax on at Cigar Coop and will work to improve it.
A Foundation of Information Available to the Reviewer is Important
While there are subjective components in an assessment such as merit and value, there are some very important foundational and background informational components a review should be built on. This doesn't need to be trade secrets on proprietary tobacco or secret fermentation techniques. It's simple, basic information about the cigar, the line, and the brand. This includes items such as: the name of the cigar, the name and size attributes of the vitola, the cost of the cigar, the box counts of the cigar, whether it is a regular production or limited release, etc. Blend information is always useful (even if its high level) as it better educates the reviewer. Specific production numbers are nice, but don't make or break a review.
Ultimately, this information needs to come from the manufacturer or brand owner. Some brand owners are very pro-active about providing information. Cigar Coop finds the most effective way to convey this information is through a well-crafted press release from the manufacturer or brand owner. A press release doesn't need to be fancy or have a heavy marketing spin – it just needs to distill the facts.
There are some manufacturers and brand owners that simply don't have the bandwidth or just refuse to write a press release. In the cases of limited and shop exclusive cigars, this sometimes becomes an ROI issue for the company whether to invest time in this. There are some manufacturers and brand owners that are very helpful when seeking out this information – and there are others for whom the request for this information falls on deaf ears.
With pricing, this is very tricky. While many price increases are communicated to retailers, they are almost never given to media. Since we assess value on Cigar Coop, it does create a burden to accurately get the price.
As the reviewer on Cigar Coop, if I can't get the foundational information on the cigar, I simply will not review the cigar. It doesn't make good business sense for Cigar Coop to review a cigar if I'm blocked from effectively answering the six questions I mention above.
Final Thoughts
Not every reviewer's style is for everyone. That is the beauty of having many cigar review sites out there. It gives the reader a nice amount of options to choose from as well as compare and contrast. I personally feel there are things a review should do and things a review shouldn't do, but I recognize these might not be important to everyone.
As I stated up front, a reviewer's work should not be immune to criticism, but ultimately I'd like to see the feedback on a broader basis than simply going after the mention of elderberry flavor notes.
Photo Credit: Cigar Coop