---
Each year the Espinosa Premium Cigars booth seems to get busier and busier. This year two other companies from the La Zona family joined Espinosa Cigars in the booth, Cubariqueño Cigar Company and Pier 28 Premium Cigars. We did a separate Spotlight feature on Cubariqueño, so we will turn our attention to Espinosa and Pier 28.
For Espinosa Cigars, there a combination of several different types of releases. The two big releases were the unveiling of Las 6 Provincias and the limited edition Erik Espinosa 20th Anniversary cigar. At the same time the company showcased its fourth installment of the 601 La Bomba Warhead and a bundle offering.
One of the bigger offerings was the unveiling of Las 6 Provincias."Cubanesque" brand under the Espinosa Cigars portfolio as it is a brand that is the first "Cubanesque" brand under the Espinosa Cigars portfolio as it pays homage to Old (pre-Castro) Cuba. The name means the "six provinces" and it pays homage to the tsix provinces that existed prior to Fidel Castro taking over Cuba and re-arranging the political landscape of Cuba. The first installment of the series, Las 6 Provincias LHB is the one being introduced. Other releases paying homage to the other provinces are planned.
Las 6 Provincias LHB consists of a Habano wrapper over Nicaraguan binder and filler. It will come in one size – a 6 x 54 box-pressed Toro. The cigars will be presented in 10-count boxes. Production is being handled out of AJ Fernandez's San Lotano factory. Priced at $16.50 per cigar, its the most premium offering under the Espinosa Cigars portfolio to date.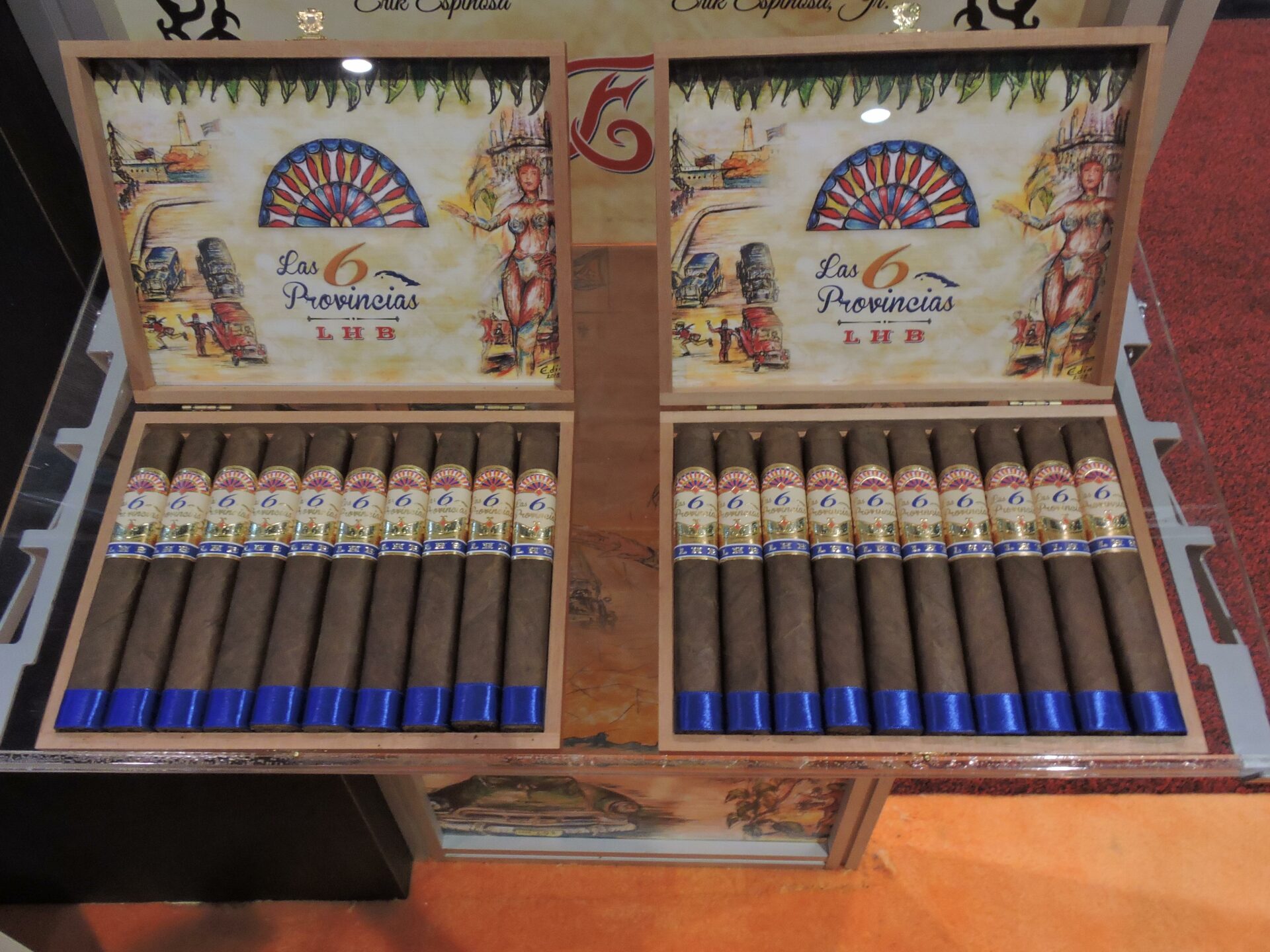 While it comes in ten count boxes, the company also showcased a unique 20 "swing box". This is been limited to 300 units with each individually numbered.
With Erik Espinosa celebrating 20 years in the cigar industry last year, the company has a cigar to commemorate the occasion. The cigar is appropriately titled Erik Espinosa 20th Anniversary).. The blend onsists of a Habano Rosado wrapper over Nicaraguan binder and filler. The cigar is available in one size – a 6 x 46 Corona Larga. The cigars are presented in 20-count boxes and production is limited to 500 boxes.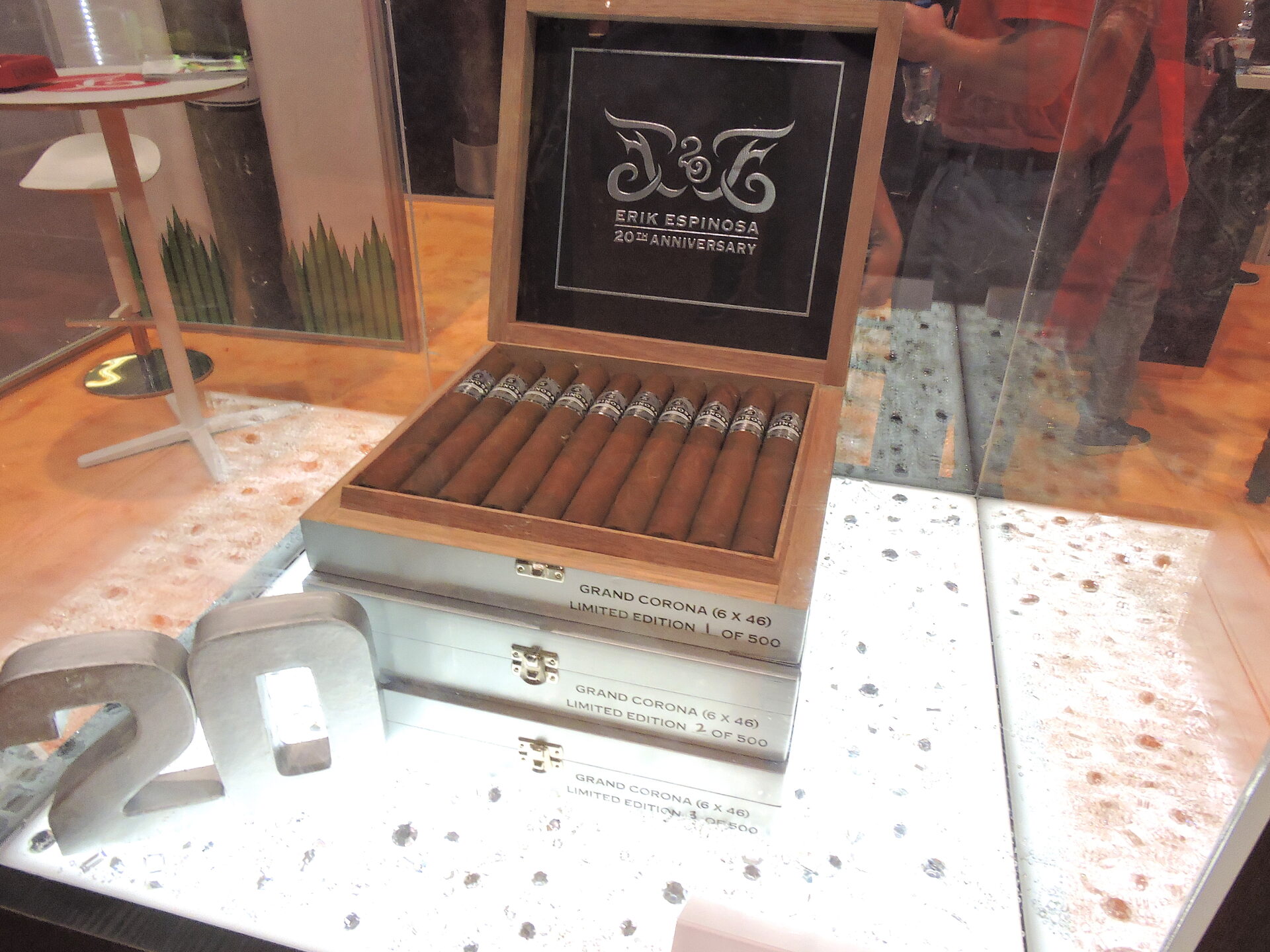 Meanwhile, the Espinosa 601 La Bomba Warhead IV had a widespread release. There was a very limited release of this cigar back in 20156. 601 La Bomba Warhead takes Espinosa's core La Bomba Nicaraguan blend, puts a Connecticut Broadleaf wrapper in place of the Habano, box-pressed it, and releases a different size for a one time limited release. For 2018, Warhead IV is a 6 x 48 Short Churchill, a size that Espinosa is becoming well known for.
Floating under the radar was a new brand called E by Espinosa. This is a new value-priced, bundle offering line in the Espinosa Cigars portfolio. It's available in there size: Robusto, Toro, and Gordo  The sizes are offered in either a Habano wrapper of Ecuadorian Connecticut Shade wrapper option.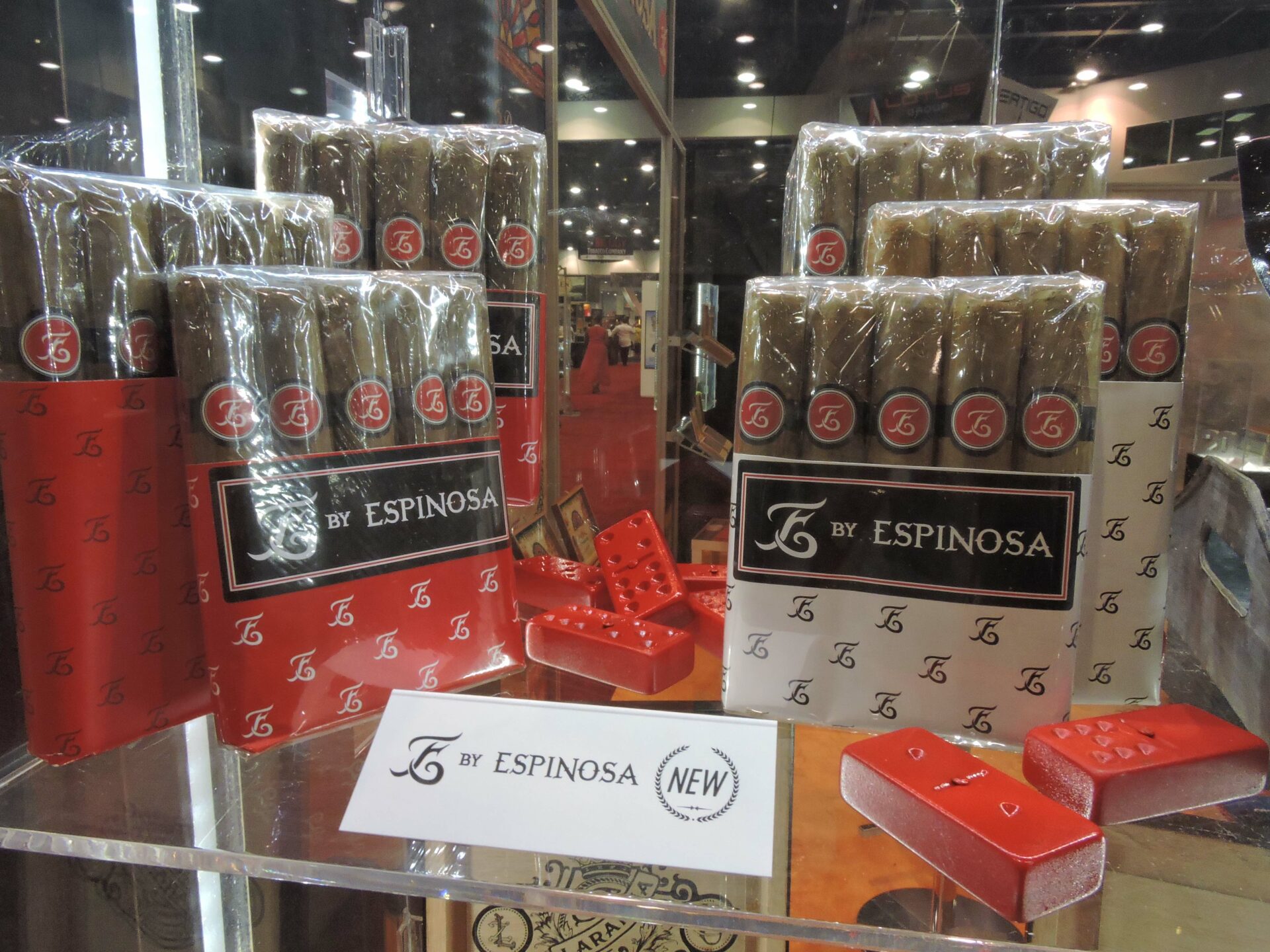 Pier 28 Premium Cigars is the brand run by Espinosa West Coast Territory Manager Tim Wong. The brand launched in 2016 with the Pier 28 Habano and was followed last year by Pier 28 Maduro. This year, it's one new line and one new line extension.
The new line is the Pier 27 Oscuro. As the name indicates, it features a dark Oscuro wrapper from Brazil. The reminder of the blend is all Nicaraguan. The cigar is offered in four sizes: Rabito (6 1/2 x 46), Robusto (5 x 52), Toro (6 x 54), and Perfecto (5 1/2 x 56). Each size is presented in 10-count boxes
Finally, Pier 28. has its own lancero. This new line is 7 1/2 x 38 vitola featuring a blend consisting of an Ecuadorian Habano Cafe wrapper over a Nicaraguan binder and a combination of Nicaraguan and Dominican fillers. Unlike the other Pier 28 offerings, the Pier 28 Lancero comes in 20 count boxes.
2018 Product Reports
Photo Credits: Cigar Coop, except where noted.