Agile Cigar Reviews are cigar assessments where we use a lightweight, shorter format. These will never take the place of our comprehensive reviews. They are only used on blends we have previously assessed. This might be a blend we are re-scoring or giving a score for the first time. It might be a blend we are looking at in a different size. Today we look at the RoMa Craft Tobac Neanderthal OM size. This is a cigar we have assessed several times in the past, most recently back in February 2017 in the SGP size.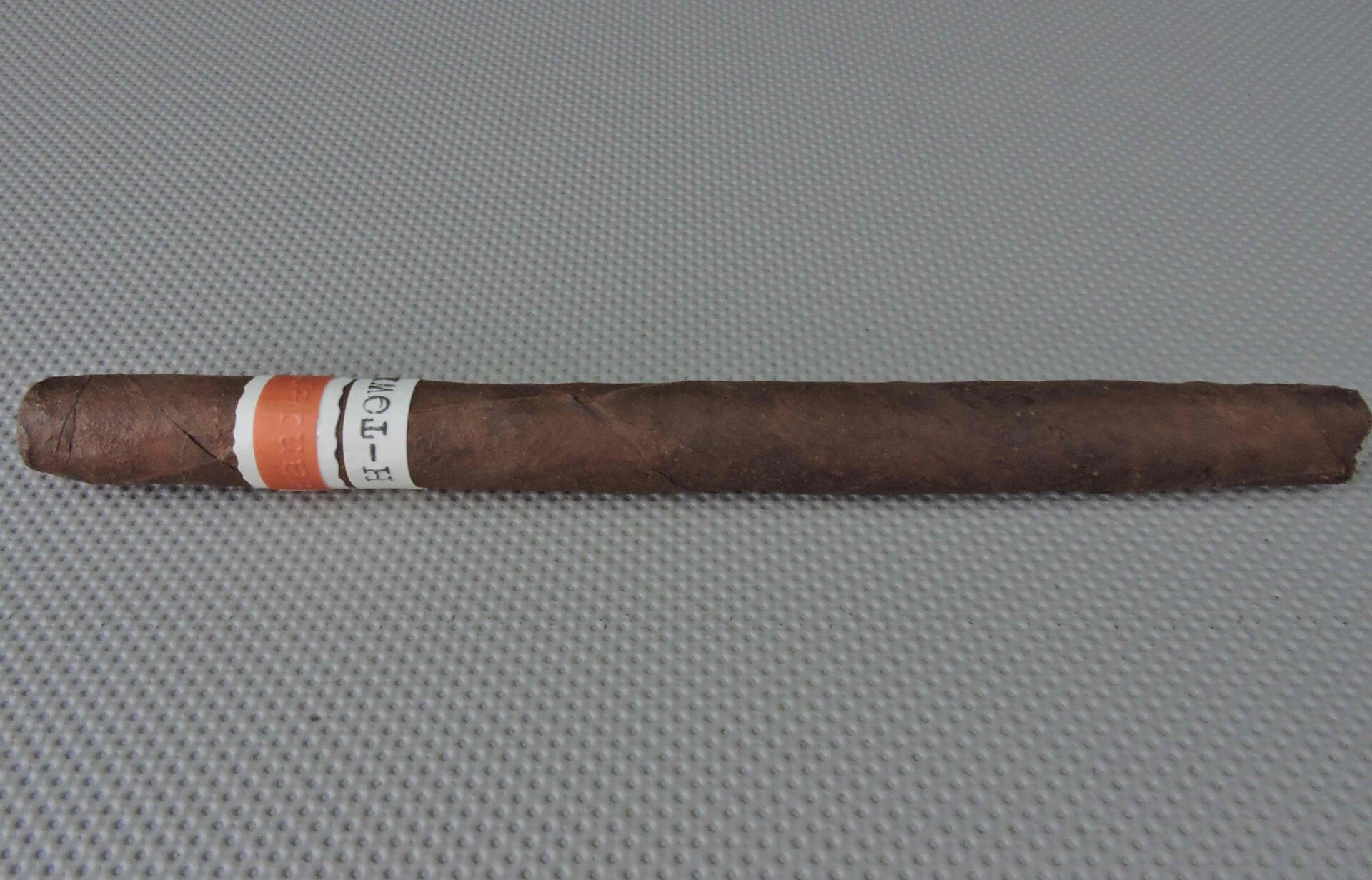 Wrapper: Mexican San Andres Maduro
Binder: U.S. Connecticut Broadleaf Maduro
Filler: U.S. Pennsylvania Double Ligero (GR-S1), Nicaraguan (Conega, Jalapa, Pueblo Nuevo, Esteli), Dominican Republic (Olor)
Country or Origin: Nicaragua (Nica Sueno)
OM: 7 x 38
In 2016, RoMa Craft Tobac introduced a traditional 7 x 38 lancero size to its Neanderthal line. The cigar would have an exclusive release to Stogies World Class Cigars  known as the Neanderthal OM H-Town Lancero. Stogies World Class Cigars owner Jorge Ahued has an affinity for lanceros and over the years he has commissioned various manufacturers and brands to produce limited production lancero-sized offerings to be sold in his store. RoMa Craft Tobac would join what is becoming an exclusive club with its Neanderthal OM. Today we look at the Neanderthal OM H-Town Lancero. This is a cigar acquired ten months ago by Cigar Coop.
Neanderthal first hit the market in 2015 and it is a regular production line of full strength, full-bodied offerings. The key to Neanderthal's power is the incorporation of a Pennsylvania Double Ligero leaf in the filler known as Green River Valley Sucker One (GR-S1). This is a regrowth leaf from Pennsylvania broadleaf that has a naturally high nicotine level (between 9% to 13% – significant higher than the 5% – 6% found in Estelí Ligero). The remainder of the filler consists of Nicaraguan tobacco from Condega, Jalapa, Pueblo Nuevo, and Estelí) as well as Olor from the Dominican Republic. A U.S. Connecticut Broadleaf binder is also used and the cigar is finished with a San Andres Maduro wrapper.
The Neanderthal OM started out with notes of chocolate, earth, subtle maduro sweetness (a cross of natural tobacco sweetness and some dark cherry qualities), and mixed pepper notes. Early on the chocolate notes became primary and developed some malt qualities. The cherry notes varied in intensity and the earth and spice notes settled in the background where they were joined by some nut flavors. The second third saw the earth and maduro sweetness displace the chocolate notes in the forefront with the pepper slightly increasing. By the last third, the chocolate notes picked up with the maduro sweetness receding again.
Perhaps the biggest surprise about this cigar was the intensity level. I didn't find the OM to deliver the same level of punch that its siblings the HN, HoxD and SGP sizes did. I assessed the OM as a cigar on the upper end of medium to full for both strength and body.
Overall Assessment
Final Thoughts
There is a tendency among cigar connoisseurs to embrace the lancero as the best size to smoke. This is something I don't subscribe to. On its own, Neanderthal OM H-Town Lancero is a very good cigar that scores and rates very well. At the same time, it is going up against some stiff competition in the Neanderthal line – and I felt the Neanderthal OM falls short when up against size like the HN, HoxD, and SGP sizes.  While there is less strength and body, this still is a cigar on the upper end of medium to full for both attributes, so I'd still steer this cigar to a more seasoned cigar enthusiast. As for myself, this is a cigar I would smoke again – and buy multiples to keep in the humidor.
Summary
Key Flavors:  Chocolate, Malt, Earth, "Maduro Sweetness", Pepper
Burn: Excellent
Draw: Excellent
Complexity: Medium
Strength: Medium to Full
Body: Medium to Full
Finish: Good
Rating
Value: Buy Multiples
Score: 91
References
Previous Assessment: RoMa Craft Tobac Neanderthal SGP
News: RoMa Craft Tobac Neanderthal OM Released as Latest H-Town Exclusive
Price: $10.00
Source: Purchased
Brand Reference: RoMa Craft Tobac