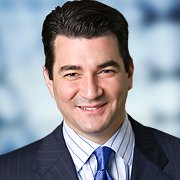 Dr. Scott Gottlieb, the Commissioner of the U.S. Food and Drug Administration is resigning. The resignation was originally reported by the Washington Post and confirmed by Secretary of Health and Human Services Alex Azar.
"I'm immensely grateful for the opportunity to help lead this wonderful agency, for the support of my colleagues, for the public health goals we advanced together, and the strong support of @SecAzar and @realDonaldTrump – This has been a wonderful journey and parting is very hard," commented Gottlieb on his Twitter account.
"All of us at HHS are proud of the remarkable work Commissioner Gottlieb has done at the FDA. He has been an exemplary public health leader, aggressive advocate for American patients, and passionate promoter of innovation. I will personally miss working with Scott on the important goals we share, and I know that is true for so many other members of the HHS family," commented Azar in a press release.
"Scott's leadership inspired historic results from the FDA team, which delivered record approvals of both innovative treatments and affordable generic drugs, while advancing important policies to confront opioid addiction, tobacco and youth e-cigarette use, chronic disease, and more. The public health of our country is better off for the work Scott and the entire FDA team have done over the last two years," added Azar.
President Donald Trump tweeted, "Scott Gottlieb, who has done an absolutely terrific job as Commissioner of the FDA, plans to leave government service sometime next month. Scott has helped us to lower drug prices, get a record number of generic drugs approved and onto the market, and so many other things. He and his talents will be greatly missed!"
Gottlieb's appointment by President Trump in 2017 was heralded by some in the cigar industry because he had been on the record saying the FDA may be overreaching when it comes to regulation on tobacco. By the end of 2018, his initiatives against flavored tobacco had many saying he went too far.
Following his appointment as FDA Commissioner, Gottlieb unveiled a tobacco program known as Protecting American Families: Comprehensive Approach to Nicotine and Tobacco. One component of this program was a plan to push the deadline for cigar and pipe tobacco companies to submit products for FDA approval out nearly three years to August 8, 2021. In addition, Gottlieb announced the organization would once again re-examine the question of if and how premium cigars should be regulated. These initiatives were spearheaded by a larger initiative being undertaken by Gottlieb and the FDA to reduce nicotine levels in tobacco products.
The first step in re-evaluating the policy was to issue three Advanced Notice of Public Rule Making (ANPRM) initiatives. This included: Maximum Nicotine Levels, Flavored Tobacco, and Regulation of Premium Cigars. During this time, the FDA accepted public comment on these initiatives. The ANPRM around the regulation of premium cigars got the most attention by the cigar industry. Later in 2018, when Gottlieb and the FDA came out saying it was seeking to ban flavored tobacco – including in premium cigars, that segment of the market got put in the spotlight and lead many to say he was overextending his authority.
There had been speculation about Dr. Gottlieb leaving his post for the last two months. Dr. Gottlieb even addressed the speculation on his Twitter account where he denied the story.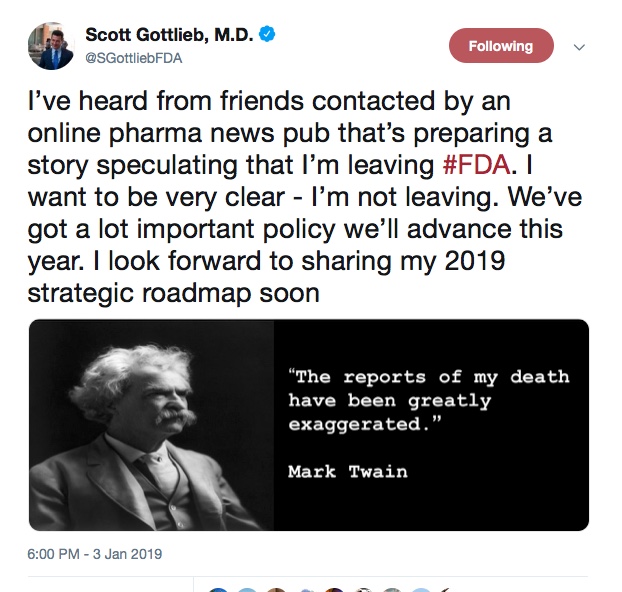 Gottlieb will officially depart the FDA in one month.
Photo Credit: Scott Gottlieb Linkedin